Discover more from Volatile Weekly
Interviews in the music industry from around the world
Interview: Livonia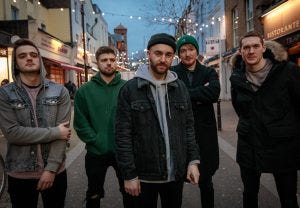 What got you into music, and if you had not gotten into music what would you be doing today?
I think being fans that loved going to as many gigs as possible and just standing there in awe at the sheer talent on display really made us want to pick up an instrument and make some tunes in the first place. We'd probably just be really fat, because we would just have more time for pints and binge drinking nights out, oops! 
What do you like to do when you are not playing music and how does that influence your creativity?
I think we all manage to keep ourselves really busy. We run pretty hectic personal lives and that certainly overflows onto and into our music that we write, there's always something to get off your chest I find, which makes lyric writing much easier.
How long has your band been around?
We've been a band for just under 2 years now, Mac our rhythm guitarist joined about a year ago so we've been taking more and more bookings since then really. 
Where are you based out of and how did that influence your music?
We are based in London so we are surrounded by a wealth of crazy good bands so we've got so much to compete against. I think that really drives us to put everything we can into improving our live shows as well as our writing, you can't afford to be out played by anyone on the bill these days, you want to be remembered.
How did you come up with the name of your band and what does it mean to you.
Livonia is the Ancient Greek word for Satan worshipers. Nah, it's not really, we all used to work on a street called Livonia Street, we pinched the name from there and it really stuck! 
Tell me about the best and worst shows you have played.
Best show we ever played has to be our latest show at Nambucca supporting our dudes in Ghost Arcadia, packed out venue, our longest set yet, what's not to love?! I don't think we have a worst show to be honest, we've loved every single one so far!
Tell me about your favorite venue to play at, and do you have any places you want to play that you haven't already?
We're certainly not venue experts just yet, but our favourite was again, our most recent show at Nambucca. We reckon Wembley Stadium will be on the cards soon so that's definitely in our top 5?
If you could play any show with any lineup who would be on the ticket?
Okay here's the bill... Livonia - opening, Boston Manor and then Don Broco headline slot. The reasoning behind us playing first is obviously so as soon as we finish our set we can run round the other side of the barrier and get in the mosh pits for the other two incredible bands. 
What is some advice that you would give to someone who is just getting into playing in a band?
My best advice would honestly be don't be disheartened. We've applied for a lot of gigs and Spotify playlists among other opportunities and 90% of the time you don't hear back. It's all part of the industry and it's very rewarding when you finally do achieve something!! 
If you could go back in time and give yourselves advice, what would it be?
I would say stop drinking White Lightening Cider in a field every Friday when you're 14, and get spending that money on more gigs, there are so many bands that I wish I had seen more often as they aren't around anymore. 
Of your songs which one means the most to you and why? 
Definitely our song Talking, it has by far our most mature lyrics where we try and reinforce the message that you should always talk to your friends if you're feeling troubled. There's a bit in the breakdown where we sing "We are your friends so we'll listen to the end" and I think that's like the unwritten rule of being a good friend that we all believe in.
Which songs are your favorite to play and which get requested the most?
Well any of the faster songs always get us jumping around like mad men even in practice so they are the best to play. Our song One Day seems to get requested a lot which is one of our much slower songs which we find strange, but it is an easy sing a long song, and who doesn't love a good sing a long?!
What is the creative process for the band, and what inspires you to write your music?
Our lead guitarist Rob writes the initial track and then runs it by me (James) and we get it to a point of a demo, I write the melodies and put some lyrics on it and we then take it to practice and the others pull it apart and make their parts their own.
What kinds of messages do you like to get across in your music?
Most of our songs are about life lessons we've learnt both good and bad. We try and make them as relatable as possible though, each song should mean something to someone somewhere. 
Do you ever have disagreements in your band, and how do you get past them?
The only arguments we really have are about artwork and branding.. I think everyone has a different image of the band so it's all about bringing those ideas together. Luckily there are 5 of us, so it's easy to have a vote if we're really stuck!
What are your plans for the future, and do you have anything that you want to spotlight that's coming up?
Our debut EP 'Hate. Relate. Regenerate.' Is due to be released on Friday 13th March, so that's the main thing we're looking forward to. We've put a lot of work into it so we're really excited to get it out there and see what people think. We're going to be playing those songs at our next few shows so we'll see how that goes!