Discover more from Volatile Weekly
Interviews in the music industry from around the world
Interview: Lucifour M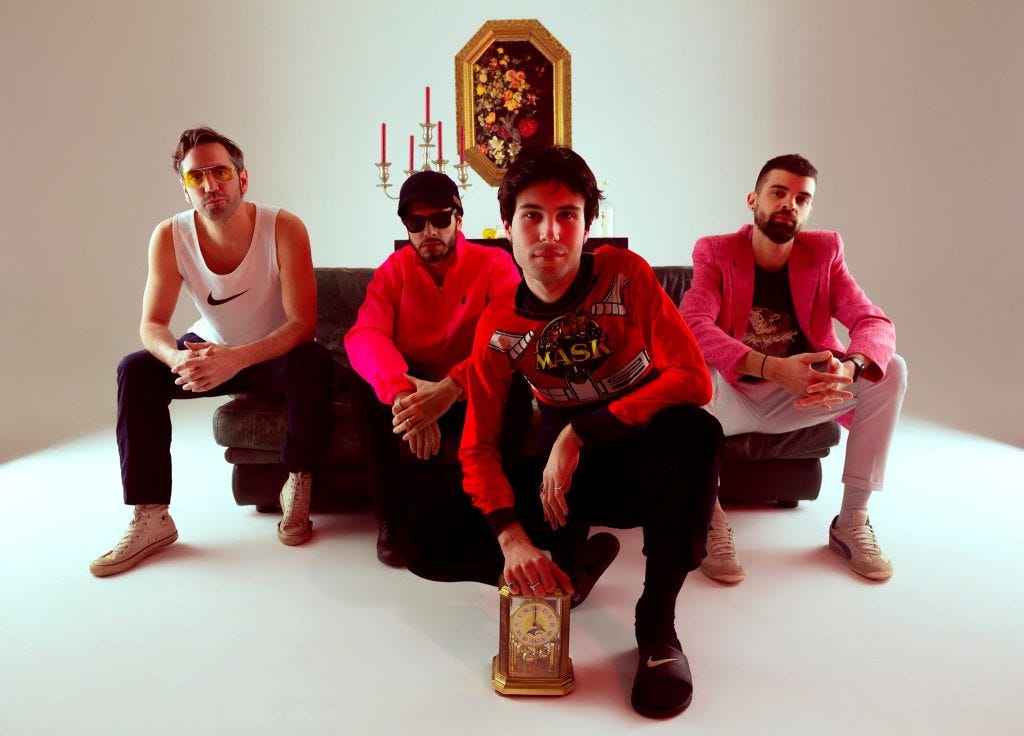 Answers by Michele Ducci
What got you into music, and if you had not gotten into music what would you be doing today?
I must say that all of us had the good fortune of making music from and for a long time. Today will eventually be yesterday, so the answer is always music.
What do you like to do when your not playing music and how does that influence your creativity?
I think every act is a creative act. Life is made of these impulses, which, as creative acts, are vital and as such, vital as creative.
Music takes most of our time, and in our 'private' lives two of us have children, and one of us writes bizarre letters with a famous Italian philosopher;
Music remains nonetheless present everywhere.
How long has your band been around?
From the end of 2019, just a few months :)
Where are you based out of and how did that influence your music? 
When we spend more time in Berlin or London we are more focused on structuring aesthetic contents: Our labels are there, so we feel a little more in the here and now. When we are in Italy, in our studio, it is a dizzying and beautiful sinking into the writing process, arrangement and so on.
How did you come up with the name of your band and what does it mean to you.
We immediately agreed on the name. I had this sticky note on the wall where a friend wrote Lucifer Mi. I happened to think that if I made a new project, that name had to be there somehow. It reminded me of Lucifer Sam of Pink Flyod and Kenneth Anger. Since we are four band members, all of which with a first name starting with M, we decided to call the band Lucifour M.
Tell me about the best and worst shows you have played.
Always and simply the best :P
Tell me about your favorite venue to play at, and do you have any places you want to play that you haven't already?
It is difficult to answer because it depends a lot on the people, and the vibration that is created between and with the people. But this year we will play at the Great Escape Festival, in London, Brighton, in May; We always wanted to play at this festival.
If you could play any show with any lineup who would be on the ticket?
Puma Blue/Outkast
What is some advice that you would give to someone who is just getting into playing in a band?If you could go back in time and give yourselves advice, what would it be?
Be very brave or leave the whole thing alone: it's a Lotta Continua.
Of your songs which one means the most to you and why? Which songs are your favorite to play and which get requested the most?
At the moment Dog is the most requested. I think Fox is the one we are closest to. What fascinates us about Fox is its two-part structure, which evokes the feeling of listening to two songs in one.
What is the creative process for the band, and what inspires you to write your music? 
Everything inspires us. Some Buddhists came to see the world in one stone.  Our creative process is divided into two parts: the first is pure jamming, improvisation. The songwriting part, even for the lyrics, is somewhat an unconscious process. The second part is instead a meticulous work of mixing, overdubbing, and much more. In many songs we use an iPhone to record, the drums above all, including the piano in a song that will be released soon called Orfeo's Enfer. This song in particular is tied with a short film, an Etude, in stereoscope, made together with two great directors, Zapruder ... this too will be released soon.
What kinds of messages do you like to get across in your music?
Giving messages is always dangerous and there is a risk of misleading people. Instead, questions should be raised, and one of the possible many is this: how to be free in a world determined by necessary laws. Music is literally about this.
Do you ever have disagreements in your band, and how do you get past them?
Yes, always, but there is a very strong chemistry between us. We solve disputes by playing music.
What are your plans for the future, and do you have anything that you want to spotlight that's coming up?
First, we are now defining the European tour, a first tranche at least ...many festivals including the Great Escape Festival, in May. In March, a movie with many of our songs will also be released. Moreover, we are particularly excited about the upcoming release of the song Dog, remixed by the legendary Daniele Baldelli.  It is kind of a funk song remixed for pure clubbing spaces. Since the release coincides with Daniele's mini tour, we are curious about the reaction from the publica and clubs from Paris to Jakarta Bali Tokyo and Enoshima.
Last but not least: our single fox will be released on January 17th, already in pre order on beatport. And, finally, in February the second EP 'DUE' will be released. There will be many other things that we will communicate along the way :)