Discover more from Volatile Weekly
Interviews in the music industry from around the world
Interview: MadClock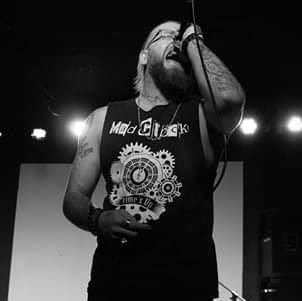 What got you into music, and if you had not gotten into music what would you be doing today?  
My dad was always playing music through a loud system just jamming out and air guitaring, air drumming and singing. I just clung to music as a child. There is tons of pictures of me jamming on a toy guitar or drumming on anything that had a surface. My uncle Micah sang for a Journey cover band my entire childhood and I got to sit on the speaker as a kid while they jammed out in the basement. I've honestly never considered another career. Just kept whatever 9 to 5 job I could find until I figured out a way to make it.
What do you like to do when you are not playing music and how does that influence your creativity?  
I have a ton of hobbies. I love video games, I'm a huge movie buff, I skateboard, shoot guns, and fish. I love motorcycles, tattoos, piercings, I hike and just go on adventures in general. I've always been a busy person. Life experiences in general fuel my creativity.
How long has your band been around?  
I created MadClock as a solo project in 2016. When I say solo I mean make my own beats and write all my own music.
Where are you based out of and how did that influence your music?  
I'm based out of Edinboro, PA which is about 20 minutes away from the heart of the local scene in Erie. It's a very diverse scene with a ton of different genres and styles and personalities. Just go to a local show around here and you're bound to be inspired. I started almost 15 years ago with a buddy and we formed an acoustic duo named Two Stoopid Dogs. We were always playing variety shows so we met people from every genre of the scene and it kept us motivated to try new things to stand out. After we split all the friends I had made in the hip hop scene played a huge factor in me creating MadClock.
How did you come up with the name of your band and what does it mean to you.  
It's an acronym for Me Against Deaths clock. I realized after my last project that i still wanted to do music. I also realized I'm running out of time to make something bigger happen. Just my name itself keeps me motivated. I'm fascinated with time because it affects everything. I've ran with it as a theme and using as a sole concept feels original with the way I've done it.
Tell me about the best and worst shows you have played.  
The best show I've ever played was the recent album release party for my second full-length album "The Volume of Secrecy". It was so well received by everybody there and I could really see the effects my music has on people. I also premiered the music video for the second single off that album "Love, Kill, Repeat" ft. Faith Ann on a projector screen over the stage. Just huge waves of cheering and clapping it felt absolutely amazing. Everyone rocked out hard with me and sang along to almost every song on my set. I just felt incredible. The worst show I've ever played was with my old project and we booked a bar for 3 hours and got the absolute worst crowd ever. Just played to the wrong people, no applause at all and nobody liked it. We didn't suck they were just the wrong crowd for our style. We had to play for 3 hours like that. Horrible.
Tell me about your favorite venue to play at, and do you have any places you want to play that you haven't already?  
My favorite venue is definitely Basement Transmissions in Erie, Pa. Its the place where we all went to get our stage experience as younger musicians. They have grown so much over the 10+ years they've been established. Now they have bigger bands playing there like I See Stars, Kirko Bangs, War of Ages etc. I still play there all the time and it just feels like home. Honestly, any venue outside of the state sounds great right now. I want the next adventure.
If you could play any show with any lineup who would be on the ticket?  
Loaded question. Honestly, it would have to be a mix genre show because I'm into so many different styles of music. It would have to be me, Slipknot, Tech 9, Cradle of Filth, Snow tha Product, Marshmellow, Mudvayne, Chon and Nothing More. Insane 5 hour show. If I had to put all my favorites into a show it's gonna be a 2 day festival minimum.
What is some advice that you would give to someone who is just getting into playing in a band?  
Just be yourself. Create a sound you live more than anyone else's music. Then never settle for less when it comes to performing. If you can accomplish those two things you will have a loyal audience.
If you could go back in time and give yourselves advice, what would it be?  
I let the transition period between my last project and MadClock really get to me. There was a lot of bad that accrued around that time of my life. Although I believe a lot of that were necessary experiences and helped shape who I am as a person. I guess I would have told myself to keep me from being so hard on myself about certain things. You are your biggest demon.
Of your songs which one means the most to you and why?   
There's two in particular. "Aries" on the first MadClock record was the first song write for that album. It's just a 4 minute therapy session about how insane my life was at that time. A lot of people relate to it and can identify with the pain. The whole first album was pretty angry but I had to get it out. The other one is "Villain" which is the first single off the new album. That song is a masterpiece to me because it showcases my quick progress in my speed. I love fast rappers like Tech9 and Rittz so naturally I made my own way into it. Being clear and understandable in that speed is key. I love the challenge.
Which songs are your favorite to play and which get requested the most?  
I would have to say my new favorite to play live is "Villain". Watching the crowd react to it is just awesome. I would say "Love, Kill, Repeat" gets requested the most. Absolutely everyone in the crowd sings that entire song with me it's surreal.
What is the creative process for the band, and what inspires you to write your music?  
My creative process starts with my beats. I produce all my own beats so I get to completely immerse myself into every aspect of the song. My mood primarily conducts the vibe of the production and I just model my lyrics based off the vibe more often than not. Either life experiences inspire me to write or I'll just design a made up story. "Villain" is a fictional story where as my song "Make Believe" from the first album, Time's Up, is about my mom and real events.
What kinds of messages do you like to get across in your music?  
My lyrics are very relatable. Things that a lot of people deal with and I just love having the opportunity to show someone there not alone and hopefully it helps. Music is therapy for my so I want others to feel the same relief.
What are your plans for the future, and do you have anything that you want to spotlight that's coming up?
My future plans definitely include a 3 part suspense thriller murder mystery out of "Villain". Part 2 and 3 the production is finished so I've begun the process. It's going to be a massive project I can't wait to get into. I would like everyone to check out the new album "The Volume of Secrecy" on any major platform.