Discover more from Volatile Weekly
Interviews in the music industry from around the world
Interview: Made of Eyes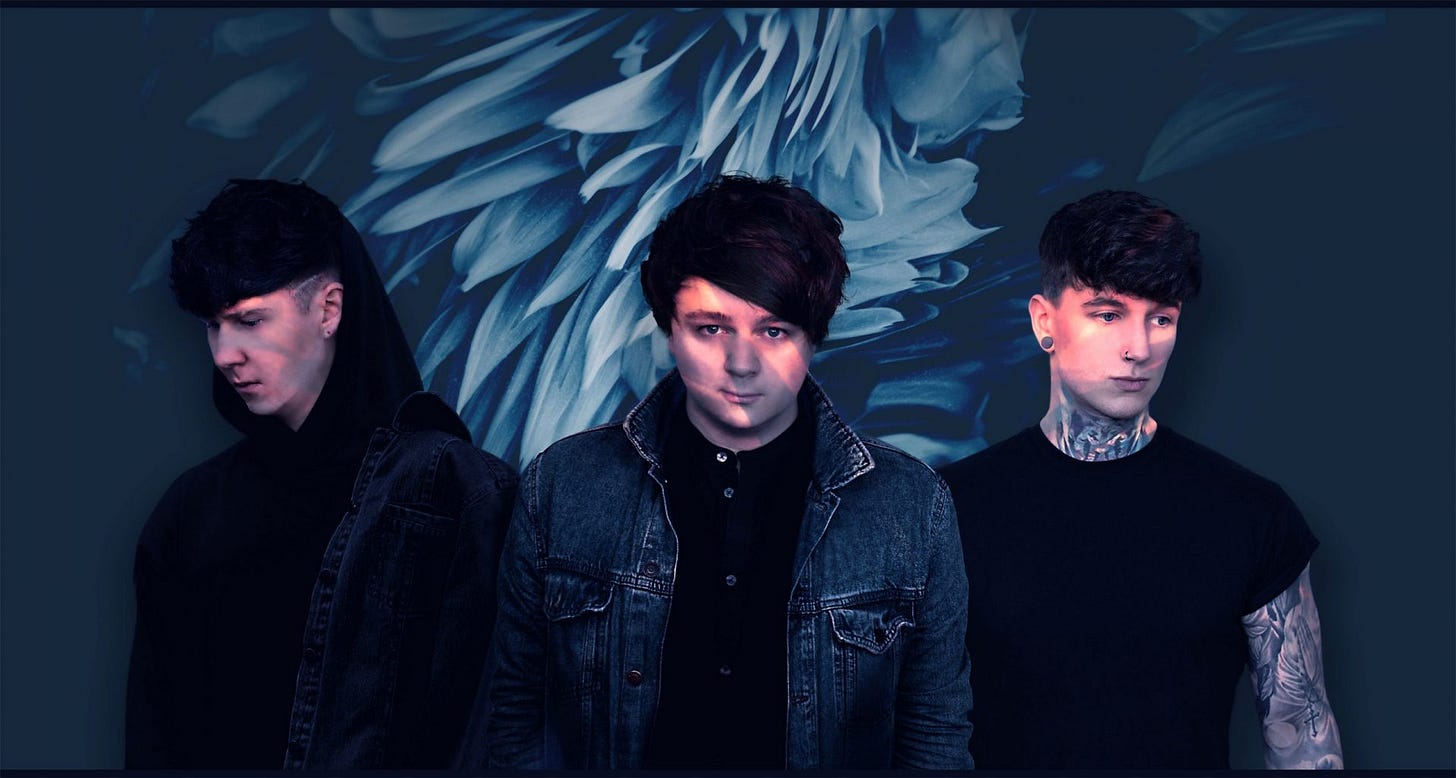 What got you into music, and if you had not gotten into music what would you be doing today?
It definitely varies from each member—we have folk in the band that grew up around a bit of Frank Sinatra, Greenday Albums and Artic Monkeys.
What do you like to do when you are not playing music and how does that influence your creativity?
Not too sure to be honest haha, it's gotten that way—that we love what we do and we treat it like any other job when it comes to being professional, it's an industry that we take on as a privilege to be a part of.
How long has your band been around?
It started to take its shape around April-time (last year) writing music together since then. At first—it was something that we would do for fun but then just developed naturally into something more. JR and Jason (Lead Singers/Guitarists) started the project out and then during this period met Liam (Bassist/Synth). Taking a year out to brand the project, and really focus on doing something original, we brought an amazing new dynamic in terms of the electronic aspect.
Where are you based out of and how did that influence your music?
We are a project from Glasgow, Scotland and hugely proud of the countries music scene. It is such a great thing to be a part of with such variety. I mean lets talk about the heavy hitters for a sec… Lewis Capaldi, Saint Phnx, Twin Atlantic, Biffy Clyro & Paolo Nutini to name a few. And then having an immense list of future artist (growing each day with us) with such an inviting sense of community to helping each other move forward. Artist such as: 100 Fables, Scott C. Park, Bad Mannequins & Landslides. Also, our current producer Bruce Rintoul is one of the many producers in Scotland that helps push this scene across in a big way, having worked with the likes of Twin Atlantic, Fatherson, Vukovi and The Nickajack Men.
How did you come up with the name of your band and what does it mean to you.
I think (like all band names) there's such a worry in getting that perfect one. LOADS of different ones are tried out to see what sticks. To be honest… it was only until the name was tried out—it ended up having more of a meaning for us, (hearing from others) about how it gives off an emotional feel towards things. Like in a relationship for example, or as an individual—being that person in life that worries about anything and everything (having that worry of the world watching & waiting for you to make a mistake) just humanised so much for us, it actually inspired us to write our songs in a certain way about our own personal worries—in the hopes that it helps a person out in their situation.
Tell me about the best and worst shows you have played.
Cant remember bad shows exactly—but I think that's just me (blocking it all out psychologically and) pretending they've never happened, but there's been moments that could easily fill a bad gig montage, things like: power cuts; amps cutting out; things breaking or falling down in the middle of a song, to flat tires on a motorway (on our way to a gig)… fun moments… but it's that way, I would never beat myself up over it because nothing would've been learned if those things if it didn't happen—it really makes us ready for anything.
Our live experience (so far) has actually came from us being in individual bands before MDOF EYES. Things like: playing the 'O2 ABC' main stage; playing the 'Tbreak' stage at 'T in the Park'; going on 'STV' to be on the 'Riverside Show'; touring the rest of the Glasgow circuit (Classic Grand, Barrowlands and The Arches)—supporting the likes of Fatherson, King Charles, Saint Motel, then supporting going to support Hadouken and Devlin in Newcastle along with having the chance to play the Tramlines Festival in Sheffield. We've had some really great moments through all of this and we have no doubt that we're going to have even more great moments real soon.
Tell me about your favorite venue to play at, and do you have any places you want to play that you haven't already?
With the amount of places that we've had the privilege of playing—there has definitely been incredible moments with the big events and smaller ones. The main stage at the O2 ABC was really great, place was packed, crowd roaring and the sound on stage was perfect. To contrast that—there was a smaller upstairs venue set up for Kilmarnock's 'Dirty Weekender' lineup, where there were people sitting on amps, one foot on the drums (to stop the kit from moving forward) and the floor was dipping when people jumped—that was easily up there with the O2 as an amazing night. 
If you could play any show with any lineup who would be on the ticket?
The 1975 would be a really cool support, their live shows are treated like one big theatrical piece—its really breath taking.
What is some advice that you would give to someone who is just getting into playing in a band?
Be patient. I know you'll want everything happening at once and for it all to kick off from the get go (believe me, I felt the same way) but you have to build yourself up as an artist, and that means visually as well as the sound—build a connection with others that are aiming for the same thing and learn as much as you can, you might actually find that the songs you had (at the start of your project) aren't sounding as great as it was at the initial starting point and the that the work you can make now—wipes the floor with it. take as much advice as you can—no point at all being too proud to if hear that a song isn't making the cut.
If you could go back in time and give yourselves advice, what would it be?
Keep a level head about things (you're not a rockstar) and take the same advice that was given to the bands starting out haha. 
Of your songs which one means the most to you and why?
We're writing more and more about our own personal struggles in our lives that mean't so much to us and I think in the next few tracks (to be released) it'll really show, but its with the hopes that it can mean something to someone else and help them through some things in their own life.
Which songs are your favorite to play and which get requested the most?
We have had requests to play shows close to people asking and play specific songs but sadly due to Covid-19, we don't have shows planned, there's no doubt that we'll getting more requests once everything's up and running again.
What is the creative process for the band, and what inspires you to write your music?
We all have a hand in writing (and interestingly) it can sometimes range from things such as: pitching lyrics/melodies/recorded demo sessions to each other and then we'll all work off of what's being pitched. Other times—it can be whole songs—already there (musically/lyrically) and conceptualised. And because we all have an individual style of writing, we'll come away with such a wide variety of songs which is really refreshing for us and changes things up from time-to-time.
I think it really does have such a wide range. In some cases—it's easy to say our obvious ones would be from the 2000s pop rock era, but there are definitely bits of inspiration from sounds—being so unusual (in connection with our band), inspiring the smallest of decisions in our music. For example… there is a song (to be released after 'Honesty') that just would not have existed if it weren't for The Weeknds 'Trilogy' album and Childish Gambinos 'Because The Internet' Album. Just having such a love for those, really set inspiring things in motion for that song. Not to mention more artists like that affect us as a whole, artists who change the direction of chart music: The 1975 and Billie Eilish to add to that list. Influencing a whole movement in the music industry that people will be following behind for the years to come.
What kinds of messages do you like to get across in your music?
We've got this consensus which is "If something can at least be said through music, it deserves to be speaking volumes for the one listening". With the level of uncertainty and divisiveness out there—we want to raise awareness where we can, aiming to highlight issues, affecting many people and ourselves. Having this sudden need to write about scenarios that can tell our own struggles as individuals and hoping it helps tell a story for people in their own lives. 
Do you ever have disagreements in your band, and how do you get past them?
Absolutely, it's a natural thing to have in group projects, the best thing for it—is to not let it build up. Take a step back (or out) from the situation and let it everyone just take a breather to find the common ground or see things from a less emotional standpoint.
What are your plans for the future, and do you have anything that you want to spotlight that's coming up?
April 2019 was great for us so it's only right that we release Honesty in April 2020. Easily being our best written work so far. A relationship has its struggle—it's never a perfect thing, think that's what this track shows. Not being forthright and judging each other for actions even though what we're doing is just as bad. there's such a vulnerability to that and the hardest thing in anything is showing that to the people around you.
We currently have more songs than we know what to do with, releasing 'Honesty' and also another single (that we can't go too much into at the moment) is our main objective. We are also going back into the studio in a few months time to record two more songs, we hope to get our first two music videos for these new tracks and look back to our current demos for a possible (Part 1 & 2) EP.