Discover more from Volatile Weekly
Interviews in the music industry from around the world
Interview: Madzilla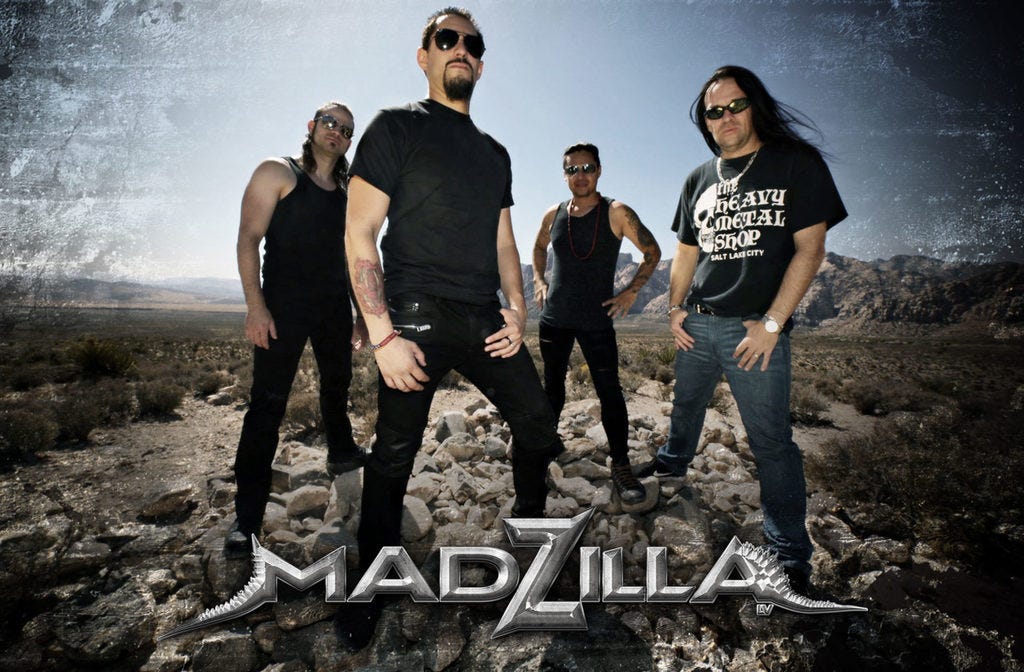 What got you into music, and if you had not gotten into music what would you be doing today?
- David C (Lead Vocals/Guitar): When I was 13, a friend of mine showed me a bunch of songs he was into. I wasn't really into most of his stuff, but when Metallica's "One" played, I was blown away!! I could not believe something like that existed. By the end of the song I remember saying to myself "This is exactly what I want to do with my life!"
There was never a doubt in my mind that music was the path for me. I have no idea what my life would be like without it.
- Daniel (Bass): Music has always been like a language to me, it's my way to express myself. It has never gotten on the way of other things in my life, such as video directing, cooking, or even being an athlete, I believe it all works together. 
- Robert (Drums): Seeing Kiss when I was super little made me wanna be a RockStar, and Eric Carr made me want to be a drummer. If I wasn't a musician I'd be teaching rock history I believe.
David O (Guitar): Iron Maiden has always bee an influence of mine. In particular, I have always enjoyed and learned from Adrian Smith's playing.
What do you like to do when you're not playing music and how does that influence your creativity?
- David C: I watch a lot of concerts on DVD, or Blu Ray, or sometimes streaming online. I like watching behind the scenes from shows or tours, and then top it off by watching the actual performance the behind the scenes was about. So it definitely influences my writing, since I grab elements from several different artists.
- Daniel: I love spending time with my family. However, I also like creating and editing new videos, working out, or cooking for my family.
- Robert: I listen to music 24/7, no matter what I'm doing. So I'm always influenced by something I hear.
- David O: I'm very outdoorsy, and like to stay active. But I also enjoy finding new music, and new artists to listen to.
How long has your band been around?
- We formally started in 2018
Where are you based out of and how did that influence your music?
- Madzilla LV is based in Las Vegas, Nevada. The local Metal Scene here is good. There are several venues that often have metal shows booked, and there is very good response from audiences around the city. Las Vegas being as entertainment driven as it is, gives a wide variety of opportunities to local bands to perform and get good amounts of exposure.
How did you come up with the name of your band and what does it mean to you.
- "Madzilla" is a metaphoric representation of the dark side of human nature. It represents the need to rule, and the unstoppable search for power that can take over a person's mind. "Madzilla" itself is an insane version of the fictional monster "Godzilla". "Godzilla" is a wild animal , therefore he hunts and kills for survival. "Madzilla" on the other hand enjoys blood and destruction, and kills and destroys for its own rise to power.
Tell me about the best and worst shows you have played.
- Our best show was definitely at the Hawthorne Theatre in Portland, Oregon. It was one of the shows we did on our latest tour, this past February, alongside Metal Legends "Soulfly". We were really in it that night, and of course the audience played a big part on that. We feed on the audience's energy, and that night the crowd was very alive, which made us rock!
- Our worst show, it may have been at the Rainbow Bar and Grill, in West Hollywood, this past January. The place is very cool, and legendary! But we had some technical difficulties during our set, which put a little damp on the night. It was a fun night nevertheless.
Tell me about your favorite venue to play at, and do you have any places you want to play that you haven't already?
- The Hawthorne Theatre in Portland, Oregon is definitely our favorite so far. 
- We really want to go to San Francisco, we know the metal scene is great there, we're looking forward to when we get to play there.
If you could play any show with any lineup who would be on the ticket?
- A Big 4 show!! If we could be part of the bill on a night when all 4 Thrash Metal Kings play, it would be amazing!
What is some advice that you would give to someone who is just getting into playing in a band?
- Never give up! Always follow your instinct, and don't give up, no matter what!
If you could go back in time and give yourselves advice, what would it be?
- We think the way things have turned out has been always for the best. So, we don't really think we'd like to change that. Maybe the same as above, don't give up!
Of your songs which one means the most to you and why? 
- David C: To me "Judgment Day" is the most meaningful, because I wrote that song in memory of my best friend, Andres Passato, who died a few years ago in a car accident. 
Which songs are your favorite to play and which get requested the most?
- "Vengeance" and "Destiny's Eyes" are our favorite to play because of the energy and feeling they have.
"Vengeance" is aways the most requested one.
What is the creative process for the band, and what inspires you to write your music?
- David C (Band Leader) has done a fair amount of writing of the currently released tunes, specially since, as mentioned earlier, Madzilla was originally David's project. However, we try to collaborate as much as possible on the writing process. Every idea is welcome, and everyone brings in their input and style.
What kinds of messages do you like to get across in your music?
- Our lyrics usually metaphorically describe real life experiences. We try to tell our story, and express things we think could be better in this world if we all just become a bit more aware. 
Do you ever have disagreements in your band, and how do you get past them?
- Every band has disagreements, it's a family, and as such there can always be some disputes. 
We always try to talk things through, we all try to make the necessary compromises. 
What are your plans for the future, and do you have anything that you want to spotlight that's coming up?
-- One of the things we enjoy most is playing live shows. We love the interaction with fans, it's the main reason why we do this. Touring is definitely in Madzilla's future.
We're always working on new music, so always stay tuned, because the Madzilla Train never stops!!