Discover more from Volatile Weekly
Interviews in the music industry from around the world
Interview: Major Moment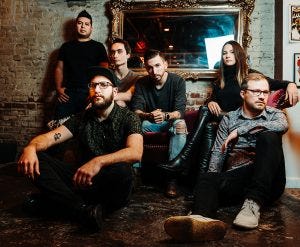 What got you into music, and if you had not gotten into music what would you be doing today?
The answer would obviously differ between members, but for me (Andrey, vocalist, songwriter, co-producer) personally it would be "NOT doing music got me into music", at least into music as a career I'm pursuing. I always knew I wanted to do music, but you know, it's like in school when you're a geek and totally in love with the most popular girl in class. You're afraid of pursuing your passion because you're afraid of failure. At some point I just realized that not trying makes me totally miserable. So I am trying now :)
What do you like to do when you are not playing music and how does that influence your creativity?
Lately, all time aside from actually playing and writing / recording, we work on business aspects of our band: research opportunities, book shows, networking with industry pros and other bands, video / photo editing / design / etc. I'm not sure it necessarily influences our creativity (although we do have songs about pursuing your goals and never giving up, so maybe it does), but it definitely helps to get our music out there.
How long has your band been around?
Where are you based out of and how did that influence your music?
We're based in Boston, MA. It's a hardworking city, that does sleep at night, has very little night life or entertainment to offer, and bands that play the kind of music we play simply don't exist here. We like that we're disturbing things a little bit here, especially keeping in mind the two main instigators (Andrey and Sasha) are from Russia originally, it definitely adds up to our uniqueness.
How did you come up with the name of your band and what does it mean to you.
That wasn't easy, and honestly, I was starting to worry it will never happen. The name had to be short, on point: meaningful, not pretentious, not silly and most importantly, not taken by any other band. It took a lot of thinking, digging through google and thesaurus, we went through many options, dozens. I'm really happy with our name, because it doesn't really matter what it means to me, the question is what does it mean to YOU? What do you think of when you hear "Major Moment", what comes to mind?
Tell me about the best and worst shows you have played.
I think we haven't played either our best or our worst show yet. We've had a couple questionable ones, haha, and honestly, every show we play we learn something new,  so we keep tightening up the bolts, so to speak, both musically, and technically. We are constantly working on improving quality of our shows.
Tell me about your favorite venue to play at, and do you have any places you want to play that you haven't already?
I'd say "Fête Music Hall" in Providence, RI. The staff has been very good to us and makes us feel welcomed. They have state of the art sound system, a nice big stage, lights. Pro equipment. "Sonia" in Cambridge, MA is also a good one, we played one of our best shows to date there. Do we have a place we'd like to play? Many! Madison Square Garden is one.
If you could play any show with any lineup who would be on the ticket?
Oh, boy.... It would look more like a fest probably. Speaking of which, we are playing some VERY cool festivals later this year. Stay tuned, we will announce everything soon! But if bands like Papa Roach, Bring Me The Horizon, PVRIS, The Architects, Cold, Fever 333 and Dance Gavin Dance were on it, that'd be super-cool!
What is some advice that you would give to someone who is just getting into playing in a band?
Don't lie to yourself! Figure out what you want to do, and if you want to do music for living, be ready to sacrifice a lot of everything. Basically, everything. Also, don't lie to your bandmates: if you want to just play your instrument and they're seeing the band as a serious business, it will be a problem.
If you could go back in time and give yourselves advice, what would it be?
Do it, and do it sooner! Make more mistakes, learn faster!
Of your songs which one means the most to you and why?
"Before It's Too Late". The first song that I wrote from scratch after a very long break and not writing songs basically for 10 years, which was scary, a lot of self-doubt and thoughts like "do I still have it in me? Am I any good?"
Which songs are your favorite to play and which get requested the most?
"Living Your Life Like This" is a fun one to play, "What It's Like". I'd say "May Leave Scars" would be top of the list too, if it wasn't as challenging vocally, lol. But we still play it, haha.
What is the creative process for the band, and what inspires you to write your music?
So far Andrey & Sasha would write and produce home demos, take it to Kevin (Billingslea, producer) for pre-production, and the rest of the band would add their own touch to the songs during recording sessions. There is a good chance we will be changing this approach in the near future, in favor of collaborating more from the very inception of the song.
What kinds of messages do you like to get across in your music?
Constructive ones. Of love, self-care, supporting others, pursuing your passion and living the life you will never regret living.
Do you ever have disagreements in your band, and how do you get past them?
What are your plans for the future, and do you have anything that you want to spotlight that's coming up?
We are about to start releasing our 4 new singles. Super excited for those, and can't wait for everyone to hear them. We are working on a new music video for one of them, that has a very cool and unique concept, and the project is super challenging, this will be a mind-blowing video, if we can pull it off. Like mentioned above, there are a couple festival appearances we cannot announce just yet, so please follow us on our socials to stay in touch!