Discover more from Volatile Weekly
Interviews in the music industry from around the world
Interview: Mark Eden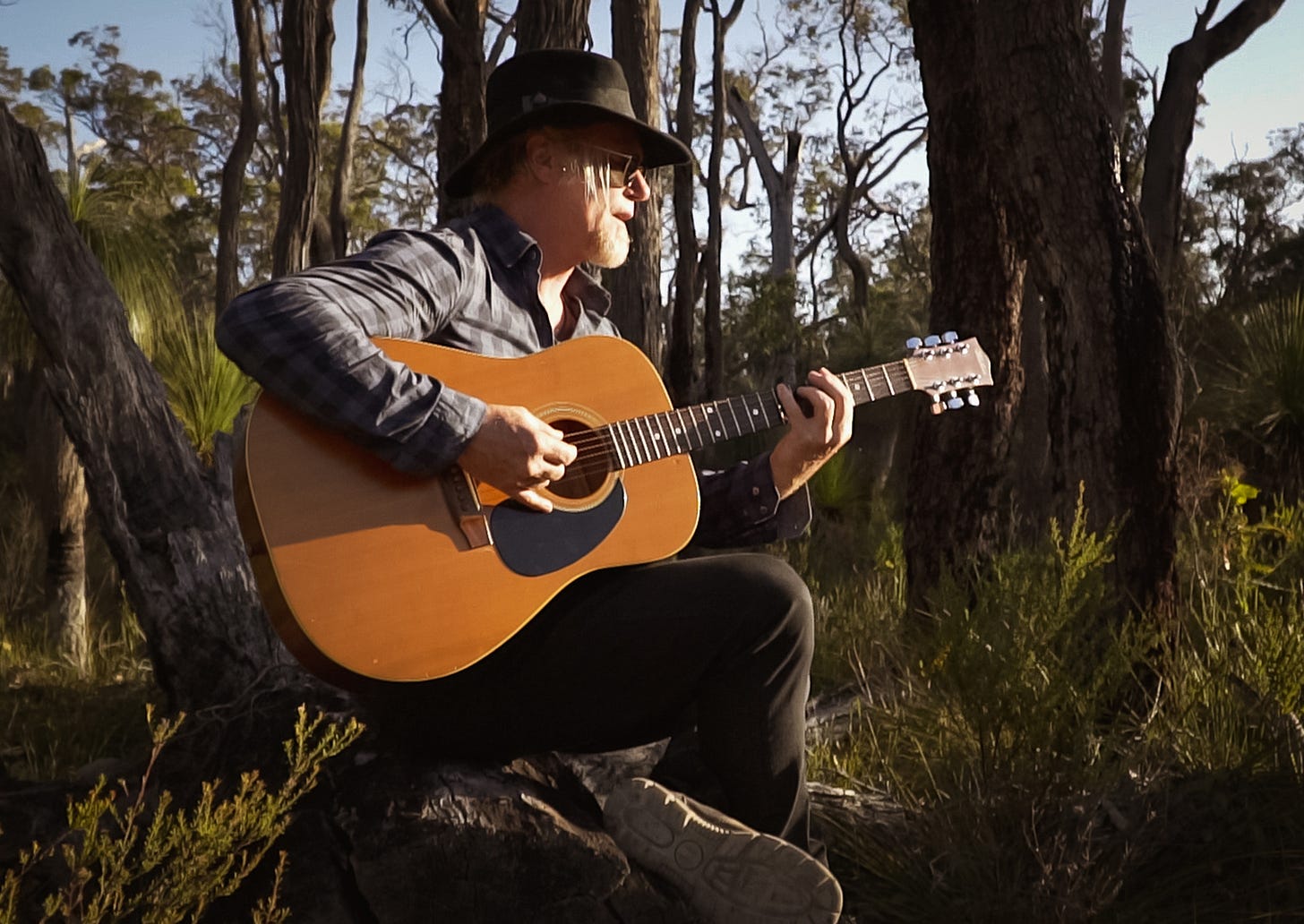 What got you into music, and if you had not gotten into music what would you be doing today?
When I was growing up we had house parties where my dad would play 12 string guitar with the band in the corner. People would go crazy and dance and sing a long together. That is a beautiful memory also.
If I hadn't  gotten into music, I would be painting, sculpting, robbing banks or a carpenter. Something definitely with my hands ;)
What do you like to do when you're not playing music and how does that influence your creativity?
Being healthy is really important to me, so i like to eat as well as I can and exercise to stay on point. I find it helps me focus much better than when I am lazy and outta shape. Travelling has always a passion of mine and that has definitely influenced my creativity. India, Cuba, Sth America and Costa Rica have all definitely influenced my writing. I love percussion and drums so those countries played a definite roll although I didn't know it at the time.
How long has your band been around?
I released my first album in 1999 but feel I have been playing music for around 500 years.
Where are you based out of and how did that influence your music?
I am based in Berlin and the scene here is crazy and being one of the most biggest places for dance music, that has had a definite influence on my writing. Electro sounds have crept in to y music a lot more over the last years. I would attribute that to living here in Berlin.
How did you come up with the name of your band and what does it mean to you.
I go under my name, Mark Eden….pretty easy and not such an interesting story. 
Tell me about the best and worst shows you have played.
The best would be headlining the biggest body painting festival in the world and also playing before Yothu Yindi to their home crowd on a stage made from dirt, unforgettable. I have loved a few of the smaller intimate concerts also, they are super cool.
The absolute worst was playing at the Apollo Bay hotel in Australia where we were booked to play 3 sets and after the first set the owner came to us and said 'I will give you 50% of your pay if you continue or you can leave now with nothing'. As it was a 3 hour drive we decided to stay and play to people getting drunk at the bar. After we finished we packed up and  haven't been back since.
Tell me about your favorite venue to play at, and do you have any places you want to play that you haven't already?
Marie Antoinette here in Berlin for my release party was really cool. Great atmosphere and the staff are super friendly. 
I would love to play Wuhlheide or Waldbuhne here in Berlin and also the Royal Abert Hall in London….those are on my bucket list :)
If you could play any show with any lineup who would be on the ticket?
This is going to be a really long night ;)
The Beatles, Elliot Smith, Audioslave, Slade, The Rolling Stones, Jimi Hendrix, The Jackson 5, Johnny Cash, Tool, INXS……sorry I am getting a bit excited, that is to name a few :)
 What is some advice that you would give to someone who is just getting into playing in a band?
Be yourself, be authentic, have fun but practise and practise. Don't worry about what is going on around you, develop your own style and don't forget to be daring and experiment.
If you could go back in time and give yourselves advice, what would it be?
Enjoy it and don't take it to seriously, there is no destination and you will never get it all done. 
Of your songs which one means the most to you and why?
There are many to be honest. 'How would you feel' which I wrote about my wife, it is the first song that I wrote for her. I still love that song, it is really vulnerable and honest. I could name a few but I would be here all day…..let's continue this topic another time ;)
Which songs are your favorite to play and which get requested the most?
I love 'Strong Enough' from my 2nd album. I remember people laughing and crying while they were dancing to the song at a gig in Australia, it was an unforgettable moment for me.
'Into My Life' I love to play and is very emotional every time I play it, that song is always requested, it is a must do in the set. 'There's No Time' the first single is so much fun and that is also requested a lot.
What is the creative process for the band, and what inspires you to write your music?
I am creative mostly when I don't think about being creative if that makes sense. Songs come out of nowhere and sometimes I feel I don't even write them. That may sound pretentious but It is honest. Sometimes, just a groove on the guitar or a sound from a pedal or even the computer can spark a song. I like to write fast, if the initial vibe is not there in 15-20 mins then I will forget it. I am inspired by life, dreams, travelling, philosophy and philosophers, fear, love and everything in between. 
What kinds of messages do you like to get across in your music?
Trust yourself, have fun, go for it 100%, live life to your fullest, you are perfect as you are, be inquisitive, follow your dreams and let go as it is all working.
Do you ever have disagreements in your band, and how do you get past them?
I do disagree with myself sometimes but I usually am right ;)
What are your plans for the future, and do you have anything that you want to spotlight that's coming up?
My single and video for 'Things To be' was out on April the 25th and my band Under The Tongue have a super cool new single called 'Waterfall' which will be out on June the 5th.
Thanks so much for your time, it has been fun chatting with you, I really appreciate it. 
Cheers 
Mark