Discover more from Volatile Weekly
Interviews in the music industry from around the world
Interview: Mark Nelson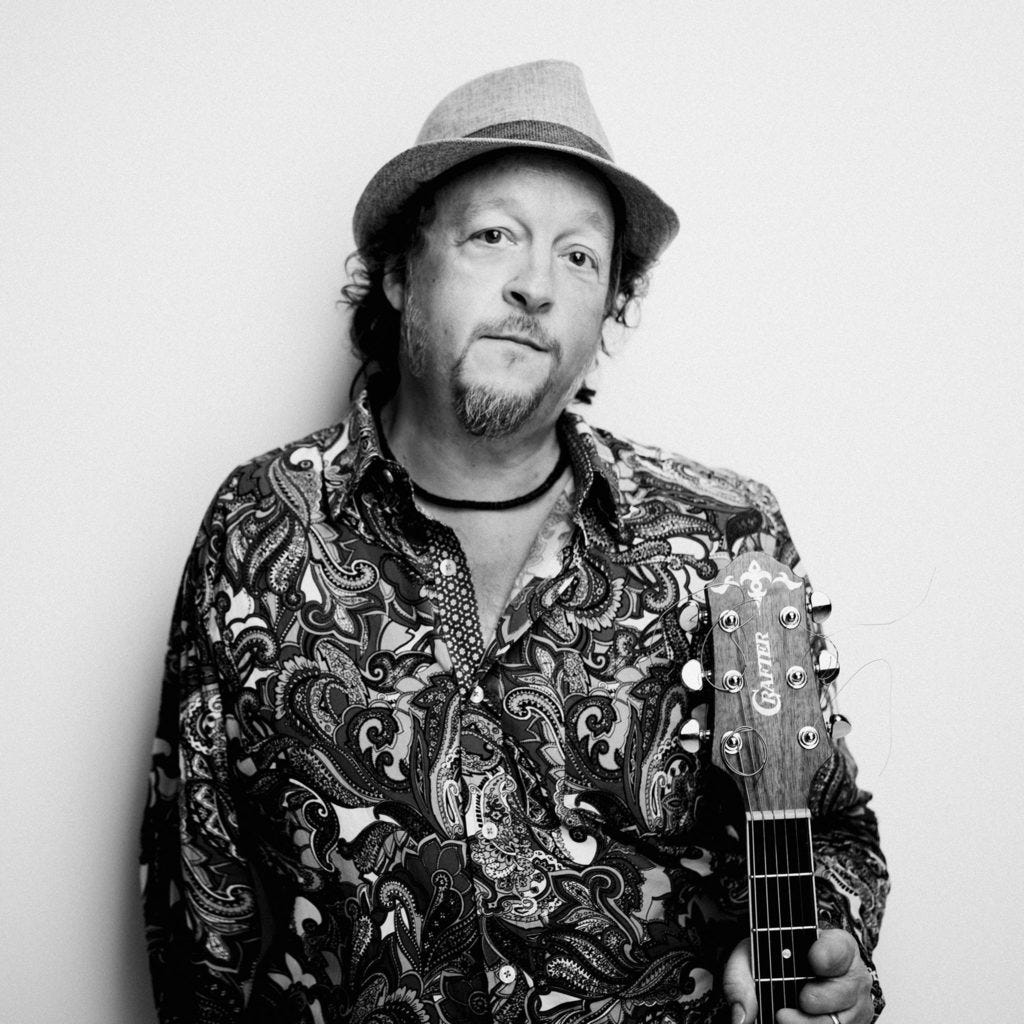 What got you into music, and if you had not gotten into music what would you be doing today? Just hearing music and watching Beatles movies as a kid made me realise I wanted to do that, I used to walk around singing into a tennis racket turned upside down so it looked like a microphone when I was about 3. I then had my own songs going around my head from the age of 7 upwards but could not play an instrument (as I was born with one arm) nor read/write music so I just wrote down the lyrics in a notebook and kept singing the song to myself hoping to remember it. Eventually, when I was in my teens, I found a way to play guitar with one hand and from then on I could realise the tunes in my head. I think if I hadn't gotten into music, I would be a novelist or a stand-up comedian.
What do you like to do when you're not playing music and how does that influence your creativity?
Funny enough, I write stories and comedy sketches and make comedy videos. I have to be creative to function in life and I'm drawn to creative projects like a bee to a flower. I love entertaining as well and I try to bring a smile to the world in whatever I do. I never analyse where songs and ideas come from, I just let the ideas come through and strive to realise them.
How long has your band been around? I have been performing for 30 years in various rock and pop bands and more recently as a solo artist and Bluesman. My acoustic blues band has been around for 10 years....thinking about it, we should celebrate it with a cake or something.
Where are you based out of and how did that influence your music?
I'm based out in darkest Surrey ,in Farnham, and there is a fabulous live music - acoustic scene out here. Live open-mics gave me the opportunity of performing solo and meeting the guys in my blues band. It's a friendly circle and we support each other's music. I set up Blue Trouser Records (a non-profit making society for unsigned musicians) based on this music community with a 'many voices together speak louder than one' premise. Playing local gigs in this environment provides a listenership to create to, I like to impress my peers as well as the rest of the World when I bring a song out.
How did you come up with the name of your band and what does it mean to you.
The band name is simply the Mark Nelson Blues Band and my solo artist name is my name so it's not really big nor clever. I was in a band called Slinki Malinki once, which is a kind of Scottish term for a skinny cat and Kinda Wundaful was another band name, but it's best to just gloss over that!
Tell me about the best and worst shows you have played.
The best shows I've played I think are festivals, I love festivals. A few years back, I played the main stage of Weyfest, a local large festival, with my blues band which was great, playing my songs in the sun to a near thousand crowd. I have also played solo at festivals in the UK and a few in Kosovo and Romania. A few years ago, I played to a large crowd on a huge stage in a Transylvanian castle which was simply amazing and was broadcast on a local TV station.  The worst gig was a Battle of the Bands competition my band, Supersmiler, played at, it was the final of a long competition run and we were playing at the Astoria 2 in London. I tuned my guitar just before going on stage and left it for a few moments on a guitar stand, then we went on and I plugged in and kicked off the first song. The sound my guitar made was dreadful, someone had deliberately sabotaged and detuned my guitar (never found out whom - a jealous performer no doubt) de-tuned not just one string - but at least three and playing one handed meant I couldn't re-tune unless I stopped playing so I just had to soldier on in front of judges and a huge crowd. I wanted to die!
Tell me about your favourite venue to play at, and do you have any places you want to play that you haven't already?
My favourite venue is Weyfest festival. I love playing at festivals and Weyfest is such a chilled one and just down the road with a mixture of local talent, upcoming artists and stars from the past. When it's not Weyfest, the site is normally a rural life museum with barns and a steam train runs around the site; one year after performing I got on the train and the Wurzels were on it, they took over and it became the Wurzel Express; I'm old enough to remember the Wurzels.. As one of the hats I wear is Blues, I would love to go to the Deep South in the USA, New Orleans, sometime and play there; that would be amazing.
If you could play any show with any line up who would be on the ticket?
Lordy, if I could play on the same bill as Paul McCartney or Pete Townshend that would be the ultimate dream but also playing alongside the likes of Ralph McTell and Jon Allen would be amazing too.
What is some advice that you would give to someone who is just getting into playing in a band?
If you want to become successful and stand out from the crowd, don't just write songs, rehearse and perform, think about how others perceive you, especially on social media and don't be afraid to remind people who you are and what you do, pester them. If you're doing it for fun only, go out there and enjoy it!
If you could go back in time and give yourselves advice, what would it be?
I would go back to when I was 19 or 20 and say "Mark, for gawd's sake, make a tape of your best songs and post it to record A&Rs now, don't procrastinate, don't wait for the perfect pop song to come to mind!" I never did that and, regret it now.
Of your songs which one means the most to you and why?
I think 'Pretty Amazing' means the most to me, it's actually one of the rare positive love songs I've ever written, and it's about finding my wife and the love of my life, I always feel great singing it live and it always gets a fabulous response. I played the song at a festival in a medieval castle in Romania the other year and many people came up to me afterwards and said they loved that song.
Which songs are your favourite to play and which get requested the most?
I love performing and throw myself into each song like it's my favourite. I guess it depends on how I am feeling and what set I am playing. I get a lot of requests to play some of my more poignant love ballads such as 'A Wish' or 'Samantha' or Pretty Amazing' but also folks love the blues and so stompers like 'Kicking Blues' or 'Let's Pretend' get asked a lot as well as crowd-pleasers like 'Bottom Fell Out' an old delta-blues type song  I wrote about when things go wrong and the bottom falls out of your world.
What is the creative process for the band, and what inspires you to write your music?
I lead the Blues band, writing the songs and steering the arrangements, although I encourage them boys to bring their talents to the table as well. Obviously, when I am solo it's just li'le ol' me so I'm running everything; I don't have a Manager so I book the gigs as well for myself and for the band. Inspiration comes from wherever the song comes from, from deep within. I tend to get the music coming through first, when I'm noodling on the guitar or riffs will come to mind when I'm washing up or making a cup of tea. Then I throw some lyrics together as I record the idea into my phone. Stage two is developing those initial lyrics into a meaningful song about love, loss, pain, betrayal, hope or forgiveness.
What kinds of messages do you like to get across in your music?
With both Blues songs and ballads I'm telling tales of woe, remorse, regret, pain and loss but as negative as these topics are folks relate to that so they are relevant and necessary, perhaps they  remind people that love can hurt but it's also a beautiful thing, look after it - don't cheat on ya woman or you'll lose her forever' kind of thing. My single 'Lost Love in a Day' is all about that. I like to tell little stories and try to make them as entertaining as I can, either being poignant or poetic or injecting humour and I like creating little twists in the story or ambiguity sometimes like, is he singing about someone who has left him or somebody who has died?
Do you ever have disagreements in your band, and how do you get past them?
There used to be bust ups and fall outs when I was in bands when I was younger, but these days me and the Blues band boys are middle-aged and more relaxed about things, we do our thing for fun,  and although I see it as more serious, the boys are content to let me write and take the lead which in previous bands was always a bone of contention.
What are your plans for the future, and do you have anything that you want to spotlight that's coming up?
I have two singles which I have recorded and produced with Animal Farm Music, one of which, 'Lost Love in a Day', a pop song with R&B flavours, has just been released which I am very excited about; the second single 'Baby, It's You' is more sort of gospel and soul-like, and will be released at a later date. I write songs all the time, and as I get all kinds of ideas (Blues, ballads, pop and rock songs) my mind is like an open juke-box. Recently, I have had a lot of 70s' funk and punk ideas coming to mind so it might be that on top of writing for the Blues band and myself I might crack on with this 70s funky punk project. I love the fact that I can be doing one thing and then the next - something totally different and challenging.