Discover more from Volatile Weekly
Interviews in the music industry from around the world
Interview: Miles and The Chain Gang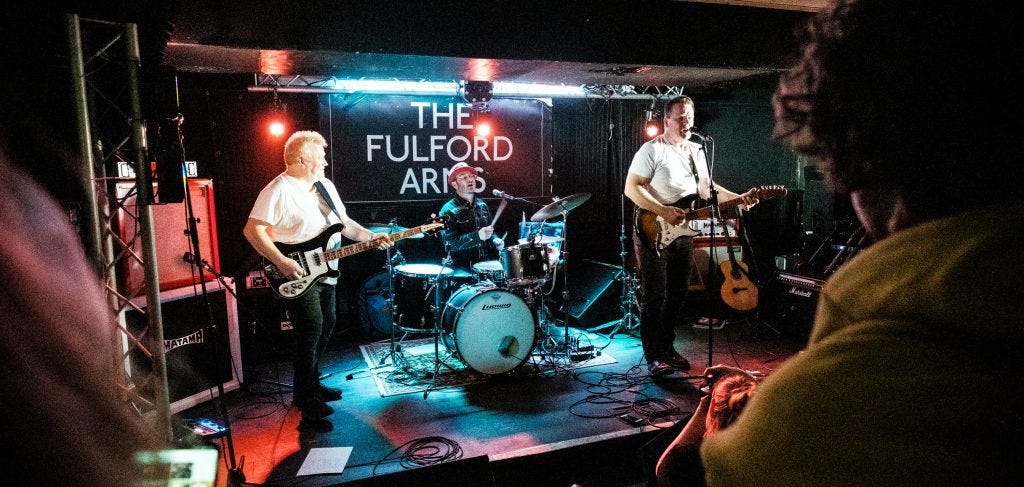 Miles and The Chain Gang, The Fulford Arms, The York Photographer, Jim Poyner Photography, York, UK,
What got you into music, and if you had not gotten into music what would you be doing today?
I got into music in the early 1980s. I was a kid then. Pop music on the radio. Tony Blackburn on a Saturday morning, playing the pop hits. The Human League. Phil Collins. The Pretenders. Duran Duran. Ultravox. Culture Club. Wham! There were so many great songs on the radio, it was a brilliant time for pop music. And yeah, some of it was cheesy, but the music had energy and it was infectious. I listened to Queen's Greatest Hits incessantly when I was about 11. And I mean incessantly. Also Billy Joel's An Innocent Man. From there, rock music. Bryan Adams. U2. Dylan. Thin Lizzy. Etc.
What do you like to do when your not playing music and how does that influence your creativity?
I write a lot: poetry, stories, some journalism. I love poetry and have written a lot in the last ten years. I should be a better lyricist really. I admire Jackson Browne and Leonard Cohen as lyricists. It's easy to get complacent with lyrics. The latest Van Morrison album is enjoyable but he throws the words away, which is a shame. The new Leonard Cohen album, which has just come out, by contrast, is fantastic. He was a very good writer. I like to read, exercise, be with friends. I present a radio programme as well. 
How long has The Chain Gang been around on the music scene?
Just over a year. We had our first rehearsal in September 2018. That was a special moment for me. We have played a few gigs this year.
Did being based in York influence your music?
Not really. I've always been interested in good songs. That would be the same whoever I live. Having said that, I met Billy and Tim through playing open mic nights and gigs in York, so I suppose the answer is 'yes'. I like the fact we are based here. Alan, our lead guitar player, is based in Scotland. 
How did you come up with the name of your band and what does it mean to you.
It was like "Eddie and The Hot Rods' or 'Martha and The Vandellas' or "Florence and The Machine'. Miles and The Chain Gang. It just felt good. It's a reference to soul. Sam Cooke had his song about the Chain Gang. And The Pretenders - 'Back On The Chain Gang'. There's a book about The Clash, and it's called 'Last Gang In Town'. That thing about being with your mates, having a laugh, being a force. It's quite a blokey thing, in a way. I'm pretty independent in my outlook on life, but I also like the idea of being part of something, a group of guys that have energy and soul and share a similar passion. Being in a band still has that power, doesn't it? It does for me, anyway. It's like Ringo talking about The Beatles. He said 'Only four of us knew what it was like.' But you share something together.  
Tell me about the best and worst shows you have played.
We played a great gig at this little pub called The Yorkshire Ales in the summer. That was a lot of fun. Worst gig. Colchester, 1998. The Landlord asked us to stop playing. It was seriously hideous. A bad musical dream. Next question!
Tell me about your favorite venue to play at, and do you have any places you want to play that you haven't already?
We are playing at The Crescent in York on December 22nd, it's a great place to play. I want us to play EVERYWHERE in the future. I like the little gigs but I want us to play decent sized places with big stages and room for lots of punters. Proper gigs, basically. 
If you could play any show with any lineup who would be on the ticket?
I'd have a festival. It would be us, Bruce Springsteen, Van Morrison, Taylor Swift, The Pretenders, Counting Crows and Del Amitri. And Bruce Cockburn. And Billy Bragg. And Stevie Wonder - Alan and Tim both love him. If we could have a jam with Stewart Copeland from The Police that would be good, too. He's brilliant. Billy started playing along to him. This idea is perfectly realistic, right? (Laughs). 
What is some advice that you would give to someone who is just getting into playing in a band?
Gosh that is a good question. I think it's simple - don't be a twat. Be nice. Be kind. Be considerate. The world doesn't turn on your ego. 
If you could go back in time and give yourselves advice, what would it be?
I look back at when I was younger and think I should have made more progress. I honestly don't think I was very confident when I was in my 20s. So my advice would be: be brave. You're better than you think. 
Of your songs which one means the most to you and why?
'A Way Of Being Free' and 'All of Our Lives' are both great - they have a lot of heart, and a touch of poetry.
Which songs are your favorite to play and which get requested the most?
I like 'Mystery Girl' a lot. Not because it is profound (it isn't) but because it just has a lot of life in it.
What is the creative process for the band, and what inspires you to write your music?
As it stands, I write the lyrics and melodies with chords, and we work out the arrangement as a band. Maybe we'll work more as a team in the future, that would be interesting. I think there is room for that. Billy is always full of ideas, Tim too. 
What kinds of messages do you like to get across in your music?
I don't think we are about messages, honestly. If we had a message it would be 'live now, get out there and make the most of each day'. Life is short. Look at Marie Fredriksson - dead at 61. What the hell?! Somebody I know just lost their leg due to a blood clot. So if we had a message it would be 'live now'. We're not especially political. It's more about enjoying ourselves, and hopefully providing something that people will enjoy, and dance to, and sing to. We need more joy in the world, and less darkness. Music is such a great way to bring people together. It has a special resonance, reminds us we are alive and there is energy and light out there.  
Do you ever have disagreements in your band, and how do you get past them?
A bit, but we're all grown men. I'm in my late 40s! We tend to move on pretty quickly. Life is short. 
What are your plans for the future, and do you have anything that you want to spotlight that's coming up?
I want us to get out there as much as we can, play lots of gigs in 2020 and 2021. I'd like us to record an EP or album. We've made a start. Our first single and video is called 'When It Comes to You' and should be out by the end of March. It's a really good track, we have six musicians on it. All of the band, plus Simon Waggott on keyboards, he recently played with Sad Cafe. And Holly Taymar-Bilton does a great job on backing vocals. It's a really good little pop song with bite, and it's all over in two and a half minutes. A bit of Van Morrison, a bit of Americana, a bit of Beatles. I'm really pleased with it.