Discover more from Volatile Weekly
Interviews in the music industry from around the world
Interview: Misplaced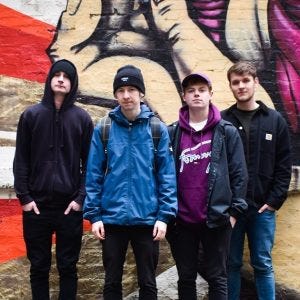 What got you into music, and if you had not gotten into music what would you be doing today?
We were all such big music fans and when we started seeing live gigs we couldn't really see any other path, we've been on that path ever since and have never really paid much attention to what we would be doing without it, we cant afford to. 
What do you like to do when you're not playing music and how does that influence your creativity?
We pretty much just hang out. Apart from our guitarist Nicholas who often visits Jungle Rumble.
How long has your band been around?
This line up has only been together for about year but a few of us go back for 3-4 years together with other projects. 
Where are you based out of and how did that influence your music?
We're based out of Glasgow and we never really saw many bands making the sort of music we wanted to hear and make. That really drove us because we felt like we had something unique to say. 
How did you come up with the name of your band and what does it mean to you.
A: We wanted to keep the name simple, the meaning becomes attached to it overtime. The Citizen song "Your Head Got Misplaced" definitely had something to do with it. 
Tell me about the best and worst shows you have played.
We played a Halloween show a few years ago in a studio set up. There were about 4 different rooms with different bands playing at the same time as us. The only thing more disappointing that the crowd in attendance was our last-minute face paint. We've had a lot of goodies; particularly at Bloc+ I think they've hosted our best gigs.  
Tell me about your favorite venue to play at, and do you have any places you want to play that you haven't already?
We all love Bloc+; the shows are free and late so you play to a lot of people that you wouldn't normally with a ticketed set up. The people there are always good to us as well. Being from Glasgow the dream is the Barrowlands, it's such an iconic venue and growing up here we've seen so many of our favorite bands play there so that is a goal of ours. 
If you could play any show with any lineup who would be on the ticket?
Angels & Airwaves. Tom Delonge has our hearts.
What is some advice that you would give to someone who is just getting into playing in a band?
You're only as good as the people around you. If you're passionate about doing music you can't make any concessions on the personnel in your band, set your standard and stick to it, anyone who falls beneath that isn't right so get rid. Also, get a job and be on time. 
If you could go back in time and give yourselves advice, what would it be?
Probably nothing to be honest. The mistakes we've made have been such vital lessons for us we wouldn't want to avoid any of them. The only way we got better was through trial and error. 
Of your songs which one means the most to you and why? 
I think Struggle means the most to us, the message is one a lot of people understand and for that reason we are really proud.
Which songs are your favorite to play and which get requested the most?
Struggle seems to be the fans favorite, it's a really catchy and hard tune so far folk are loving it. 
What is the creative process for the band, and what inspires you to write your music?
Typically, someone in the band will come with a basic structure and it gets torn apart in the studio. There is a lot of experimentation with an idea before it even gets demoed never mind professionally recorded. 
What kinds of messages do you like to get across in your music?
The themes we typically play with are ones of love, loss and inner conflict although they're still developing. We've not been around that long, we're excited to show the evolution of our messaging soon.  
Do you ever have disagreements in your band, and how do you get past them?
All the time, but it can never get personal. It's a natural part of being in a team of any sort so you have to keep your ego aside and put the project first. 
What are your plans for the future, and do you have anything that you want to spotlight that's coming up?
We just released a new single "Storyboard for a Pessimist". It's a new vibe for us; very low-key and melancholic but so far we're getting really positive feedback, people love it! We're also going down south in about a month to record our next project, so our next release won't be far away. For live gigs and merch check out our Facebook page: https://www.facebook.com/misplaceduk/?ref=bookmarks