Discover more from Volatile Weekly
Interviews in the music industry from around the world
Interview: Monach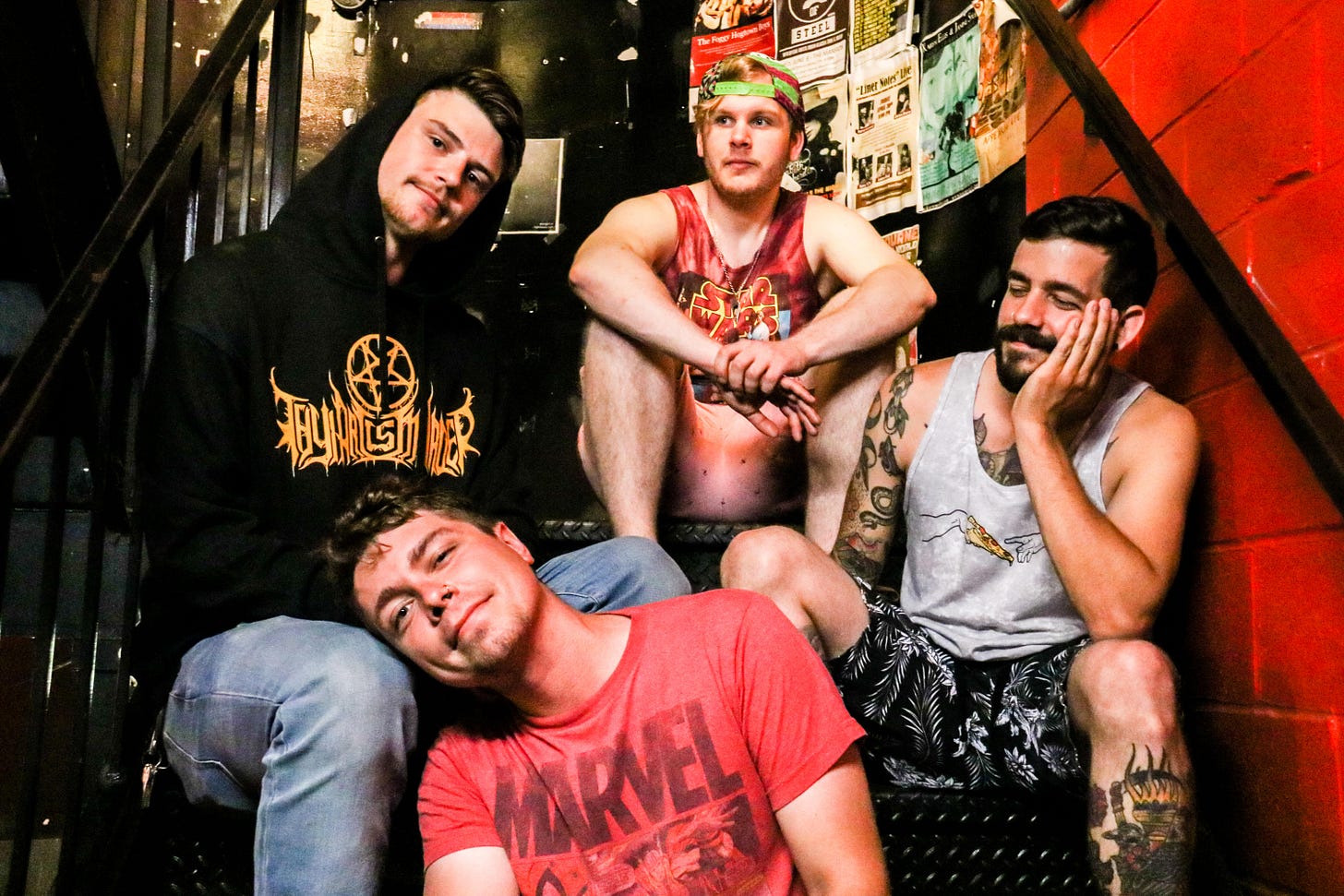 What got you into music, and if you had not gotten into music what would you be doing today?
Neither of my parents play an instrument but they're both big music fans, so I was exposed to a lot of music and a lot of different genres from a really young age. I became absolutely obsessed with guitars and just sound in general. That turned into learning drums later on & constantly trying to chase noise. If I wasn't playing music, I'd likely have gotten more involved in theatre/acting, I did a couple of shows in high school and really enjoyed it. It'd still be something within the arts. (Noah)
What do you like to do when you're not playing music and how does that influence your creativity? 
If I'm not playing music/writing/searching for new influence, I'm probably watching movies. Again, even outside of music I still try & stay artistically dipped in something else. I've always had a massive appreciation for filmography, it's kind of the movie equivalent of being an audio engineer, the guy that takes the blueprint and makes it a visual or a sonic experience. It's always been really neat for me to watch what people do to bend certain aesthetics or writing traits, and I feel like the storytelling alone translates extremely well into lyrical concepts. (Noah)
How long has your band been around?
The band started in early 2018. The band started under a completely different name with the rest of the band aside from Andrew being a completely different lineup. We all had wanted to do something together for a while and it just kind of finally lined up where we all were able to do it. We recorded this super hasty demo to have material out, finished that just before our first show and started playing as much as we could. (Nick)
Where are you based out of and how did that influence your music?
We are based out of Kingston, Canada. The scene for music here has been thriving our whole lives. Growing up we all went to see some of our favorite bands just a stone's throw away. A lot of us got started pretty early writing music and playing shows which meant a lot of us got a leg up in regards to experience. Unfortunately, there were companies like Supernova that tried to exploit young musicians to make money, but a lot of us eventually saw through that. In recent years, Kingston has produced a lot of successful musicians like The Glorious Sons and The Mahones. I guess you could say that there was so much variety in music here that everyone was influenced by a variety of genres of music. (Nick)
How did you come up with the name of your band and what does it mean to you.
"Monach" was a name we came up with after running with the name "Hot Knives" for a while. After using "Hot Knives" for a while, we ran into a lot of other bands with the same name and decided we needed to change it before it became a legal issue. After a lot of brainstorming, Andrew came up with "Monach" short for Monachopsis - The subtle but persistent feeling of being out of place. It felt right considering the subject and feelings that were conveyed with our music. (Nick)
Tell me about the best and worst shows you have played.
There's been a lot of great shows. Recently we hosted a Christmas event and it was the most fun we've had in a long time. The place was packed, everyone was having a great time. The weather that day was horrible but people still took the time to come out and have fun and it meant so much to us. Worse shows? We've played enough empty venues to fill that void. There will always be misses for shows but honestly, it's the great shows that are worth remembering. (Nick)
Tell me about your favorite venue to play at, and do you have any places you want to play that you haven't already? 
The Mansion in Kingston has always been really good to us, it's a hometown favorite. Kind of one of the main hubs in the alternative circle. I'd love to get in at Hard Luck or Sneaky Dee's in Toronto, both of them look like mad fun. (Noah)
If you could play any show with any lineup who would be on the ticket?
Oh gosh, we'd probably all give wildly different answers to that question haha. If it were my choice, I'd probably go us, Thursday, Touché Amore, and like, maybe Citizen?  (Noah)
What is some advice that you would give to someone who is just getting into playing in a band?
Don't start spamming all of your friends to like your page before you have something to show for it. Nobody will understand what they're signing up for unless you have something worth checking out. Sit down, write some music, record it and then make your social media and show it off to the world. It'll make potential fans feel like it was worth visiting for social media pages. (Nick)
If you could go back in time and give yourselves advice, what would it be? 
If I could go back, I would warn myself about all the shady promoters that want to take advantage of you. I think too much time was spent trying to impress the wrong people and if the time I had invested in them was invested elsewhere, I would have had a much smoother ride. (Nick)
Of your songs which one means the most to you and why?
There's a song called 'Grandfather Clock' I'm particularly proud of that ends the album. It was written for my grandfather after he passed, and it ends with a segment of a speech my grandmother gave at his celebration of life, and being able to kind of honor him and their relationship like that and kind of encapsulate a bit of it is something that means a lot to me  (Nick)
Which songs are your favorite to play and which get requested the most? 
The other guys are going to get a kick out of this because I cursed the bridge of this song the first time I ever filled in on drums, but Coda has become a favorite to play for me, as well as two new unreleased ones that we've been working on to let loose soon. We've been covering "Bad Guy" by Billie Eilish, and that's EASILY the hot request without fail. (Noah)
What is the creative process for the band, and what inspires you to write your music?
The flow usually ends up along the lines of this: Someone comes in with an idea for a song and lays it out for everyone. Then we take the time to pick it apart and contribute our ideas and modifications to really give it that "Monach" feel. The process takes a few weeks of tweaking and adjusting as we go until we're all happy jamming the song. (Nick)
What kinds of messages do you like to get across in your music?
There's a lot to be taken away from our music. Every song varies dramatically in topic as Andrew really puts a lot into the music he writes. Admittedly some of these songs are a good couple years old now and were written before the band was even formed, so there are some songs about relationships and partying, and then some of the more recent ones focusing more on mental health and loss in one way or another. (Nick)
Do you ever have disagreements in your band, and how do you get past them?
We've been pretty fortunate in that we haven't really been victim to horrible disagreements. There's been differences in direction and the fix usually becomes a lot of talking and understanding where everyone comes from. We really push for transparency in the band because bottling things up usually wind up in aggressive disputes. (Nick)
What are your plans for the future, and do you have anything that you want to spotlight that's coming up?
Right now the plan is to tour and start getting our name out there. We've just released our debut album and nows the time to get a feeler for what people think. Do they like the album? What are the fan favorites? Etc. After that? More recording, more videos, and more touring. We're just having some fun with it all, to be honest. (Nick)