Discover more from Volatile Weekly
Interviews in the music industry from around the world
Interview: Mondo Bear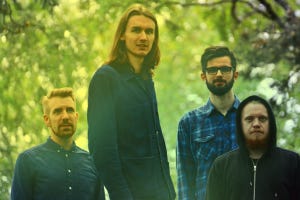 Where are you based out of and how did that influence your music?
We live in Trondheim, Norway. So for us the local music scene, from jazz to rock has been quite important. Both local bands and other Norwegian acts coming through town. Trondheim is one of the country's larger cities, and there are lots of students, so the cultural life is quite vibrant. How long has your band been around?
Mondo Bear as a project began sometime in 2018, as the culmination of another project by our drummer Vebjorn and singer/guitarist Erik. With two new members, Anders on guitar and Sondre on bass, we quickly started writing these longer, slow songs. Most of the process was taking song ideas and adding some kind of ambiance and atmosphere to them. Using different effects to carve out a sound that we felt happy with. The first album is a collection of the first songs we've written together that we thought sounded good enough for an album. It's an amalgam of our different tastes in music.
How did you come up with the name of your band and what does it mean to you? Like most bands, we really struggled to find a cool name. So we were for a period called Take Us Up. Luckily we had the insight to ditch that moniker and go for something "cooler". Mondo, is a California surf term, meaning big or huge. It's also used by a couple of stoner/psych bands. So the Calfornia connection made sense because our lyrics at the time seemed to orbit around the ideas of fame, death, and crime. Concepts that are very present in the California/Hollywood mythos, as well as having a song on the album called Hollywood. Bear.. because bears are cool. And our sound is sort of huge and sluggish at times, and while often steady and calm, it carries the potential for some violent outbursts.
Tell me about your favorite venue to play at, and do you have any places you want to play that you haven't already? I don't think we have a single favorite venue, but the ones that are a bit strange with their own unique ambiance are always fun. The place in Trondheim we are having our release gig is something we're looking forward to. A venue called Tyven in Trondheim. A really special place.
If you could play any show with any lineup who would be on the ticket? King Gizzard & The Lizard Wizzard, Tame Impala and Lana Del Ray. Probably also Motorpsycho, Elephant9, and Needlepoint, just to add a ton of good psychedelic vibes from our own country. 
What is some advice that you would give to someone who is just getting into playing in a band?
Just play, expect nothing and do what you can as well as you can.
If you could go back in time and give yourselves advice, what would it be?
Practice more jazz.. really helps build up the fundamentals.
Of your songs which one means the most to you and why? 
I think they're all somewhat important, and we all have different favorites. Hollywood might be the one we connect with the most collectively though. Given the story and vibe behind the lyrics.
Which songs are your favorite to play and which get requested the most? Scandal, Criminal and the new stuff. New songs are always fun so their usually the favorites. Luckily our music has room for a lot of improvisation, so none of the songs really get to boring. 
What is the creative process for the band, and what inspires you to write your music?
It depends, mostly it's a band rehearsal where someone brings in a riff or an idea the spawns most of the material. From there it's a matter of negotiation the right path for the song. The sound, energy etc. Then the lyrics usually come after.
What kinds of messages do you like to get across in your music?
No real message, we mostly tell stories.
Do you ever have disagreements in your band, and how do you get past them?
Fight until someone gives up…. We try to talk about things and figure it out. It's always a process in balancing all the members and their ideas.
What are your plans for the future, and do you have anything that you want to spotlight that's coming up?
The release of our record in march. That's something we're really looking forward to.