Discover more from Volatile Weekly
Interviews in the music industry from around the world
Interview: Mossie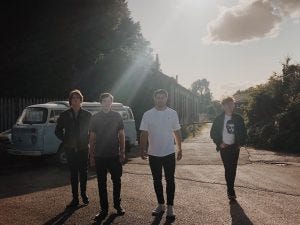 What got you into music, and if you had not gotten into music what would you be doing today?
We all have our different reasons I guess, my dad was always in bands growing up so I and my brother both followed in his steps. . . If we weren't in music I'd be a professional drinker. Maybe we are that too anyway.
What do you like to do when you are not playing music and how does that influence your creativity?
We are all different personalities and have our own things, some of us are into sports and footie, others cars! The lead singer works part-time as an architect aside from music – I guess the creativity is still there.
How long has your band been around?
We're a new band we have been together officially since August 2019 but since then have done a lot already. It was an easy form!
Where are you based out of and how did that influence your music?
We are based in Leeds, a bit of a Yorkshire Mixture! Lead singer is from Barnsley and his brother actually went to the same music class as a couple of the Arctic Monkeys, you might see some of their stuff come through in our tunes, great band! There is some great music from the North of England though, Stones Roses, Smiths, Oasis. . . 
How did you come up with the name of your band and what does it mean to you.
We are named after a World War 2 Bomber plane. We have links to the war through relatives.
Tell me about the best and worst shows you have played.
We generally enjoy every show, we played a sell-out show in Leeds in the UK which was ace, there was a really good buzz around that gig at The Lending Rooms. The worst was probably when a woman attempted to grab the mic and knocked my beer over on stage, I won't name or shame the venue she was well baked though! haha
Tell me about your favorite venue to play at, and do you have any places you want to play that you haven't already?
We have lots of places we'd like to play, Maddison Square Gardens, Wembley. . .etc. Our favorite to date is Julies Cafe though.
If you could play any show with any lineup who would be on the ticket?
Oh, that's a tough one! I'd definitely say Oasis, should they get back together, or potentially The Beatles? That would be pretty cool! I'd let either of those support us ? 
What is some advice that you would give to someone who is just getting into playing in a band?
I say just go for it, go with what you feel sounds good and try to wear your heart on your sleeve with music. Music sets the soul free! 
If you could go back in time and give yourselves advice, what would it be?
I'd say get together soon, we have a real good vibe in the band and I wish we would have been together for a few years we would have been much further along the winding road by now! Writing music and getting vibes takes time.
Of your songs which one means the most to you and why? 
We wrote a song called Whiskey & Wine which is on our Upcoming EP, due to be released in August 2020. I won't say why, but listen to it.
Which songs are your favorite to play and which get requested the most?
We get a lot of requests for Outta Time, which has a bit of a funk bass riff. That's probably our favorite to play too so we don't mind the requests at all!
What is the creative process for the band, and what inspires you to write your music?
It's either writing music to words or the other way around, we generally jam something out and play around with the structure and see if it's worth delving into after an hour or so playing with it. Life is inspiring enough for anyone to write music!
What kinds of messages do you like to get across in your music?
Our music is about real life and the shit we go through daily, we are realists and we like to jam it out in our songs.
Do you ever have disagreements in your band, and how do you get past them?
Yeah, all the time! Could strange each other sometimes, were mate though it's only a brief annoyance a beer sorts it out in the end.
What are your plans for the future, and do you have anything that you want to spotlight that's coming up?
We have lots planned, a tour of the UK after our EP release in the summer, watch out for us. . .Mossie are coming