Discover more from Volatile Weekly
Interviews in the music industry from around the world
Interview: Nodus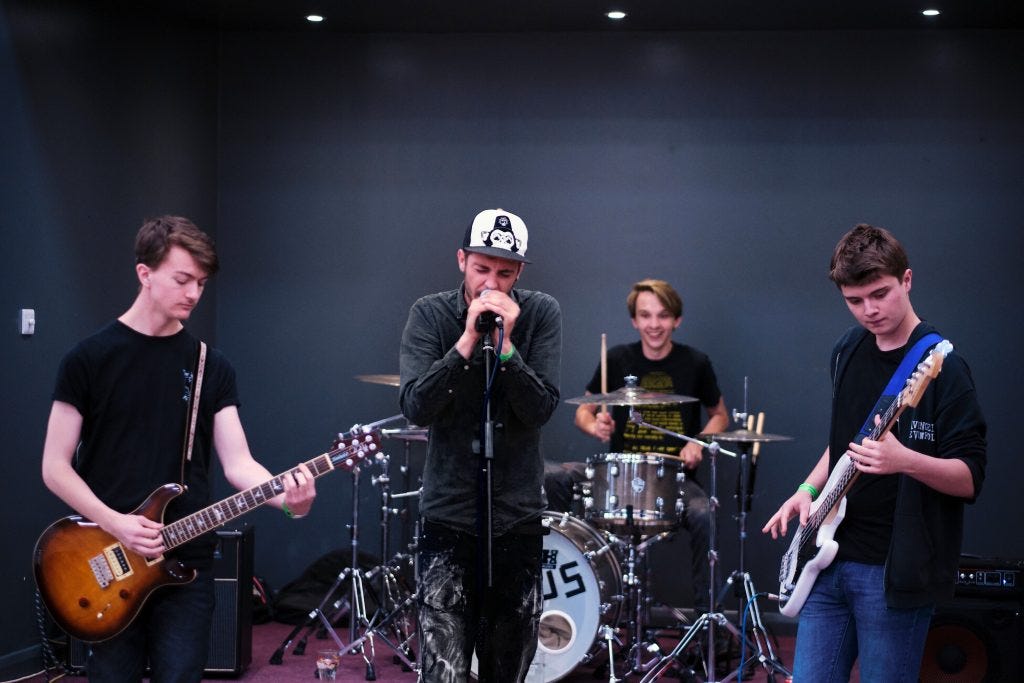 What got you into music, and if you had not gotten into music what would you be doing today?
Dan - My mum always had music on and my step father would always play the guitar. I was always fascinated by the guitar but never really played it. When my sister was born and grew up my step dad had ocd and didn't really like toys out so I would pick up the guitar or put backing tracks on and sing with her. At 15 I left home because of this and that and would rather sleep in a tent so I stopped playing and singing. When I would go home here and there I would always do music with my sister. Over the years After this and that I found myself homeless again and stopped altogether but I found a girl and we conceived. The day of the gender scan she miscarried and we fell apart, she opted to find another man and get pregnant straight away and I had to make a choice. End it all or find a reason to continue. I was walking by a guitar shop and saw a big blue guitar, it made me cry so I bought it and I chose to dedicate myself to music. I would work 10 hour days and then spend about 8 hours learning simple covers and songwriting. I then got screwed over from work and they took my van and a fair amount of wages. So I started to busk and raised enough to record. I recorded and put a post on Facebook and found my band. If I wasn't doing music, I wouldn't be here.
Ben -  My grandad showing me country music got me into wanting to be a musician as I fell in love with the craft. Since then, I have been learning about all different genres and found my place in rock and metal. If it wasn't for music, I would most likely be doing something in IT as that is what I was good at... Until I picked up a guitar!
Jordan - Being raised on rock and metal and being inspired by the people who come together in unity from all backgrounds to share experiences together and see acts live. I probably would be doing something in IT too as it's something I also enjoy from time to time.
Luke - I got into music after watching the foo fighters live at Wembley arena show on dvd. From that point I was hooked with all aspects of music. Live shows and the records.
If I wasn't doing music, I'd honestly probably be dead. It's got me through the worst times of my life and it's the reason why I wake up everyday with a smile on my face.
What do you like to do when your not playing music and how does that influence your creativity?
Dan - I live and breathe music, when I wake up it's a cuppa tea, breakfast and music. I then work out while listening to music, my day consists of practicing, networking, managing the band, running open mics, writing new music, managing other bands/acts, arranging charity events, busking and guess what?! More music! It is my therapy and my destiny.
Ben - when I'm not playing music I like to look at other people's musical abilities on YouTube and dive deep into what they do and why.
If I want time to cool down or chill, I'll watch content creators on YouTube that play games, or play computer games myself.
Jordan - I love to listen to music and be inspired by live acts, I play video games too and find it a good way to relax and enjoy spare time.
Luke - I like to drive around when I've got free time but even then I have music on in the background. It helps me clear my mind and escape from what I need to escape from every now and again.
How long has your band been around?
We've been a band for almost 6 months now! We've played 2-3 shows a week since the start wether it being functions, originals or private events. The concept of Solve The Nodus has been around for 2 years while Dan was studying and researching and making contacts.
Where are you based out of and how did that influence your music? We are based out of Portsmouth, Fareham and Waterlooville. The scene in all of the above are very alive but very inclusive, you seem to find certain circles playing the same acts at the same venues so we decided to break that mould and do things our way and include everyone! So we now mostly put on our own shows and invite other local bands to support us and they repay the gesture. We will build a community of unity for all.
How did you come up with the name of your band and what does it mean to you.
As mentioned above Dan lost everything and made a choice to continue, he found music was his solution and his therapy so he did some research and stubbles across the word "Nodus" meaning "intricate problem" so the name "Solve The Nodus" was born. The name means everything to all of us as it's our escapism. We also get to help a lot of people out who feel like we do and are going through what we have, we just want to inspire and heal. Our happiness is making others happy.
Tell me about the best and worst shows you have played.
We play every single show like it is our last, our best show has got to be Manchester as we went all the way for free just to play for a lady with cancer to show her she is loved and cared about. Her face and reaction afterwards and her appreciation really concreted our dedication to each other and to our cause. Our worst show is probably our first as we were so shy! We didn't make any mistakes and people engaged but we've come leaps and bounds since then!
Tell me about your favorite venue to play at, and do you have any places you want to play that you haven't already? 
Our favourite so far is tied between the edge of the wedge in Portsmouth and the hobbit in Southampton! They both have amazing sound and atmosphere! We'd love to play stadiums and every venue there is, from the smallest sweatiest most intimate venues to the massive stages you see at festivals and concerts. We want to play to everyone, everywhere!
If you could play any show with any lineup who would be on the ticket? 
Dan - I would love to play Woodstock mainstage and drag a couple of local bands to play, with Paramore, Lower Than Atlantis and Rage Against The Machine.
Ben - Mainstage at Reading Festival, with bands like hacktivist, plini.
Jordan - Download mainstage with Iron Maiden and Enter Shakiri.
Luke - I'd play Reading main stage along side the Foo Fighters, Neck Deep and Enter Shikari!
What is some advice that you would give to someone who is just getting into playing in a band?
Reach for the stars and you'll land on the moon, play and practice everyday like it's your last time. You don't need validation, just go for it!
If you could go back in time and give yourselves advice, what would it be?
You don't need help, just get out and do it!
Of your songs which one means the most to you and why? 
So far We would say "If I Could" which is our co write with James Matthews! When he sent the lyrics over it really resonated with Dan and the music that followed just flowed, it was a great passionate project!
It really represented Dans main struggle of heartbreak.
Which songs are your favorite to play and which get requested the most? 
Daniels favourite song to perform is stay with me as it's dedicated to the people he has lost in his journey in life, currently you can only hear this live. Bens favourite song is to perform is Demons which is out December 13th he loves it as it has so much energy. Jordan's Favourite to play is I Just Can't Tied because the song gives him freedom to be able to play about and make it different each time and Lukes favourite song to play is If I Could because he gets to big noise and play the double kick!
What is the creative process for the band, and what inspires you to write your music?
We all song-write at home and bring them into practice but we usually come into practice and freestyle and just have fun and songs like "Demons" happen! We take inspiration from everything! Literally everything, landscapes, memes, people, events, but usually our inspiration is each other!
What kinds of messages do you like to get across in your music? 
That it's okay to not be okay and all we have in life is each other! To talk about our issues and resolve them!
Do you ever have disagreements in your band, and how do you get past them?
We're four creatives, all with our own outlook and perceptions. To say we agreed on everything would be a lie! We host many polls in our group chat and all have input in everything! We don't argue but we all put our own opinions forward, we think this is very special and very important as we all grow and learn from each other and make decisions as a fully rounded, thought out entity.
What are your plans for the future, and do you have anything that you want to spotlight that's coming up?
We have lots and lots planned! We have several eps being released 2020 and an album in 2021 with many gigs! We don't want to give too much away so follow our socials to keep up to date! Thank you for having us!