Discover more from Volatile Weekly
Interviews in the music industry from around the world
Interview: Ocean Encounters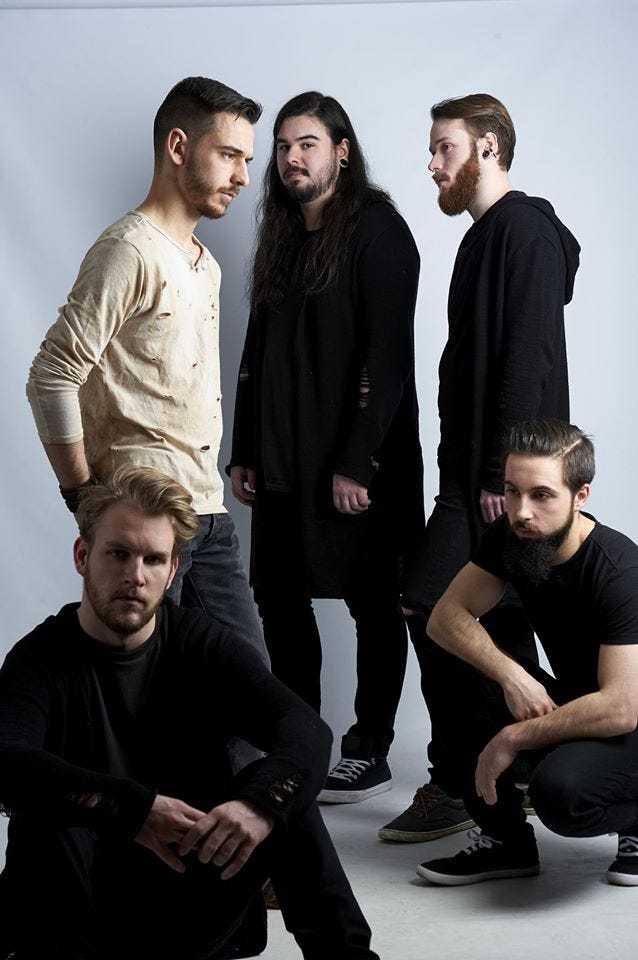 What got you into music, and if you had not gotten into music what would you be doing today?
Pieter: Me personally I've always been drawn to the stage. I used to sing songs during school events, and used to pretend running out on stage to music my parents played. The classics like Queen, Paul Simon, John Denver etc. Then in middle-school they signed me up for guitar lessons, I burned a Blink 182 CD from a friend of mine and the ball got rolling.
If it hadn't been music I'd still do the teaching and tour-guide jobs I have going on now. I love history and dealing with groups of people. It's my comfort zone.
What do you like to do when your not playing music and how does that influence your creativity?
Pieter: I enjoy history tremendously. I teach it and give tours of the WW1 battlefields around Ypres. And in war you have every single possible human emotion supercharged to the extreme. Fear, love, frustration, camaraderie etc. And these are awesome themes to write about. So lyrically you'll often see themes of struggle and battle, frustration with superiors, anger at yourself and others. 
Nathan: Also musically metal is fantastic to out any and all negative feelings. For the Harry Potter fans out there our tunes our like Dumbledore's pensieve. The thoughts and feelings that would be otherwise detrimental to a positive state of mind are all just poured into the riffs and breakdowns and hard-hitting melodies we all enjoy. Bang those out during rehearsal or a show and you feel like a whole new person when it's all done.
How long has your band been around? Quentin: We started back in 2015. Originally me (Quentin) had gotten together with Greg (our guitarist) and we started jamming. We put out the word we were looking for a singer and a bassist.
Pieter: I'm a teacher and one of my last-year students had a friend who knew Greg and she knew they were looking for a bassist, so when she asked me I immediately jumped at the opportunity. By the end of that first practice we had fleshed out a complete song, and the rest is history.
Where are you based out of and how did that influence your music?
Greg: We're based in Tournai/Doornik in Belgium. Actually this place had a huge punk/hardcore scene back in the 80s. People would come from the big cities all around the area to come to the shows here. So a lot of that still remains to the older generation that suck around. All of us have had awesome concert experiences so we want to try and bring those feelings back to the city.
Quentin: We also had a house for 3 years that was basically one big rehearsal space and music warehouse. Anybody who played some form of instrument walked into that place and could play a variety of instruments. All the amps were plugged in, we had a piano, deconstructed drum-set that could be thrown together if need be. And that really helped to write the EP and the album. If someone had an idea in the middle of night you could walk right up to the console, plug in, jam out the riff, and over the course of the days it would be fleshed out by the whole band passing by that console. It was awesome.
How did you come up with the name of your band and what does it mean to you.
Quentin: Well when we started ocean-themed names were really up and coming. So we wanted to throw that in the name somewhere. Also because the sound and tone we aimed for was big and vast.
Greg: And then I thought about that feeling you get when you go to the beach, you're playing in the waves, and you get stuck in an undertow, or get absolutely destroyed by a set of waves. And then you wash up on the beach like a beached wale and suddenly have this idea of just ow weak you are against something as massive as the ocean. And that encounter of something bigger than yourself is what we strive for, so Ocean Encounters.
Tell me about the best and worst shows you have played.
Thomas: Best show in terms of Durbuy Rock Festival in 2019 where we played in front of our largest crowd, on the main stage, with Black Dalia Murder and Napalm Death following just a few hours behind.  We had out first legitimate moshpit, a little wall of death, and some great feedback from absolute strangers who had seen us for the first time. It was epic.
Pieter: Worst show was one where good ol' Murphy was throwing his law all over the place. We were supposed to close off the first day of the city's music fesitval, and the sound engineer had mixed up our in-ear monitors with the main sound system, so every time we tried to start the whole audience would hear our metronome and we'd hear nothing. On top of that someone had locked the room where we had our costumes, I broke a bass string, the singer had to shorten his warm up so he was struggling through the harder song, and because the room where the guitars were before the show had air conditioning the guitars were tuned in much colder temperature than what we were doing the show in and show half way through the first song both guitars and the bass guitar had gone completely out of tune. It was not epic.
Tell me about your favorite venue to play at, and do you have any places you want to play that you haven't already? Nathan: One of the best venues we ever played was at Durbuy Rock Festival. It was our first time on a professional stage with a professional crew, and it all flowed so smoothly. The sound check went without a hitch, the sound was spot on and the crowd reacted fantastically.
One of the best crowds we ever had was at that small local metal pub in our town. We had them packed to outside, and the moshpit we had going accidentally busted a hole in the wall. And now every time we've played there it seems like half the city has come out to watch us play. We love it there.
Pieter: If we could choose a venue it would be a sweet spot at one of the major festivals we have in our country. Graspop Metal Meeting, Rock Werchter, Pukkelpop, Alcatraz. Main stage in the early evening of the 2nd or 3rd days at any one of those festivals would be awesome.
If you could play any show with any lineup who would be on the ticket? Quentin: An international tour with Jinjer, Polaris, Northlane and Betraying the Martyrs would be the dream! Going all around the world with those guys would be ridiculous. 
What is some advice that you would give to someone who is just getting into playing in a band? Pieter: Focus on the feeling between everyone in the band. Learn how each member plays and how you can feed off of each other before focussing on stuff like shows and recording. Don't be afraid to make mistakes, don't be afraid to be different, and don't go buying the top-of-the-line equipment before you know how and why it's the top-of-the-line. Someone playing a $2k+ Dingwall bass or Schecter guitar doesn't mean they're a good player. A good musician can make a starter-kit Peavy guitar sound like it's crying. Yeah, focus on getting a groove together first.
If you could go back in time and give yourselves advice, what would it be? Quentin: Talk to more pros. We learned so much talking to the bigger bands that were passing through, but should have started doing it sooner. You can read or watch tutorials as much as you want on what it takes to make it, but the bands that are already there have such a massive well of knowledge that it's a shame to pass on it.
Of your songs which one means the most to you and why? 
Pieter:  I think our first single "Disappoint" off the album means the most to me. I had that intro riff in my head one day, recorded it, and before I knew it it was 6 hours later and I had 90% of the song fleshed out. I didn't think much of it because we had already picked out the singles for the album. But when we went to the studio in Germany the response we got from the guys at the studio about the song was overwhelming so we decided to swap out one of the single for that one. And then it became our first video, and our first single. So that all that came from just a riff I had in my head has been amazing.
Nathan: I love "We've Lost Faith In You" and an older song we never recorded called "Storm". Both have these fast paced section interlaced with the hardest of breakdowns that just chug straight through everything. So much fun to play.
Which songs are your favorite to play and which get requested the most? Pieter: My personal favorite in either Disappoint or Angry People (the latter coming off our debut EP). They're really heavy hitters, an Angry People has a section for people to yell out a part of the song, and watching the number of people yell out that phrase increase over time has been so much fun to watch.
What is the creative process for the band, and what inspires you to write your music? Quentin: The creative process is very collective. Someone will come up with anything from 3 seconds to 4 minutes of ideas. Then like a painting or a sketch we draw several lines that could work, and then find the line that fits what we were looking for and you fatten that line, fold it into the rest, shade the line etc.
Pieter: Right, and then once it's about 90% done we'll usually start fleshing out the lyrics. Not to say they don't get written beforehand. Sometimes Thomas will have a full song already written, but you'll never know how well it fits until you actually start laying it on the track. So the lyrics you starts with are usually not the exact same you end up with. I love watching that process happen.
What kinds of messages do you like to get across in your music?
Thomas: There's a few messages that keep coming back in our songs. Lost opportunities for love and greatness, difficult moments from our past, tales of struggle and battle on the oceans, and a sense of constant disappointment in the people who are supposed to be our leaders.
Do you ever have disagreements in your band, and how do you get past them?
(we all collectively laughed at this one a little bit at first)
Pieter: Look, you take 5 people and have them spend hours a week together, there's going to be some heated moments. It's like a family, you love each other, but it sure as hell doesn't mean you have to like each other all the time. We make a conscious effort to separate the personal from the business, which is vital.
Thomas: so in order to remove any issues, we've tried to implement a form of "mini-democracy". If the band is divided about anything then we put it to a vote, and as soon as the majority agrees on an issue that decision is made and there's no going back on it. It helps tremendously with resolving conflict.
What are your plans for the future, and do you have anything that you want to spotlight that's coming up?
Quentin: Immediate future is to get a multi-week tour up and rolling. We want to play a show, hop in the van, drive to the next city, play there, then pack it all up and go again. And we want to do that for a few weeks, hopefully across several countries. No matter how small the venue or how sparse the crowd. We just want to play our music for anyone that wants to listen.
Greg: Exactly. And now that Covid kind of came in and kicked those plans straight in the balls we've had to shift our attention to trying to get the album out there as much as possible, so once everything opens up a little bit that we can pick up the thread and go as hard as possible. That's definitely the goal at the moment. Oh yeah, and getting a webshop up and running!