Discover more from Volatile Weekly
Interviews in the music industry from around the world
Interview: PERSEIDE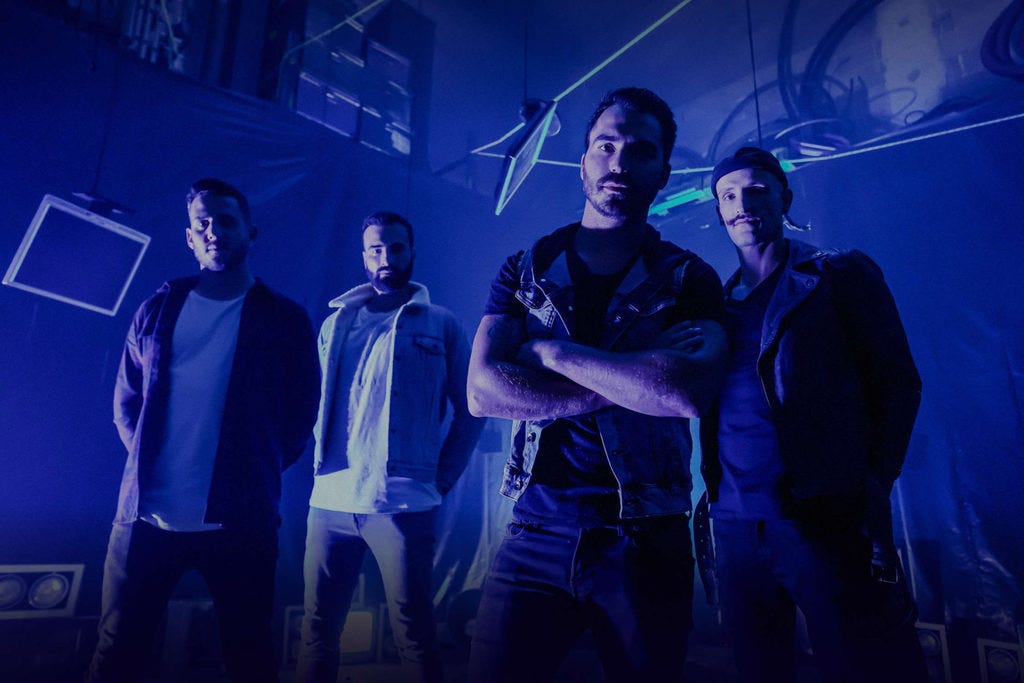 What got you into music, and if you had not gotten into music what would you be doing today?
Julien (vocals/rhythm guitar): When we were teenagers, we were passionate about metal music. The feeling it gave us made us want to get on stage like our idols. Naturally, we started imitating our favorite bands, and then created our own band. It was almost 20 years ago and the passion is still the same. So it's simple: I don't imagine myself without music today!!! ?
What do you like to do when you're not playing music and how does that influence your creativity?
Every member of the band is very busy when he's not playing music: personally, I'm a medical doctor in anesthesia and critical care. The things I've seen in the hospital make me remember that when you're in good health, you have to love your life and seize the day. That's a concept that we like to inject into our lyrics and chords: enjoying the little things that are enjoyable, listening to music, losing yourself in a rock show and live it up!
How long has your band been around?
We have followed a very special path. The band has been created when we were teenagers in 2001. Everything started very quickly, and we had the chance to record 2 EP's and make a lot of gigs with awesome bands like Soilwork, Cancer Bats or Protest The Hero. But life did his job, and everyone had to focus on their personal lives for a while: we had to decrease the band activities for a few years… When life gave us the chance to make it together again, we took the opportunity to record our first album that was released in May 2020!
Where are you based out of and how did that influence your music?
We are from a town in France called Lyon. It's the second biggest city in France so the music scene is very intense! It has influenced us insofar as it gave us the chance to play live multiple times as we were a young band. it made us grow as a band tailor-made for playing live, and since then, each of our songs is written to fit on a stage and rock the audience!!!
How did you come up with the name of your band and what does it mean to you.
Perséide is the French name for the shooting stars that appear in France mid-august. They result from the Earth crossing the tail of the constellation of Perseus. In French, these shooting stars are called "les larmes du martyre de Saint-Laurent" ("tears of Saint-Laurent's martyr"). As we known each other in childhood in a town called Saint-Laurent, we decided to call the band after this awesome story. It has a strong meaning for us because it remains us that we are still together after all this time: four little boys that wanted to rock in their hometown.
Tell me about the best and worst shows you have played.
We have a lot of awesome memories but I think the best one is a set of shows that we have played during a mini-tour in the US in summer 2011. Those were little shows with small audiences, but we were all together in this incredible country and we met many crazy people. For the worst show, definitely I remember a gig where we drank too much before getting on stage. We were so f*cked up that we couldn't play the songs properly… Anthony felt off his chair behind the drums!!! Awful…
Tell me about your favorite venue to play at, and do you have any places you want to play that you haven't already?
One of our favorite venues to play at is the CCO in Lyon; the sound is awesome and the staff is great. If we could, we would play at the Hellfest festival… It has become legendary.
If you could play any show with any lineup who would be on the ticket?
Without hesitation, we would like to share the stage with the bands that had influenced us the most: Enter Shikari, The Used, In Flames…
What is some advice that you would give to someone who is just getting into playing in a band?
Play what you love. What give you chills. You don't have to be technical or to follow imposed rules. Do what you feel and play it with your heart. Music is made to enjoy and share.
If you could go back in time and give yourselves advice, what would it be?
I would tell myself not being too rushed, wait for the right time to come. We have often been deceived not to success as a rock band when we were younger. Now that we've grown and that we are happy in our personal lives, we don't wait for the success to come. We just want to play the music that we love and share it with the people that want it too.
Of your songs which one means the most to you and why? 
"Sell Yourself" has a strong meaning for us because it deals with the paradoxical relationship that we've established with the screens. We love it as far as they allow us to keep in touch with our relatives, but we hate it when it isolates us. This song means that we have to enjoy life and stop focusing on the fake relationships that are brought by the screens.
Which songs are your favorite to play and which get requested the most?
Without bad faith, every one of our songs is really enjoyable for me, because it incorporates fun parts to play live: I can sing, scream, let myself go crazy, play heavy riffs or guitar solos in a single song… As a local band, our songs are not really requested at the moment, but we are working for them to please the audience and make the public discover the band and appropriate the songs! ?
What is the creative process for the band, and what inspires you to write your music?
Adrien (lead guitar) and I start with a pre-established framework that we propose to the other musicians. Then, they make musical arrangements to fit to everyone taste and we play the song in rehearsal and then we play it live. If the song please the audience, we keep the final version for recording and drop it right to your ears!
What kinds of messages do you like to get across in your music?
All that we want for our listeners is to enjoy. To feel free to love the music as we love it, no matter the style or influence. We have a lot of music influences and we always wanted to enjoy them together even if they could be contradictory. In a day of your life, you can be happy, sad, angry or crazy. The best way to live these emotions is to let them flow through you and to express them without holding back… That's what we want to share with our music and live shows: you can be all these things at once and the music helps us to escape; even for the time of a song or a concert. Living and sharing this with our listeners to make them live these emotions with us to feel better is the more important thing for us.
Do you ever have disagreements in your band, and how do you get past them?
Of course, we do, like every rock band in my opinion! ? But we know each other since we were kids so we are like a family: we can have disagreements, but with love and discussion, we understand each other and don't act as individual but as a group. And in the end, a big rock party is the best way to get everyone to agree!!!
What are your plans for the future, and do you have anything that you want to spotlight that's coming up?
There's a lot of new stuff coming up! We are already working on new songs to record a new EP end 2020. A live video will be recorded during the concert for the release of the album, and 2021 will be marked with the release of new music videos and the new EP. We hope that it will allow us to book some great gigs with bands we love and keep the inspiration to write new songs and make the experience even greater!