Discover more from Volatile Weekly
Interviews in the music industry from around the world
Interview: Planet For Sale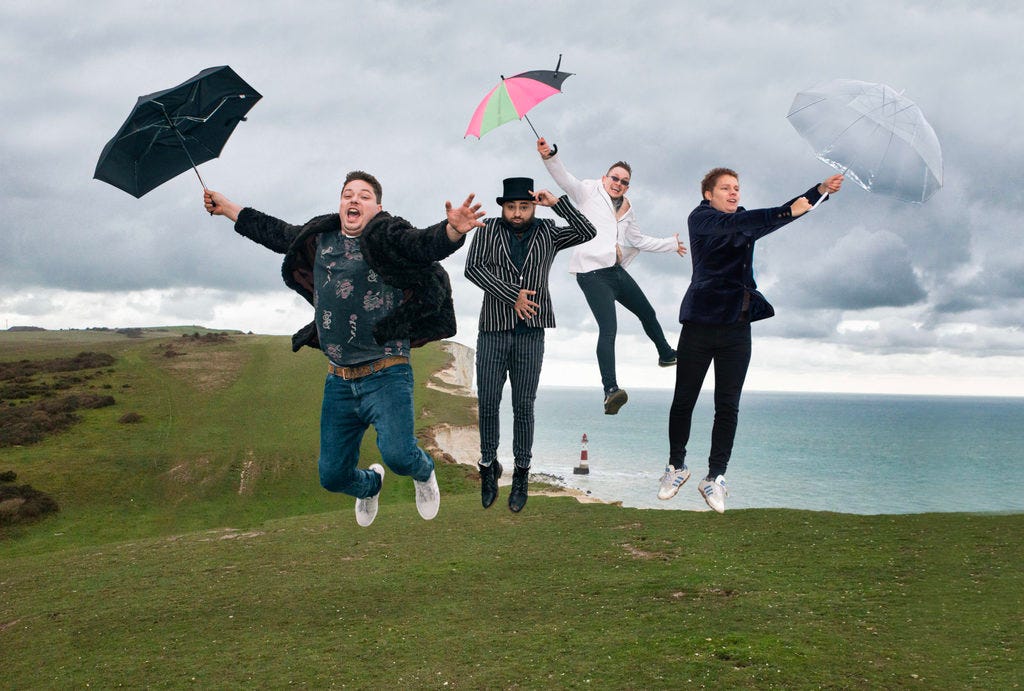 What got you into music, and if you had not gotten into music what would you be doing today? 
we wouldn't be doing anything else if it wasn't because of music. So this would be in other areas of art like theatre in graphic design but we would be pretty bad.
What do you like to do when you're not playing music and how does that influence your creativity? 
We are bunch of nerds , but We love our community and love getting involved with sports and history.  history of people around us gives us an inspiration to tell stories that everybody can relate to.  to see other people's lives and create a contrasting universe is a privilege to have.
How long has your band been around? 
Since the Jurassic era, We are the first British band to play with the dinosaurs.  somehow it feels like two years tho.
Where are you based out of and how did that influence your music? 
We are based in Sussex and mainly Brighton but would you reach out to other parts of the country to tell us stories and give them a good insight to our insanity. I guess living by the sea gives you a sense of Ambience. Brighton is the city of lunacy and that gives you enough to play with.
How did you come up with the name of your band and what does it mean to you? 
The songs connects and portray a vulnerable world fading away. The contrast of our stories go around in circles so a planet for sale was the most suitable. Who and what isn't for sale these days???
Tell me about the best and worst shows you have played. 
not to name any names but The worst one was a pub in Camden so empty you could hear the TripAdvisor complaints if you placed your ear on the walls. After the show we were tired, hungry and even one of us threw up on the side the road, it Took us hours to get back. Since that we've had some great shows and it's really hard to pick the best one. When with a beach in Brighton we held a big party afterwards and invited all of our fans . That was a wild night to remember.
Tell me about your favourite venue to play and do you have any places you want to play that you haven't already? 
We'll buy you a drink once we've done Jools Holland. We were supposed to do the GR8escape this year but it was cancelled due to the Corona crazy. It would be good to storm London again by the end of the year but you never know. we wanna do the '100 club' and 'whisky a go go' but it's a bit lame to predict where you can go. You always want to be surprised. Last year we got to play at a an old Pirate Cove in Sweden for SoFarSound and it was beautiful show.
If you could play any show with any lineup would be on the ticket? 
It would be us headlining and supporting acts would be a giant lineup of all the idiots who thought joining other bands was better idea lol  we will get our mums to do the marketing for that one.
What is some advice that you could give to someone who is just getting into playing in a band?
expect the worst and be the best. Starting from scratch is never easy and you have to be a professional about it. treat people with love and respect and make sure to always give yourself credit for learning from your mistakes before getting up again.
If you could go back in time and give yourself some advice what would it be? 
to give Noel Gallagher less credit he deserved.
Have your sounds which one means the most to you and why? 
Recently we released a new single called 'Old Father Time' and the inspiration behind the song came partly from family feuds and a lot of the difficulties we've had as a band battling the time to make things happen. It's a very honest song and we are very proud of it .
What is the creative process for the band, and what inspires you to write music? 
We have a room in Brighton where the walls are painted green and purple. We take the acoustic guitars there and sit on this old Persian rug and usually Jim plays the acoustic guitar while Rooz comes up with new melodies and lyrics. We are from different backgrounds but we always channel our loneliness to create a bonding. It lets us to tap out of the real world yet still write about it.
What kind of messages do you like to get across in your music ?
The world can be a cruel place and the only unbiased morality of a chance is fairness . if anyone is given a chance to be good and to beat the time then they might just be able to survive in this crazy. Our messages simple, love everyone and be good to yourself, because everyone loves a little sunshine.
Do you ever have disagreements in your band and how do you get past them? 
Oh yeah, a band is like a dysfunctional family that only clicks with one elements and that element is music. We're getting better at tabling everything just before we rehearse but sometimes somethings are too personal and we have to find a way to work around it.  The easiest way is to make sure no one is f***** hungry before we start playing.
What are your plans for the future, and do you have anything that you want to spotlight that's coming up? 
We love what we do when we wanna do this for the rest of our lives but that doesn't mean that we don't mind going unnoticed. That would be worse than isolation. The series of singles we are releasing at the moment will become an EP and hopefully we'll to go back to the studio for five more tracks and tour the new album. We live in an age where people are so divided by politics and pressure and we just wanna make them smile and reunite them. it'll be nice to get some badass invitations too.