Discover more from Volatile Weekly
Interviews in the music industry from around the world
Interview: Plastic Age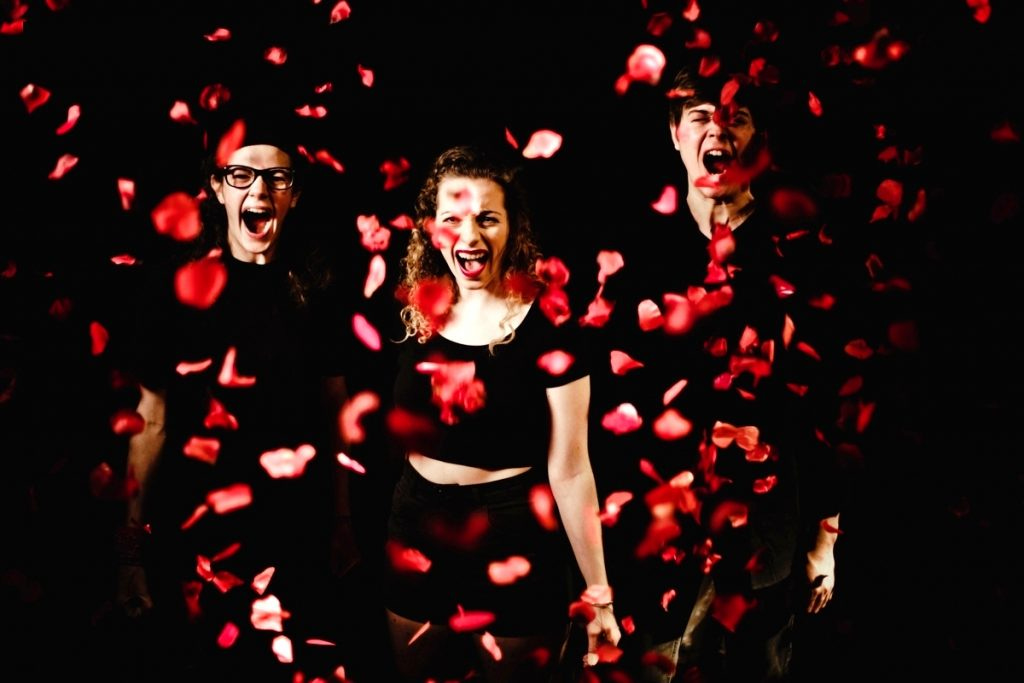 What got you into music, and if you had not gotten into music what would you be doing today? Apolline: My parents used to listen Rock music a lot and my father played for several Rock bands so the choise is obvious! Otherwise I would have chosen a cinematic path, my second passion. I was really into it about in my middle school years. I watched lots of movies and I discovered lots of producers. I took cinema classes in high-school for one year but music won the debate.
Gaëlle: I played the piano when I was 6 because it is the most apropriate instrument that you can use to learn music but I really wanted to play drums. I used to listen to Nirvana and I was aiming at walking the Dave Grohl way. I wasn't a meaningless fight against my parents but I earned the right to hit some real drums shells. If I wasn't going to play music I would have chose a carreer in psychology.
Nicolas: The middle school years is when I started listening to Rock music and then I want to play guitars to play in a band. I guess, if the music was not to be in my life I would have done something else and I would have put my efforts in another passion which is History.
What do you like to do when you're not playing music and how does that influence your creativity? Apolline: When I am not playing music I spend my time watching movies and series. I also enjoy swimming. It ables me to let off steam and doing so for one hour straight it gives me time to think. Sometimes it gives me some ideas for a new song, melodies, lyrics or simply just themes I can use to express myself. I think that in music as in sports there is this notion of « escapes ».
Gaëlle: Besides music I consume movies, series, and books. Generally, I am interested in everything that comes from the art world. It has an influence on me, giving me lots of ideas. I always have something new between my thoughts.
Nicolas: Music left aside, I love nature and photography. Both of them make me evade my basic reality and they also make me take another shape than the Rock and Roll band guy. These two activities inspire me very much. How long has your band been around? The band formed almost seven years ago but we really made it up on stage about three years ago when we released our first EP.
Where are you based out of and how did that influence your music? We're living in the center of France, it's a poor and forgotten place and there is nothing to do but listen and play music. That's how it helped us!
How did you come up with the name of your band and what does it mean to you. The band's name comes of course from The Buggles' « Living In The Plastic Age » but also from Wesley Ruggles' « The Plastic Age » released back in 1925. Besides this name sounds good, we think that this name comes in a quite relevant way in the nowadays ecological crisis we are living in.
Tell me about the best and worst shows you have played. It's quite hard to tell « the best » concert because many of them were great but over time in some places like Dijon and Lyon, it's always a very good and special moment.
Some concerts were horrible because either of the unpleasant organizers or because of the two-three persons crowd; which is quite unsettling when they're not even listening. Hopefully, it didn't happen a lot!
Tell me about your favorite venue to play at, and do you have any places you want to play that you haven't already? We love playing in clubs and Paris venues because the atmosphere is garanteed. And there are several places where we had a great time being pleasantly welcomed as at LaPéniche in Châlon-sur-Saöne, at Wanagain Festival in Clénay and L'Agora in Montluçon...
There are lots of places where we would like to go and play for, from our good venues that we have in France to the festivals. But our upmost dream is to be playing abroad as often as possible.
If you could play any show with any lineup who would be on the ticket? Apolline: The Hives. We've seen them several time on stage and the Rock and Roll orgy is garanteed. They are the subject of some covers we did back when the band formed up. 
Gaëlle: Django Django. Because their voice works is great. And given the fact that we also work our voices we listen to them carefully. Their mixture of Rock en Electro is an interresting work.
Nicolas: Franz Ferdinand because we just can't get our songs out of our heads and we love playing « Darts Of Pleasure ». Everyone: And then there is Pixies, a band with a huge influence on us, they really created something new and very specific and we love them.
What is some advice that you would give to someone who is just getting into playing in a band? We would say that is very important to know where you are headed to: Is this just for fun or do you want to make a living out of it? We would tell you to never let go and to keep push forward even when things get complicated, hard and discouraging because this domain is a very special one where everything can go 180° in a split of a second making you in the need of being prepared for anything that could happen. You must be strong-minded, you must be motivated and you must love what you do.
If you could go back in time and give yourselves advice, what would it be? Nothing. The road we took is the road that led us here. We've learned from our mistakes, from the critics, and from our fans and if we knew things back then we might have chosen differently and we would not be here now. The only thing we would tell ourselves it would be to carry on by fighting and defending the music you believe in.
Of your songs which one means the most to you and why? Probably «  My Time ». It's about emancipation, rebellion and it reflects quite well the band's spirit. Too many people are too passive, especially people who have the power, given the enormous challenges facing us. This track simply says: «enough! »
Which songs are your favorite to play and which get requested the most? Apolline: I love playing « Blood Red Roses » even if we already did a lot. I can't get enough of it. There are lots of different sections and changes in the atmosphere and people react a lot when we play it.
Gaëlle: My favorite is « Wasted Time ». It's a new track but the melody really takes me away.
Nicolas: « Desire » is my favorite track. I like the atmosphere : it's music to dance on but it's quite cold in the same time. What is the creative process for the band, and what inspires you to write your music? Apolline: I am writing the songs and the lyrics. Like most of the people, I write a simple melody and some lyrics and we work it through together in working sessions. Vocals are very important in our songs. This is why I write them prior to the working sessions, being the « core » of the songs and because knowing everyone's tessitura, eases and troubles makes everything go smoothly. I am influenced by many things: cinema, literature, music. I am writing about things I see, notice things that makes me angry, that touch me. I try to keep everything in a neutral dimension, like this, everyone is free to put in his own vision of how things are.
What kinds of messages do you like to get across in your music? Don't get fooled by all you hear and see, work to find the truth and fight to make your own opinion and your own life. 
Many songs we play to talk about this: Liars, manipulative and mythomaniac people. Do you ever have disagreements in your band, and how do you get past them? We are not the same people and sometimes we see things differently. But talking about music, there is no doubt, we have a good harmony between us. Like every band there are times when he have our little fights and demons. The best way to ge through is to speak up when something's wrong and be carefull of the others.
What are your plans for the future, and do you have anything that you want to spotlight that's coming up? We are working on a new album that will be released by the end of 2020. And there is always the will to play more and more. To make new projects. To make our living off our music.
We want to stress out on our abroad tour in England during the month of October hoping it will open lots of doors to numerous tours in numerous countries!