Discover more from Volatile Weekly
Interviews in the music industry from around the world
Interview: Prime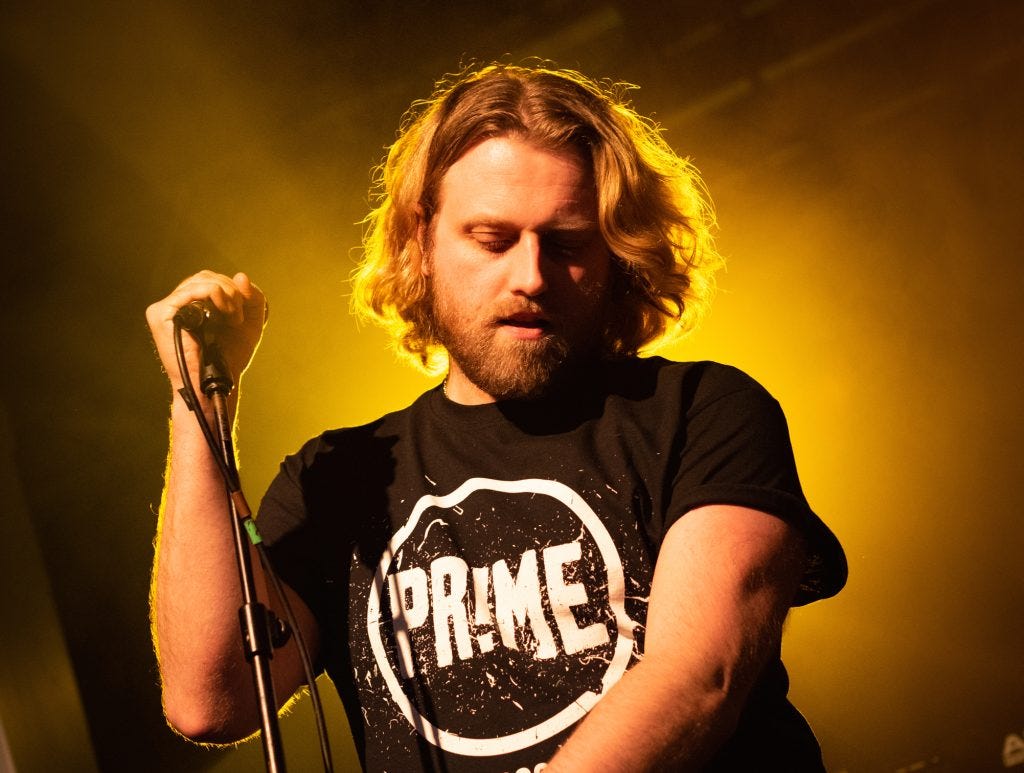 What got you into music, and if you had not gotten into music what would you be doing today?
I'd probably be writing more. I've completed a screenplay and am working on a few new ideas as we speak.
What do you like to do when you are not playing music and how does that influence your creativity?
I'm a huge film buff and love to watch films from different countries and eras, so directors like John Cassavetes, Stanley Kubrick, and Eric Rohmer inspire me to do things my own way. They're also crazy bastards which I love.
How long has your band been around?
We did our first recordings in mid-2014 and our first gigs not long after, these four-plus years have flown, gigging in different places and meeting lots of fun people.
Where are you based out of and how did that influence your music?
We are all East Midlands, apart from our drummer who is based in South Yorkshire. I can't speak for the other lads but we're all from working-class backgrounds where we mingle with lots of people from all types in pubs, local clubs and venues, so I think that inclusivity and interest in society come from that. We don't subscribe to the typical rock star bullshit. It's not Alex Turner with his china tea set and dust-free bungalow fantasizing about being Elvis.
How did you come up with the name Prime and what does it mean to you?
I came up with that, as my first job was packing in a meat factory - I quit for various reasons too detailed to go into... But Prime Cut stuck in my head as I would see it every day on meat packets. It was also the name of a seventies Gene Hackman film... and he's cool as fuck.
Tell me about the best and worst shows you have played.
The best was The Wardrobe in Leeds - for audience atmosphere, not necessarily our performance - we've also had a couple of crackers at the Angel in Notts and the o2 Academy in Sheffield. Oh god, worst, who knows. You learn to become bulletproof to that if you're in it for the long run.
Tell me about your favorite venue to play at, and do you have any places you want to play that you haven't already?
I love the vibe of Nottingham's Angel Microbrewery, and my first full gig was actually there, when the sound of the building wasn't as good due to the old ceiling. It's a listed building... and haunted apparently. But if your building's old enough you're gonna get a good haunting at some point. The spirit of bad pop-punk rock spooking the walls! Our guitarist Chris D. Bramley played Leicester DeMontfort Hall this year, so that would be a good one for the whole band. Or Wollaton Hall... Maybe Batman and Bruce Wayne would show up and watch.
If you could play any show with any lineup who would be on the ticket?
I was watching the NME Awards from the mid-sixties the other day featuring The Stones, The Beatles, The Kinks and The Animals, that would have been a pretty good one!
What is some advice that you would give to someone who is just getting into playing in a band?
Just take it seriously, be professional and kind to people, yet don't take any crap. Follow your instincts as they're usually right!
If you could go back in time and give yourselves advice, what would it be?
Probably the above!
Of your songs which one means the most to you and why?
'In Summer' and 'Bye Bye' are probably two of my favorite songs, as they're very personal yet abstract songs. At a push, at the moment I'd say 'Bye Bye' as Chris (D. Bramley - lead guitar and vocals) has bought a great new arrangement that's very rocky and I really enjoy playing it.
Which songs are your favorite to play and which get requested the most?
'Teen TV' and 'IOU' - neither are in the set anymore! (Laughs) Go watch the videos online if you want to hear them again!
What is the creative process for the band, and what inspires you to write your music?
Our creative process changes constantly... I haven't written much original stuff since Chris joined, but on the evidence of recent jams I would say the old style of me jamming with the guys and them coming up with some catchy licks - and then me improv-ing over the music with some vocal ideas - is going to come back into fashion with us very shortly.
What kinds of messages do you like to get across in your music?
Realism. I tell my own story through lyrics or get some points across that I want to say. I never sing a line I don't believe in.
Do you ever have disagreements in your band, and how do you get past them?
Sometimes we don't. We had a bassist called Jeff Boyden towards the end of last year, and we couldn't get on the same page. He simply didn't trust me on the direction the band was going in, which was a shame, as he was a really good and dedicated player. I have regrets over that for sure but it was best for us to go in a separate direction... Hopefully not forever. Most of the other time arguments are either travel, commitment or money-related. It's not often that we've had creative arguments as I always want musicians to express themselves properly in the songwriting.
What are your plans for the future, and do you have anything that you want to spotlight that's coming up?
Well, we've got a big announcement coming at the end of the year that will definitely point to Prime's future direction, and also, by the time this interview's out, there will be a CD version of our recent compilation 'Art / Facts' out. Also, we shall be back in the studio in late January if things go to plan, which I'm really excited about as it's been too long. We also have just booked some shows in Scotland for March, which will be great as we've never been or played there! I've heard that some audiences up there are amazing.