Discover more from Volatile Weekly
Interviews in the music industry from around the world
Interview: Prison City Brigade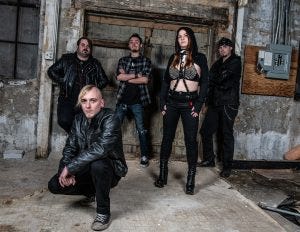 What got you into music, and if you had not gotten into music what would you be doing today?
PCB: Music has always been apart in our individual upbringings, as for what sparked an interest in us making our own there's not one defining factor. Had we not gotten into music, who knows. Jose wanted to be an astrophysicist as a random fact.
What do you like to do when you are not playing music and how does that influence your creativity?
PCB: When we're not playing we're usually catching up on our outside lives; family, friends, other local bands in the area. It's not so much an influence, but it's more of a break from it instead of constantly trying to force something out of yourself.
How long has your band been around?
PCB: We've been around late August of 2013, however we've had multiple line-up changes. This current one has been active about a year.
Where are you based out of and how did that influence your music?
PCB: We're based out of Joliet, IL (Prison City) and the major influence was to be different musically in the scene. It's fun being surrounded by metal bands who actually accept your style.
How did you come up with the name of your band and what does it mean to you.
PCB: The name was taken as a way for Eddie to honor his ties to Prison City and his close friends who are gone from the area. Prison City Brigade is what they called themselves in highschool when they tried replicating Jackass.
Tell me about the best and worst shows you have played.
PCB: The worst show in band history, when a fill-in drummer said he was good to go on the songs to play a show… not even close. The best show, probably the album release show for our latest album, "Rough Skeletons". The whole crowd singing along to newly released songs, people jumping on stage, guest appearances from past members. Just one hell of a party.
Tell me about your favorite venue to play at, and do you have any places you want to play that you haven't already?
PCB: Hands down our top 3 favorite venues, Liar's Club, Looney Bin, abd Top Fuel Saloon. All three have some of the coolest down to Earth owners who take care of the bands and put music first. Well we're heading on a two week tour on the east coast and parts of the midwest. So, we'll probably discover more places along the way.
If you could play any show with any lineup who would be on the ticket?
PCB: We'll get back to you on that. To many conflicting answers due to our own musical tastes.
What is some advice that you would give to someone who is just getting into playing in a band?
PCB: When you play live, remind yourself that you know your instrument and mistakes or changes happen. No matter what you have the power to make whatever happens sound good. 
If you could go back in time and give yourselves advice, what would it be?
PCB: Learn business marketing at an earlier age and be careful who you idolize.
Of your songs which one means the most to you and why? 
PCB: There's not one specific answer. Individually we all have our favorites, but each song holds a different meaning to us. As long as the songs are enjoyable by fans then we've done our part in making sure that there is something for everyone.
Which songs are your favorite to play and which get requested the most?
PCB: It really depends where we're at, every set we try mixing in stuff from all the albums. Most requested though would be "Dad!?" It's just a fun song that the crowd loves being apart of.
What is the creative process for the band, and what inspires you to write your music?
PCB: The creative process is mainly just bringing ideas to the table and seeing what fully works and sticks. It's a way to vent, and a lot of our songs have hidden meanings that are from personal experiences. We're not the type to throw it out in the open, but for those who catch on to the underlying meaning, they see a different side to the stories in our songs.
What kinds of messages do you like to get across in your music?
PCB: No one is ever alone… There's always someone there for you that can relate or has an idea of what you're going through. 
Do you ever have disagreements in your band, and how do you get past them?
PCB: Minor idea discrepancies, but at that point we talk and try the ideas and go from there. Whichever one works is the winner.
What are your plans for the future, and do you have anything that you want to spotlight that's coming up?
PCB: The biggest plan, survive our two week tour run to the east coast. This will be our first major run outside of a few days. We're all anxious, but excited to show different parts of the US exactly who we are. Other than that, keep pushing forward and writing/releasing music that has heart and meaning behind it. That seems to be something that's lost in today's music scene.