Discover more from Volatile Weekly
Interviews in the music industry from around the world
Interview: Promotive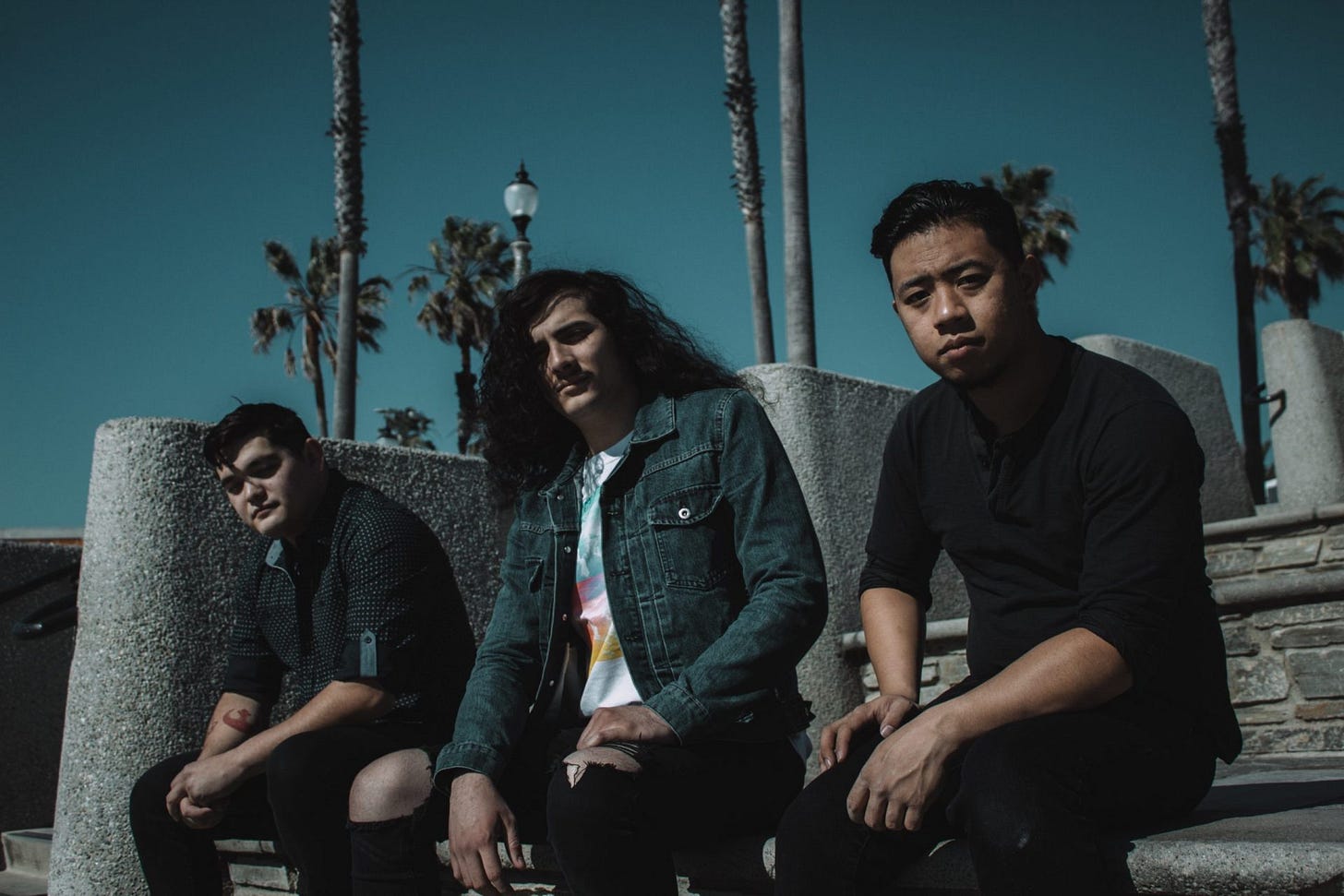 What got you into music, and if you had not gotten into music what would you be doing today?
I've been playing music since I was little. My grandpa was a big advocate for my siblings and I to all learn music; he got me my first guitar when I was 5. I didn't start taking it super seriously, though, until I was around 14. I kinda have Guitar Hero to thank for that (laughs). If I wasn't playing music, I honestly don't know where I'd be today. Music has defined just about everything I've done with my life over the last decade. I really wouldn't be able to tell you where I'd be without it.
What do you like to do when you're not playing music and how does that influence your creativity?
I would say everything in life, to some capacity, influences my writing. Life experiences, movies, Taco Bell (laughs), you name it. I feel like the way my mind works, whenever I see or hear something, my first instinct is usually "I wonder if I apply music to this?" Even something as small as connecting it with a song or lyric.
The great thing about music is that it's so subjective, you can literally write a song about anything, and still have it be relatable and enjoyable. We actually have a song coming out pretty soon that I like to tell people is about a situation in my life that was really similar to that of Jim & Pam from The Office.
How long has your band been around?
We've only been a band for about a year, but all of our bandmates (Jacob Ortiz, Andrew Padilla and Mel Torres) have separately all had pretty extensive musical careers over the years. We've collectively all played with several big name artists, some of us have played and toured all over the United States (including on the Vans Warped Tour), and toured internationally. Even in the short year we've been a band, we've locked in several sponsorships from various companies, such as Empire Ears and Rode Microphones. 
Where are you based out of and how did that influence your music?We're based out of Southern California. All three of us are from different parts of SoCal, but for simplicity we like to say we're based out of Orange County (laughs). I don't necessarily think the location has played a big influence on our music per say, but for me personally, it's had a big impact on my own personal experience in the music scene. The California local scene is MASSIVE. There are so many great bands and great people involved, and all of them have really pushed me (either directly or influentially) to work hard at my craft, and to strive to be the best musician and the best human being that I can be.
How did you come up with the name of your band and what does it mean to you?
We originally operated under a different name for a good minute, The Post Credit Scene. However, we did some artist development work with our friend Lee Jennings (Ghost Kids Collective, The Funeral Portrait) to establish the band a little stronger prior to release, and he suggested that we try and go with a simpler and catchier name. So we brainstormed for a bit, and eventually landed on Promotive. It was simple, effective, and I believe it perfectly reflects our goal as a band to promote positivity and unity through our music.
Tell me about your favorite venue to play at, and do you have any places you want to play that you haven't already?
I absolutely love Chain Reaction in Anaheim. I've played some of my best and most memorable shows at that venue, and the staff that run it are some of the coolest people I know! That venue will always hold a special place for me, and I can't wait for us to have our chance to play it! One place I've always wanted to play is The Masquerade in Atlanta! I have a lot of close friends from or around Georgia, and they all have spoken SO highly of that venue. I really wanna get us out to that venue soon!
If you could play any show with any lineup who would be on the ticket?
I would give about anything to have the chance to open for Rise Against. That's one of my life dreams.  They've been one of my biggest inspirations since I've started playing music, and it would be so rad to have a chance to share the stage with them, even once! I'd love to throw Silverstein on that bill as well! They're easily one of my favorite bands ever, and they're also a band I've always wanted to play with!
What is some advice that you would give to someone who is just getting into playing in a band?
Honestly, just enjoy the process. It's easy to get wrapped up in the technicalities and the dream of "making it," but always make sure to balance it with the love of the music. Don't let yourself forget that playing music and enjoying it should always be at the heart of why you're doing it. Cuz if you're not enjoying it, honestly why bother? Alongside that, I would say to always be open to criticism. It's easy for us as artists to be very attached to our work, and in some cases very calloused to any outside opinions about it. It's important to allow yourself to be open to change and critique, it's how you grow as an artist and as a musician.
If you could go back in time and give yourselves advice, what would it be?
Man, what WOULND'T I tell myself? (laughs)
I would say to make connections earlier on in my career, solidify relationships with the people who have lifted me up, and to avoid the people who brought me down. To not waste time and money on the things that didn't work for me, and to double down and cash in on everything that did. To not settle for anything less than what I want, and to not be afraid to speak up when conflicts came up. I would only hope that past me would listen, he was kind of a stubborn kid (laughs).
Of your songs which one means the most to you and why?
We only have one original song out right now, but honestly even if I were to include all of our unreleased material, I would say that "Tired" still holds up as one of the more meaningful songs in our repertoire. The song talks about feeling stuck in a place you don't want to be in, be it a place of monotony like a dead-end job, or settling for something less than what you really want. I've always struggled with giving up on things I want for my life in order to let other people be happy and successful, and it almost always backfired on me. "Tired" is kind of like a letter to myself, telling me to stop letting such things happen, and to keep pushing forward because even though we'll never exactly where our lives can take us, we ultimately are the ones steering the course of our own life, and only we can make the choices that lead us OR hinder us from who we are truly meant to be.
What is the creative process for the band, and what inspires you to write your music?
AJ (bassist) and I do a majority of the writing in the band, with Mel coming in to arrange his drum parts as well as the extra production elements. It usually starts with an idea from either myself or AJ (anything as short as a riff or vocal idea, to a fully written song) and we expand on and pick it apart it from there.
As I mentioned earlier, I like to think that everything in life can be used as an influence when it comes to writing. For example, we actually have a song coming out pretty soon that I like to tell people is about a situation in my life that was really similar to that of Jim & Pam from The Office.
What kinds of messages do you like to get across in your music?
One of my goals for this project, as well as for any project I've been involved in, has been to promote unity and togetherness. Letting people know that they're not alone in this world It's a lesson I've spent years learning, and am even still learning to this day, and I want to be able to share that positivity with others so that they can know that, no matter what they're going through, they'd know that someone is there for them, or at the very least, that they're not alone in their battles.
Do you ever have disagreements in your band, and how do you get past them?
Nothing serious I would say. Mostly just minor disagreements regarding musical direction, but what I love about this group is that we've all gone through the motions, and have spent our fair share in the music industry. So we all know what works and what doesn't. So normally, such disagreements usually end in a healthy compromise for what direction we take. There's a really healthy dynamic in this group and I'm really happy to be working with these dudes.
What are your plans for the future, and do you have anything that you want to spotlight that's coming up?
We're currently gearing up to release another single and music video in the coming weeks, and we also have a few more tracks up our sleeve that our gonna be coming out throughout the year. Basically the game this year is single after single. All the while just reaching out to people and building an audience and getting our name out to the community. We might start playing some shows sooner than later down the line as well if the demand is there.