Discover more from Volatile Weekly
Interviews in the music industry from around the world
Interview: Reaven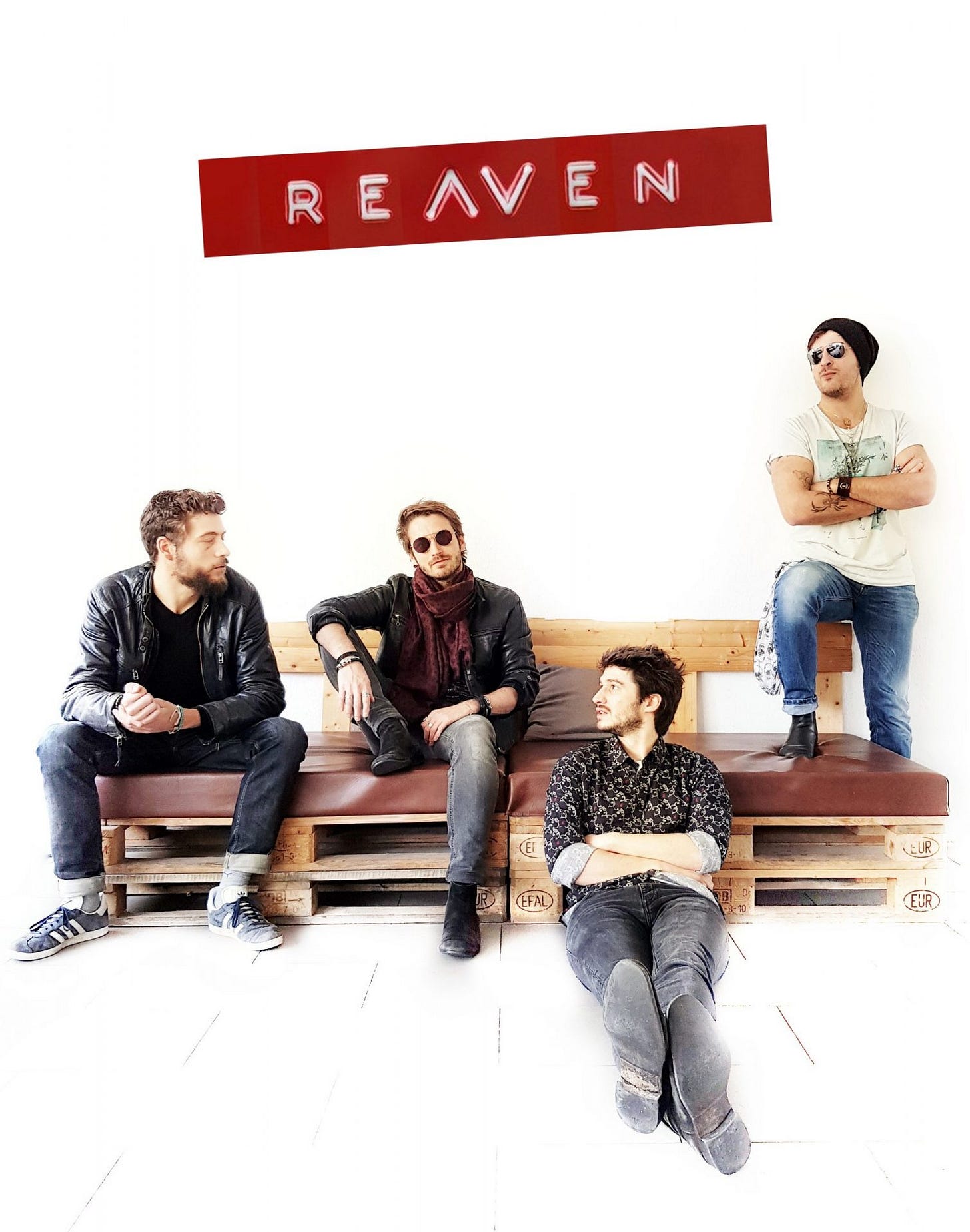 What got you into music, and if you had not gotten into music what would you be doing today?
"We started our first instruments very young. We kinda always played music. But at the age of 14 I (Lead Singer-Guitarist of Reaven) asked Vince (drummer of the band) if he wanted to create a band. We always knew that our life in the future would be playing music together. If I wasn't in the band, I would create companies / start-ups."
What do you like to do when you're not playing music and how does that influence your creativity?
"Travel is the first thing that comes to my mind. I love to travel. But we are also very into cinema movies, books etc…"
How long has your band been around?
"Under the name "Reaven", almost 4 years. But before we've been playing under the name "The Distroy" for 12 years."
Where are you based out of and how did that influence your music?
"We are based in Paris. This city is really one of the most cultural city we know. In Paris, there is art everywhere, in each corner of each street. There is always a spiritual influence in this city."
How did you come up with the name of your band and what does it mean to you.
"Reaven is a mix of the French word "rêve" (dream) and the english word "heaven" (a place where most musicians go when they play music I guess (laughs) ). After writing almost 1000 names on the paper, we found it."
Tell me about the best and worst shows you have played.
"The best show for us was maybe during the european tour in 2018 at the Hills of Rock festival in Bulgaria. It is a rock / hard-rock / metal festival and we were kinda the only band playing pop-rock music there. We were headlining the second stage, but we were afraid that the crowd would not appreciate our music. Finally, it turned out to be a great show in front of thousands of people, the audience was incredible.
The worst show would maybe be in Saint-Jean-De-Védas (France), we were renting a concert place (300 people), and the production we worked with didn't make any communication about the show, didn't plan anything. So we ended up playing in front of 10 people ahah!"
Tell me about your favorite venue to play at, and do you have any places you want to play that you haven't already?
"There are a lot of venues that are great in Europe, hard to quote one. For the venues we didn't play already, we want to try US venues now."
If you could play any show with any lineup who would be on the ticket?
"For me, Paul Mc Cartney. The Beatles are always an inspiration to me."
What is some advice that you would give to someone who is just getting into playing in a band?
"Work hard. Never give up. Fall down. Get up. Trust in yourself. Believe in yourself. Play music as much as you can and don't listen too much to what others say."
If you could go back in time and give yourselves advice, what would it be?
"If you want something done, do it yourself!"
Of your songs which one means the most to you and why? 
"Difficult question. Most of my songs has a special meaning to me. Recently our last single "Escape" was the reflection of the hard time we were living during the quarantine, and the feelings I felt about it."
Which songs are your favorite to play and which get requested the most?
"Once again very hard to tell, because it depends on my daily mood when we are touring. Sometimes I love this song and another day, another one ahah. I guess "Unbreakable" is requested a lot."
What is the creative process for the band, and what inspires you to write your music?
"I don't have a precise creative process to create music. Most of the time, it comes to my mind out of nowhere. Days, and nighs. I have a melody in my head or the instrumental parts, sometimes both. So I take my piano or my guitar and I start playing it. Inspiration is everywhere for me. In my feelings, in my observation of the world or society, in the past, in my memories. Or just when I see something that inspires me at one moment."
What kinds of messages do you like to get across in your music?
"Surely a message of benevolence and hope."
Do you ever have disagreements in your band, and how do you get past them?
"Almost never, but when it happens, I believe in communication. I never forget that a band is first a group of human beings with different feelings, thoughts… But if you talk through it, most of the time, the problem will be solved."
What are your plans for the future, and do you have anything that you want to spotlight that's coming up?
"The release of our new album "For Tomorrow" is our next big project. But also to re-schedule our 2020 Europe & US tour in 2021."