Discover more from Volatile Weekly
Interviews in the music industry from around the world
Interview: Shattered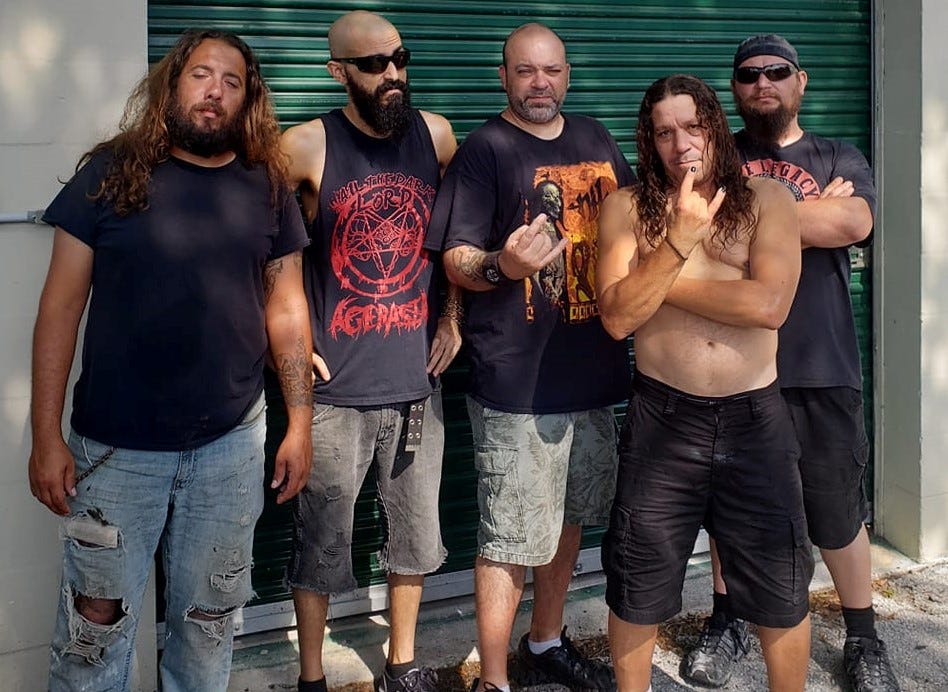 What got you into music, and if you had not gotten into music what would you be doing today?
Hi, this is Fred vocalist Of Shattered.1)My grandfather bought me my first keyboard when I was six and my dad played drums. I'm a marine carpenter by trade, I would be building ships for a living.
What do you like to do when you are not playing music and how does that influence your creativity?
When I'm not playing, I like to collect skills and read H.P. Lovecraft in my spare time.
How long has your band been around?
Shattered has been going strong since 2014.
Where are you based out of and how did that influence your music?
We are based out of Tampa Bay Florida. A lot of Florida is still undeveloped, and it leaves a visceral, elemental impact on my music.
How did you come up with the name of your band and what does it mean to you.
Founder Tony branded the name Shattered. It stands for the state of humanity, and how it is a remnant echo of what it used to be, and we are here to force feed you the broken pieces. Unity through aggression!
Tell me about the best and worst shows you have played.
Can't say I love had any bad shows. Anything that goes sideways on stage should teach you a lesson and make your next performance stronger. So far we have been lucky enough to experience great feedback. The best part about it is reaching new people and being heard.
Tell me about your favorite venue to play at, and do you have any places you want to play that you haven't already?
My current favorite venue is Venom, it has an outdoor stage. There is nothing like blasting music out in the elements.I would love to play everywhere on the planet, bit if I had one pick it would be WACKEN open air.
If you could play any show with any lineup who would be on the ticket?
I would love to be on a ticket with Darkthrone, Skeletonwitch, and Sludge, that would be so sick
What is some advice that you would give to someone who is just getting into playing in a band?
Write music that you love, you should do this for yourself...other people will love it too if you put every emotion into it.
If you could go back in time and give yourselves advice, what would it be?
I honestly wouldn't change a thing, I would be a different man on a different path.
Of your songs which one means the most to you and why? 
SKINWALKER' means the most to me. I was in a bad place when I wrote it and wanted to destroy everything.It is the story of having to put on my human skin and face my demons. It is told metaphorically through Native American lore of shapeshifters.
Which songs are your favorite to play and which get requested the most?
My favorite song to play is Cult of the moon I would say it's our most dynamic song to date. The most requested song is Parasites, that song is intense!
What is the creative process for the band, and what inspires you to write your music?
As of late, we all bring riffs and lyrical ideas, we do a rough recording and keep playing the songs until we master them.I want fans to know that they are not alone in their struggles and to have strength and confidence.
What kinds of messages do you like to get across in your music?
.I want fans to know that they are not alone in their struggles and to have strength and confidence.
Do you ever have disagreements in your band, and how do you get past them?
Not so much, we can usually come to a vote, and that, keep us out of conflict a good chunk of the time.
What are your plans for the future, and do you have anything that you want to spotlight that's coming up?
This year is a big one for us. We are releasing our first full-length album 'SKINWALKER', followed by our U.S. 'Skinwalker' tour. In December we join Nile and Terrorizer on the Vile Caustic tour!