Discover more from Volatile Weekly
Interviews in the music industry from around the world
Interview: Silent Saga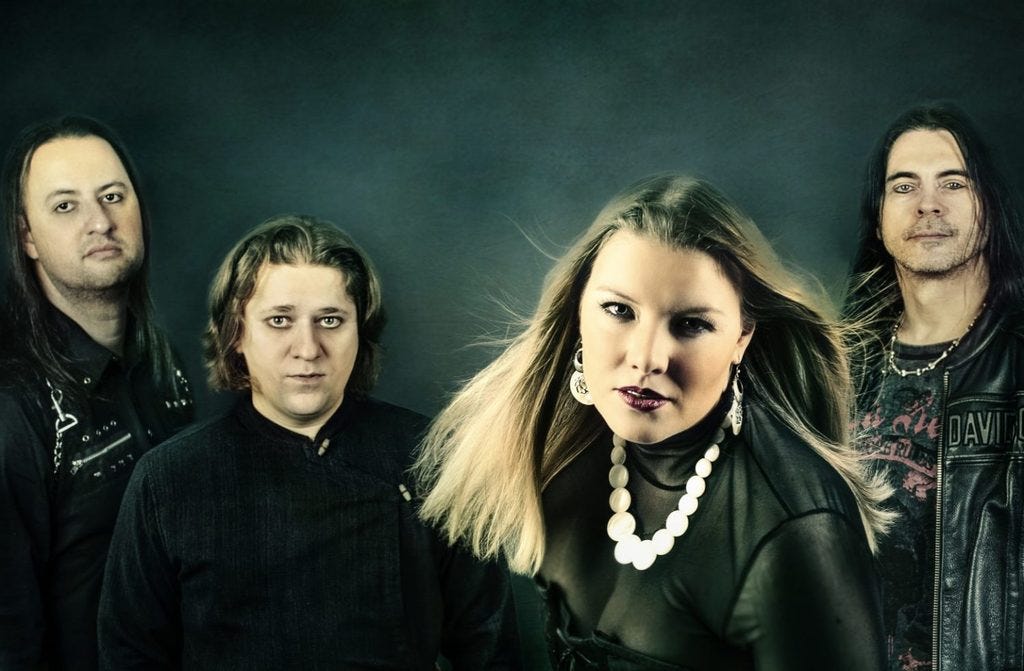 What got you into music, and if you had not gotten into music what would you be doing today?
Renato: When I was a kid, I really didn't like going to school. It made me very anxious and unease. My parents found music to be the one thing that would make me cope with the routine. I started playing keyboards and piano when I was 6 as some sort of therapy, but I immediately went all in. I started learning as much as I could about it and spent hours every day immerse in music, be it playing something or listening to what I could get my hands on. Today I have a dayjob to afford my music addiction, and I cannot imagine my life without music. 
What do you like to do when you're not playing music and how does that influence your creativity?
Apart from the very regular things - movies and books -, I love building stuff and I really like cars. Chances are you'll find me messing around with tools or having long roadtrips. I think those are essential for my creativity, as they provide me not only the chance of experiencing new things but also the satisfaction and accomplishment feeling that fuel my passion for music. 
How long has your band been around?
We go all the way back to 2002, when we started playing in Brazil under the name of Amazon. After we relocated to Hamburg, Daniel and Carsten joined the band in 2017. They had been playing in the local scene for decades and were the perfect fit to the band's music and style. We are now working on our second full length album under the current brand, and the 4th since we started in 2002. Back in Brazil, we had the chance to play with some of the greatest metal names in the country, like Shaman and Dr. Sin, and also as a support act for some of the world's biggest FFM bands, like Nightwish and Epica.  
Where are you based out of and how did that influence your music? We are currently based in Hamburg. I think being here gives us great opportunities of being around great musicians. The city has a lot of them. Some of the bands we love like Gamma Ray and Rage are from around here. And many others are from Germany, which essentially means just around the corner. As a musician, it is a very inspiring place to be. 
How did you come up with the name of your band and what does it mean to you.
When rebranding  - the name "Amazon" was kinda "taken" in Europe :P - we came up with several different and very good options, but we thought that Silent Saga relates so well to one's life, especially in current times where social media strangles real life in ways that humankind never experienced before, and everyone has to deal with their own loneliness when they look away from their screens. We think this applies to musicians even further, as no one else knows how much blood and sweat there is behind an artist's work. It's beautiful and amazing when done, but every artist, when not performing, lives their very own Silent Saga to create the work before putting it out there to the world. 
Tell me about the best and worst shows you have played.
We have played everything from 2 drunks and a hungry dog to 10000 people. It's hard to pin one best and one worst. I use to say that both the best and the worst have been the concert as opening act to Nightwish. It was awesome to share the stage with a band that was a huge influence for us especially back then and a crazy, noise thirsty sold out audience. On the other hand, there was a lot going on. The concert had been postponed a day as Tarja was sick, people were very anxious as they spent the night outside the venue waiting to get in, the technical conditions were very poor. So there were two sides of the coin. 
Tell me about your favorite venue to play at, and do you have any places you want to play that you haven't already?
For us the audience is more important than the venue. As long as the place doesn't suck and messes up with the sound, or is not a nice place for the audience to be in, we're fine with it. We'd love to play at Grünspan in Hamburg - we have seen so many of our favorite bands there and would love to be on their stage one day. 
If you could play any show with any lineup who would be on the ticket?
Right now I'd probably go with Amaranthe and Beast in Black. I have been listening to these bands a lot. 
What is some advice that you would give to someone who is just getting into playing in a band?
Plan ahead. Don't jump blindly into it. Visualize what you want to reach and draw a strategy. No matter if you want to be a studio only project or if you aim to play to huge crowds - plan ahead. 
If you could go back in time and give yourselves advice, what would it be?
Do not depend on other people. It's 2020. Everything you need is within your own reach. Invest time in learning the necessary skills and leverage them. It took us way too long to realize that. 
Of your songs which one means the most to you and why?
Hard to pick. Each song was written with our hearts and souls so they all mean a lot to us. I love how catchy the choruses from Ball of Vanities and Immortal are. I love the brutality of Three Lives, and I really like the darkness in Suicide Note's lyrics and harmony. I could probably point the small details that I love in each song. 
Which songs are your favorite to play and which get requested the most?
I really enjoy playing Three Lives and Prisoners of the Sea. The riffs are really fun to play. The most requested is Ball of Vanities by far. 
What is the creative process for the band, and what inspires you to write your music?
We normally write music and lyrics at the same time, as they both spin around a central idea that popped up. These are normally triggered by something we experienced ourselves or we have seen someone experience, and that makes us question the way we think, or that we like to believe we would react to the situation. This takes the most different shapes and forms in our lyrics. Sometimes it becomes a battle, sometimes a star, and sometimes, very literally a description of the situation. And we try to deliver the feelings of the situation we're describing with the song progressions, harmonies and melodies. 
What kinds of messages do you like to get across in your music?
We basically write about how questioning your own views of the world can allow you to grow as an individual, how everyone can influence their own lives and change the path they're heading. We do not try to point people to a specific line of thought or to a certain ideology. We try to show people that there's a different way to look at themselves, and to feed the desire to reach what they aim for through our music and texts. It's about having that "aha" moment. We are all about the inner revolution. 
Do you ever have disagreements in your band, and how do you get past them?
As they say, 3 people will never disagree if 2 of them are dead. Of course we have disagreements. But we're all adults and we understand that the reason that we want to keep doing this is because we enjoy it a lot, and we enjoy doing it together.We are very aware that it has to remain enjoyable or it will fall apart. So we just talk it through and do our best to put ourselves in each other's shoes so we can understand their perspective. Empathy and not letting the ego get in the way is the key to solving issues between people. Especially people we care about, like our band mates. 
What are your plans for the future, and do you have anything that you want to spotlight that's coming up?
We are working on new songs, a new EP is on the way and soon a full album. Regarding playing live, the situation is very uncertain currently, but that won't stop us from keeping making music. So lstay tuned to our latest news on our facebook page and our website, and don't forget to sign up to our newsletter to get a free download and stay always up to date with SIlent Saga's releases!