Discover more from Volatile Weekly
Interviews in the music industry from around the world
Interview: Sir Curse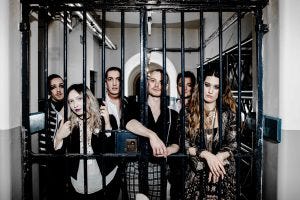 What got you into music, and if you had not gotten into music what would you be doing today?
I think for a lot of us, our love for music came from our parents. We've all been playing our instruments from when we were young, and that passion has grown and grown. 
One of my (Lyndsay, vocalist) favourite family videos is me singing Madonna's Frozen with a pencil for a microphone. From there on I don't think I stopped nagging my mum for singing and acting lessons. If I wasn't doing something in music then I'd love to be an author. 
Eric, our bassist, got into music through driving around listening to Linkin Park with his dad. He used to sit on the stairs with him and listen to records. He's really into gaming so he'd probably go into that industry! 
Ellen, who plays the keyboard, got into music through her Church and singing along to Hymns on Sunday since she was teeny tiny. Ellen is an incredible artist and would really suit going into art. 
What do you like to do when you are not playing music and how does that influence your creativity?
A lot of us love playing video games. I think if we ever get the chance to be on a tour bus, you won't be able to move from the amount of us playing Mario Kart. Games that have a really gut-wrenching storyline like The Last of Us help with lyrics. It's easy to get inspired by games as it's such an accessible form of storytelling. So, naturally, we all love it!
I love reading and spend a lot of time getting inspired by the stories I've read. Honestly, most of what we do outside of this band probably influences us in some way. 
How long has your band been around?
We've been a band together for just over a year now! We formed in university and carried on gigging after that. From there we've played Boomtown Fair, been on BBC Radio 6 and we're about to play our first London show on the 2nd of May at Hootananny Brixton, along with Electric Swing Circus. 
Where are you based out of and how did that influence your music?
We're based in Leeds and Manchester. I don't think it influences the music actually. The songs we write aren't about real life. Each song usually has a dark theme such as murder or kidnapping and we've never experienced that! 
We write stories inspired by horror films such as American Horror Story and also The Brothers Grimm fairytales. 
There's definitely that gritty edge which probably comes from us being a bunch of Northerners! 
How did you come up with the name of your band and what does it mean to you.
We wanted a play on words for Circus. I really love watching the penny drop when people connect that it's a pun haha!
It suits us perfectly. There's a magical edge to it which you can see when you watch our live shows. We put so much into the theatrics of our music which suits the Curse part of Sir Curse.
Tell me about the best and worst shows you have played.
Our hometown shows in Leeds and Manchester are always amazing! The crowds are always so hyped and fun to perform for. It's brilliant seeing the familiar faces and watching people sing along. I don't think there's a nicer sound than other people singing your music. 
We've been really lucky that we've not had many bad shows. We had one empty gig once in Hull where not even the other bands were listening to who was on stage, and there was no one else in the venue. But that was when we were just starting out. You've got to play those shows though! It thickens the skin for sure.
Tell me about your favorite venue to play at, and do you have any places you want to play that you haven't already?
One of my favorite places to play is Retro in Manchester. It's a small venue but it's got a great sound, the audience is always kind and you feel really connected to the music. You know when places offer good vibes? That's a venue with a good vibe. 
I'd absolutely love to play  02 Academy in Leeds. I grew up watching bands there so to be on that stage would be amazing. 
If we're thinking big dreams though, we'd kill to play Glastonbury. It's an iconic place to play.
If you could play any show with any lineup who would be on the ticket?
Oo this is a fun question! Kate Bush, Melanie Martinez, System of a Down, Caravan Palace, Fleetwood Mac, Queen! That's such a mismatched line up haha! There are six of us and we all have so many different interests in music. 
What is some advice that you would give to someone who is just getting into playing in a band?
Don't stop writing and playing live. It's gonna be tough and you're gonna write some really boring songs, but that's now a bad thing. It gives you the skills you need to know what a bad song is, and eventually, you will find your groove. 
Don't be disheartened when you don't get paid for a gig you worked your ass off for. It's unfortunate, the nature of the beast when you're starting out. 
If you could go back in time and give yourselves advice, what would it be?
If I could go back I'd tell myself to think more like a man. I feel like I get bogged down in trying to be everyone's friend and wanting everyone to like me when I really shouldn't have cared about that. That's not to say men don't care about that, it's just that I think men have this brilliant 'I can do anything' attitude, and women don't always have that luxury. 
I think this outlook is a part of getting older too, you care less about opinions from people who don't care about you.  
Of your songs which one means the most to you and why? 
We have a song called Dead Annie that is very stripped back and raw. I like the lyrics and melody a lot. It's not as intense as the rest of the set and we rarely play it live but it's really lovely.
Tarot will always hold a special place for us as it was the first song we ever wrote and then later recorded as our debut single.  
Which songs are your favorite to play and which get requested the most?
For Ellen, it's Upside Down for sure! It's the first one we wrote that had the super circus vibe and lead us to write more circus and theatrical style songs. Also, I feel like I can't outdo that song. I tried so hard to write something on that level and it's really hard. Keyboard wise it's got all her favorite settings. I really love playing Little Red and hope we record it or put a video out for it at some point. It's really upbeat and innovative. It changes feel in the second verse which really switches up the groove. Fan-favorite is probably Tarot as it's the most well known. It's really cool seeing people singing along and doing covers of it on Facebook!
What is the creative process for the band, and what inspires you to write your music?
Ellen and I write the skeleton of the songs and take it to the rest of the band with all of the older material. More recently, we've been super collaborative which is fun. Sometimes we send each other audio files of a bass line or melody that we've had in our heads and that snowballs. I think that's what happened with Graphite actually.  
What kinds of messages do you like to get across in your music?
It's okay to be a huge weirdo. Your differences make you and that's wonderful. A lot of our lyrics have dark underlying themes. We like to push those boundaries to try and normalize them. We should be writing more songs about mental health. It's a great form of expression and it might help people if they listen to a song and think 'I too feel like I'm falling down a rabbit hole'. 
Do you ever have disagreements in your band, and how do you get past them?
Sword fights. We operate on a very strict "first blood drawn from the torso" policy. It's actually how we came to lose our previous drummer. 
Yeah, we have disagreements for sure, but it's only because we all care so much about the band. We disagree about songs and social media but the end product is always better than it would be if we just relied on one person's opinion. 
We're all really good friends and care for each other, which keeps the disagreements from turning into break-up worthy fights. 
What are your plans for the future, and do you have anything that you want to spotlight that's coming up?
Our music video for Graphite just come out in February! You can listen to the single on all streaming platforms and YouTube. We filmed at the Leeds Town Hall and had such a fun time running around the cells there. The song is super catchy and has a much heavier sound to it than our first single. It's got some brilliant riffs. 
Future plans include getting back into the studio by the end of the year! We want to keep writing and putting more things out there. 
Maybe we will play Glastonbury one day!