Discover more from Volatile Weekly
Interviews in the music industry from around the world
Interview: Six To Fix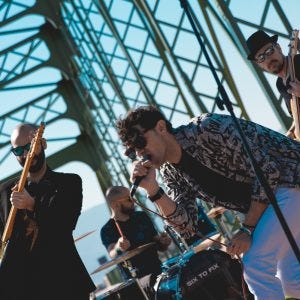 What got you into music, and if you had not gotten into music what would you be doing today?
I've loved music all my life, I started playing bass and singing in a band when I was 14. If I had not gotten in a band I would hang out more with friends and family, I would go to more concerts and I would have more hobbies. There's a lot of things you miss when you are touring or when you have to go to rehearsals every week.  
What do you like to do when you're not playing music and how does that influence your creativity?
I like reading books and comics, being with my family, traveling… all my life experiences have an influence to my creativity.
How long has your band been around?
We started in 2011 and our first record was released in 2014.
Where are you based out of and how did that influence your music?
We are from Valencia – Spain. All my environment, the weather or the sun influences my music, but the most part of the bands that influence me are foreign bands.
How did you come up with the name of your band and what does it mean to you.
It started as a joke, we were six members at the beginning and our guitarist suggested Six to Fix for a name. Now we are four but the name remains the same.
Tell me about the best and worst shows you have played.
Maybe it was not our best performance because it was before having released an album, but we supported Mika in Barcelona in 2013 and it was an amazing night. Sold out, thousands of people, and they were shouting and singing with our songs. I think every show we play is better than the previous one, we're improving our performance, our music is getting better and more personal through the years. The next show will be the best! About the worst one… I don't remember a really bad show. Maybe one that Sergio, our guitar player, missed, and a friend played guitar. It was a good show but it was not the same without him.
Tell me about your favorite venue to play at, and do you have any places you want to play that you haven't already?
Maybe Razzmatazz in Barcelona, that's where we played with Mika and the sound and the audience was really great. There's a lot of places we'd like to play, some of them in the UK.
If you could play any show with any lineup who would be on the ticket?
There's a lot of bands we'd love to play with. Muse, The Killers, U2, Nothing but thieves, Twenty-one Pilots…
What is some advice that you would give to someone who is just getting into playing in a band?
First, play the music you really want to play, then try to make the best songs you can. But don't be satisfied only with playing live. There's a lot of work at home, keep your social networks alive, get contacts from radios, blogs, PR agencies, media, etc. and share your music. Believe in yourself. 
If you could go back in time and give yourselves advice, what would it be?
The same I said in the previous question. The first years we only focused on rehearsing and playing shows. So I would have worked more on promotion.
Of your songs which one means the most to you and why? 
Our last single 'When the night is over'. It was produced by Julian Emery, who previously worked with Nothing but thieves, and the song reached another dimension after working with him. We learned a lot and it was an amazing experience. There's another song called 'Mystic', from the first album. It's the only song that we have played at every show, it's a favorite for all of us and it has an emotional meaning.
Which songs are your favorite to play and which get requested the most?
'Mystic', 'Sometimes' or 'Do it now' are some of our favorite ones. And we're really looking forward to playing our last singles 'When the night is over' and 'I need to know' for the first time. The most requested… the singles: 'Sometimes', 'Ready to go', 'You don't know them', and other songs like 'Home' or 'Do it now'.
What is the creative process for the band, and what inspires you to write your music?
I write most of the songs and everything starts when I'm walking on the streets. I sing to my phone, then I go home and make a rough version of the song in my computer, with bass, drums, keyboards, and guitars. Then I send it to the band and the magic comes in the rehearsal room. Sometimes everything changes, sometimes only the structure, but when they play real instruments is when the song becomes a song. Inspiration comes from life experiences, I write about life, politics, music business…
What kinds of messages do you like to get across in your music?
Life has good and bad things. That's what we talk about, but we try to get the bright side. Even when we talk about the darkness of life or sad things, we try to show the bright side of them, and everything is showcased in our music. We want the audience to feel positive and optimistic.
Do you ever have disagreements in your band, and how do you get past them?
Of course, we do. A band is like a marriage, but with more people in it. We're like a family, and sometimes we don't think the same way, but talking we get to an agreement. We've got to be sincere and share our thoughts.
What are your plans for the future, and do you have anything that you want to spotlight that's coming up?
We're recording the next album 'Imagination' right now, and we're touring Spain in the next months. We'd like to tour more countries this year. So we have to work hard in promotion in order to get our music heard everywhere!