Discover more from Volatile Weekly
Interviews in the music industry from around the world
Interview: Sondag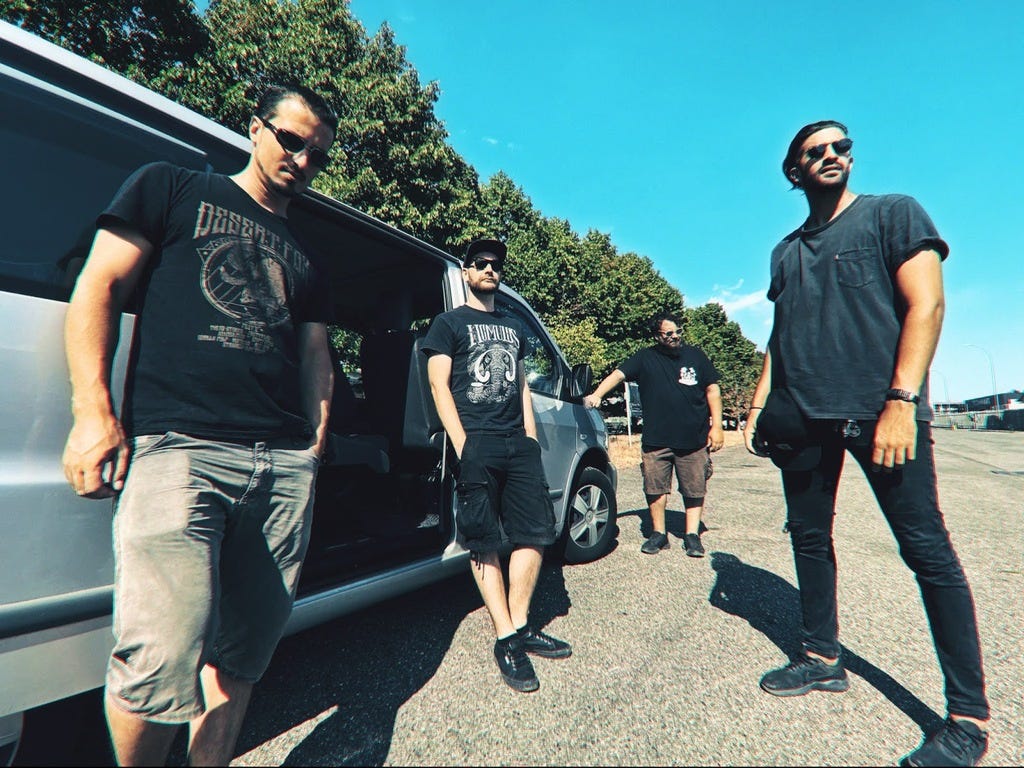 What got you into music, and if you had not gotten into music what would you be doing today?
I think one of the things that all of us have in common is that we like to travel, that is in fact our main goal as a band: travel and play as much as we can!
So I think we would have tried anyway to visit as many places as possible.
What do you like to do when you are not playing music and how does that influence your creativity?
We like to watch a lot of movies and read books, and of course listen to nearly every kind of music. These are some of the best things to boost creativity.
How long has your band been around?
We play together since the beginning of 2014, playing some covers at the beginning and then start touring.
Where are you based out of and how did that influence your music?
We all live near a city called Piacenza, not too far from Milan in Italy. I can say that our city in particular is not the best place to be in a band because there are very few clubs in which you can have a gig.
How did you come up with the name of your band and what does it mean to you.
Marcello is fascinated with countries of northern Europe and the name means "Sunday" in danish language; that is the day in which you unplug your head and take a break from everything. So there you have it: Søndag
Tell me about the best and worst shows you have played.
The worst was in Nottingham UK when we played My Hero by FF in front of one drunk person. The best is yet to come, but if I had to choose I'd say the gig in Milan supporting Rage!
Tell me about your favorite venue to play at, and do you have any places you want to play that you haven't already?
I'd like to play again in Germany, people are very welcoming with foreign bands. We'd also love to tour outside of Europe as soon as this situation will pass by..
If you could play any show with any lineup who would be on the ticket?
It would be awesome to play with bands like QOTSA, Royal Blood, Thrice, Fever 333…
What is some advice that you would give to someone who is just getting into playing in a band?
Never give up, keep on releasing music and keep on playing as much as you can.
If you could go back in time and give yourselves advice, what would it be?
"Don't eat that Pizza with garlic sauce"
Of your songs which one means the most to you and why?
"I Promise To Lie" because it's about how fake sometime you have to be to be nice to people you don't even like.
Which songs are your favorite to play and which get requested the most?
Usually the most requested is the latest one we release. My favourite to play Is The Glitch even if the chorus has a very high vocal line.
What is the creative process for the band, and what inspires you to write your music?
Usually Ric and Marcello make demos to share with the others during the rehearsals, we always start from there.
What kinds of messages do you like to get across in your music?
Hope in general and maybe to not take everything so seriously.
Do you ever have disagreements in your band, and how do you get past them?
We've never experienced a serious discrepancy between us.
What are your plans for the future, and do you have anything that you want to spotlight that's coming up?
We'd like, and I mean it from the bottom of my heart, to travel across the world and play our music as much as we can, meet new people and live fantastic moments which only the "touring life" can create.
For now we are stucked in our home town because of the pandemic, but hopefully in a not soo distant future when thing will get better, we'll resume our touring plans!
As of now, we are constantly releasing new music.
Speaking of which: on August the 31st we will release our new single "Titans"!
Keep an eye open at our social media channels to know more J
Thanks for your time guys!
Facebook: https://www.facebook.com/sondag.music/
Instagram: https://instagram.com/sondag.band/
Youtube links: https://www.youtube.com/watch?v=rOKmad5Z97M https://www.youtube.com/watch?v=ddkOkt5BJsA https://youtu.be/UeXHdm0FZeg https://youtu.be/-5se8BpBC8Y https://www.youtube.com/watch?v=c1Y4xYZJiIw https://youtu.be/GBpQONXu3GQ https://www.youtube.com/watch?v=XdXHiy4fsc0
Spotify: https://open.spotify.com/artist/5LUD4DPNUeL81zhr9KPO0P?si=fFY7-1p6RGCn0XR55c427Q Bandcamp: https://sondag.bandcamp.com/ Soundcloud: https://soundcloud.com/s-ndag-70059310