Discover more from Volatile Weekly
Interviews in the music industry from around the world
Interview: Spacejam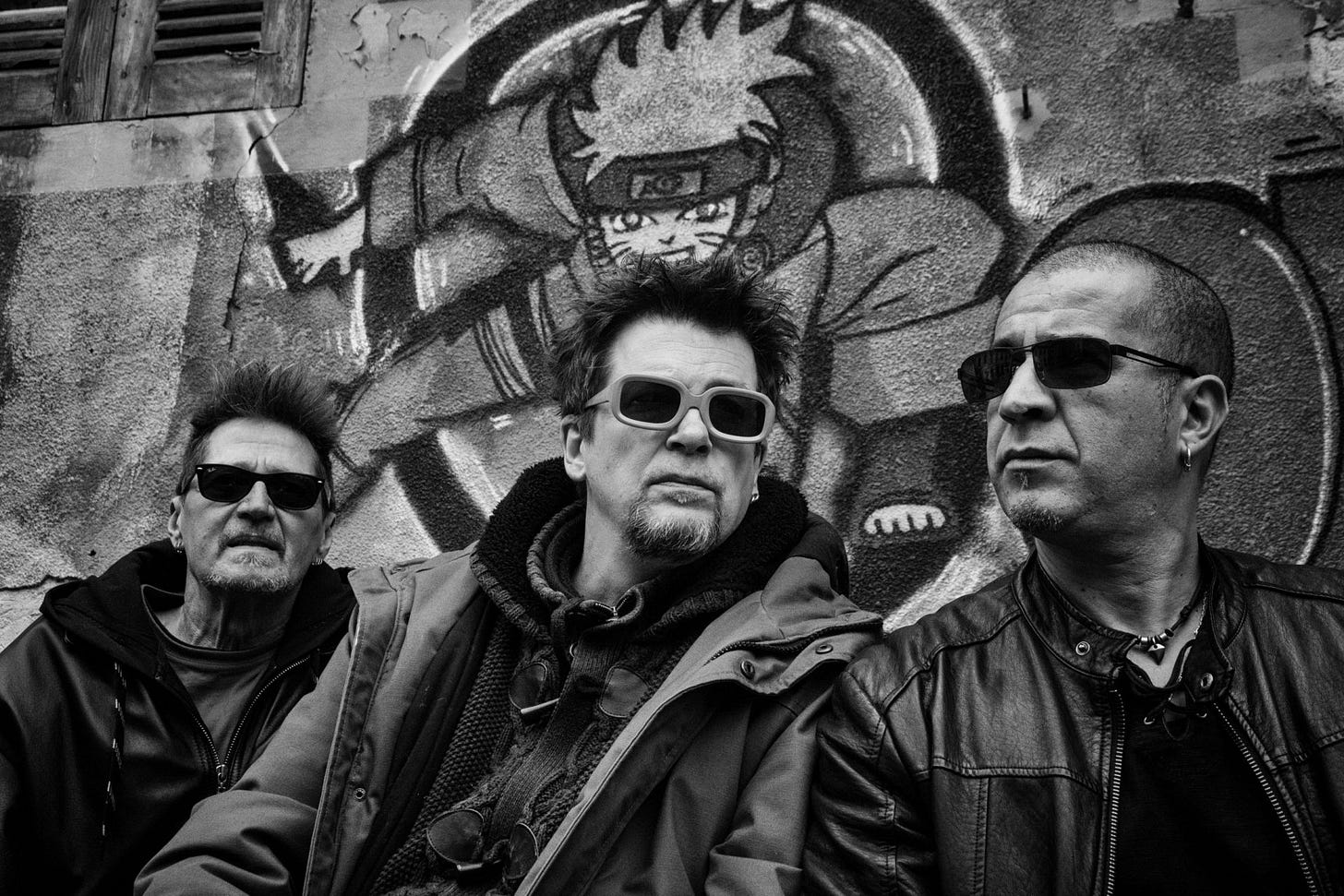 What got you into music, and if you had not gotten into music what would you be doing today?
The UK Punk "Movement" back in 1977 after seeing the Sex Pistols live during their Never mind the Bans Tour at the Uxbridge Brunel University. If I wasn't a musician I would probably be living on Mars!
What do you like to do when you're not playing music and how does that influence your creativity?
I love to read, drive my spaceship to the moon and back again, also love searching.  I like searching and discovering any type of info I need to know, especially when it's hidden from us by the "official" media etc... I love to listen to all different kind of music. It feeds my creativity and helps me travel through the world of music.
How long has your band been around?
Spacejam has been around since 2017 but we all have been around with other bands since mid-eighties! And NO we are not a bunch of old geezers just holding on a useless dream! 


Where are you based out of and how did that influence your music?
We are based in Grenoble south-east of France, and believe me, that did not influence our music at all. And like once said John Lennon : French rock is like English wine" and certainly, just as French wine remains the best, the British still dominate the rock scene. I'm an English man in Grenoble.
How did you come up with the name of your band and what does it mean to you.
Let's get this right: the name has nothing to do with the movie! I thought of the name as a futuristic evolution of mankind. We are in year 4600 and earth is no longer the only place we live. We live on planet earth but work on the moon, we go on holidays on Mars, etc...Imagine the traffic jams on rush hours in space and I got the name Spacejam. But you can also see it that way: I needed a very special jam to spread on my space cake when in Amsterdam and this is where I got the name. Pick your own!
Tell me about the best and worst shows you have played.
The best show we played was the Zenith in Toulouse (SW France) We played in front of 8000 people and the worst, a festival called Festirock (SE France). We were to end the festival around 11:30 PM Due to delays and bands not respecting their time on stage, we finally started our show at 01:30 AM and played in front of 50 Drunk geezers screaming at us and throwing things on the stage at us. It was hell on stage for 30mn we kicked a few out of the stage, brilliant!
Tell me about your favourite venue to play at, and do you have any places you want to play that you
haven't already?
The 100 Club in London, this is my fav venue in the UK. I'd love to play The Old Cinema Launderette, Durham, The Deaf Institute, Manchester, Green Door Store, Brighton, The Salty Dog, Northwich, and also The Genting Arena. Birmingham. ...The o2 Arena. London. ...Norwich Arts Center. Norwich. ...The Eden Project. Cornwall. ...King Tuts Wah Wah Hut. Glasgow. ...Concorde 2. Brighton. ...Hyde Park. London. ...Ethidad Stadium. Manchester and all the great UK festivals.
If you could play any show with any lineup who would be on the ticket?
Liam Gallgher, Stereophonics, The Cure, Damon Albarn and his bands, Paul Mc Cartney, Foo Fighters, RATM, RHCP, Pearl Jam, Queen Of The Stone Age, The Damned, The Strokes, Black Keys...
What is some advice that you would give to someone who is just getting into playing in a band?
Get on the stage and play no matter what, no matter where, just play, your music will grow from that.
If you could go back in time and give yourselves advice, what would it be?
Never trust an alcoholic especially if he's your manager!
Of your songs which one means the most to you and why?
Stay Alive. It's a song about Love, Hope, freedom and starting over. A very current song init?
Which songs are your favourite to play and which get requested the most?
Fav songs to play: Stay Alive - Kiss Goodbye - Anastasia - Hate You So - Hang on to your dreams - Hayla
Most requested: Stay Alive - Kiss Goodbye - Hang on to your dreams - Pink Yellow Green - Hate You So.
What is the creative process for the band, and what inspires you to write your music?
I am the only Spider who writes songs I have cut the other spiders legs in the band, so they can't write! I don't remember what really inspires me, maybe it's all about love and hate and human feelings and stupid things like that I guess. You'll have to find out I'm afraid!
What kinds of messages do you like to get across in your music?
There are no messages in my songs as they all are personal experiences or personal trips. The songs resonate with the mood you are in at the moment you'll listen to them or not. You'll either find them great or find them shitty and that's fine with me.
Do you ever have disagreements in your band, and how do you get past them?
Oh no, there are no disagreements in the band as I am the songwriter and the leader in the band. I am a dictator and I will kill anyone who gets in my way or disagree with me. Being in a band has nothing to do with being in a democratic country if that ever existed! You'll have to see things as I do and have to understand the one and only point of view - Does it serves the fucking song or not? More seriously I come up with all the songs and ideas, so it's just a matter of "does it serves the song?
What are your plans for the future, and do you have anything that you want to spotlight that's coming
up?
Recording and playing shows and touring the world. Yes with our record label The Animal Farm Music we're thinking of starting a series of online gigs, like a monthly residency with a four artist bill. We'll do it via Zoom, have everyone do a song at a time with a little banter in between songs and then go around again. It's going to be quite social, centred around the artists talking to one another, as opposed to just playing songs. Technically, it will be a live recording, but not a live broadcast. We'll edit the video a little, and make shorter versions of it for the various social media channels. The Label's CEO - Ville Leppanen - has plenty of great ideas and has been doing a great job since lockdown started he's a great human being and we love him.