Discover more from Volatile Weekly
Interviews in the music industry from around the world
Interview: Spylights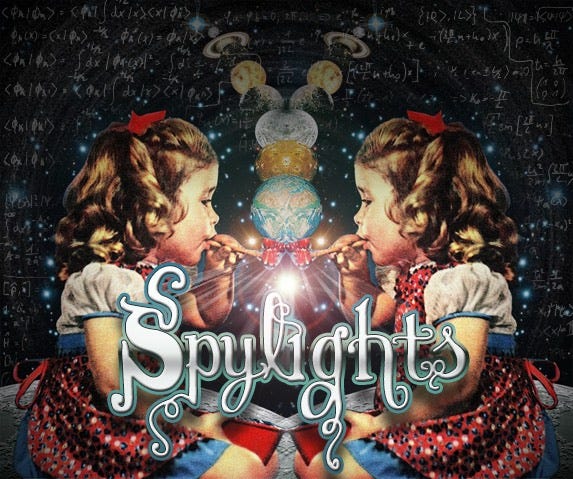 What got you into music, and if you had not gotten into music what would you be doing today?
I can't imagine doing anything else because it has been such a big part of my whole life and who I am for so long. If I didn't have it as a release outlet for depression, anger, and misery throughout the years I'd probably be a prisoner.
If I had to guess I would definitely be doing something helping and rescuing animals or maybe hosting a horror-themed television show that played cool music videos!
What do you like to do when your not playing music and how does that influence your creativity?
I love hanging and spending time with my little lady and my dogs more than anything in the universe.
Video games and are also a huge part of my cerebral inspiration and overall stress relief when I'm not doing music.
How long has the band been around?
I have pretty much been on my own and the whole band since 2015.
Writing and structuring all the songs and parts, playing and recording all the instruments, writing and performing all the vocals and lyrics, and being the recording engineer.
Now I am lucky enough to have finally found some talented and motivated musicians for this project that care about the music and are ready to take it to the next level of the game!
Where are you based out of and how did that influence your music?
We are from New Orleans and here our whole culture strives and revolves around music.
It's an embedded way of life here. We even bury our dead with Jazz funeral sendoffs and people dance in the streets!
In NOLA typically Rock music and Metal music gets overshadowed and takes a backseat to the Blues, Jazz, Funk, and Cover band crowds the city is known for. Tourism is pretty big here and those styles are what our city is mainly known for and what the tourists want to here while they are pounding giant drinks and dancing.
That being the scenario, over the years it has definitely molded all of us as musicians and reminded us to keep an open mind stylistically when it comes to writing and playing music. It also motivates us to work our hardest to create something that rises and stands out from the norm and can't be denied even though the market is not in our favor. A lovely challenge.
How did you come up with the name of your band and what does it mean to you?
At the time I care up with the name, I was in a weird place in my life. I was feeling trapped by the hamster wheel of life and I was constantly down on my luck. I know it's strange but I just kept visualizing mentally trying to break out of a prison in the middle of nowhere in the snow. Every time I felt like I was going to make a break for it to escape a patrolling and spying patrol light would find me and the guards would capture me and bring me back again.
That's where it came from.
Tell me about the best and worst shows you have played.
We have only played one show to date and it was about a year ago. I did not have a full band yet and just got some friends to come to play the songs on very short notice to take the opportunity to open for Thank You Scientist here in New Orleans. We now have a full band and will be playing live shows and doing some light touring across the southern United States this year!
Tell me about your favorite venue to play at, and do you have any places you want to play that you haven't already?
Southport Hall in New Orleans is a great venue to play, and I also am a big fan of the legendary Tipitina's uptown.
The Filmore just opened here on top of Harrah's casino and even though I haven't been there yet, it definitely looks like a top-shelf venue to play or see a show at!
If you could play any show with any lineup who would be on the ticket?
It would be a festival so that way the bill could be big enough to fit Coheed and Cambria, Thrice, The Sunny Day Real Estate, John Mayer, My Chemical Romance, Iron Maiden, Dredg, The Midnight, Teserract, Faith No More,  Jimmy Eat World, Glassjaw, RX Bandits, At the Drive-In, The Used, Further Seems Forever, Circa Survive, Minus The Bear, Plini, The Police, Everything Time I Die, Mock Orange, Blindside, and TOTO.
What is some advice that you would give to someone who is just getting into playing in a band?
Work hard but always work efficient and smart. Don't overplay locally and take the wind and excitement out of your fans. Don't even think about making money.
Don't waste time on your egos and on flakey people in it for the wrong reasons. You only have so many chances in your lifetime where the puzzle pieces fit and the stars line up correctly and it takes plenty of sacrifice and hot meals that consist of your pride and shit sandwiches to get where you want to be. That's what I'd tell younger me.
Of your songs which one means the most to you and why?
The Empath.
It's a very personal song I wrote going through some tough times mentally and emotionally. The sad negative and brainwashed state of the world was making me lose my faith in humanity and common sense. The song is about waking up and realizing that love is the only answer in the sea of fabricated lies and deception and that life should be appreciated and cherished more.
Which songs are your favorite to play and which get requested the most?
We are just actually becoming show ready, going to be playing live and doing some small tours throughout the southern United States this year!
We have some really fun songs in our set and we can't wait to show everyone them!
What is the creative process for the band, and what inspires you to write your music?
I have pretty much been the whole band for the last few years on my own. I just sat in my home studio writing and recording songs as a reclusive musical hermit. I wrote and recorded all the instruments and vocals for over 30 songs in that time. Now I am lucky enough to finally have a full band of talented and dedicated musicians on board with me, who will be doing some writing and will have plenty of input in the future material!
What kinds of messages do you like to get across in your music?
That people should take the time to appreciate the beautiful life they have before it's too late, songs about overcoming personal fears and mental obstacles, songs about the current state of the world, and songs about love.
Do you ever have disagreements in your band, and how do you get past them?
Being in a band there is always going to be disagreements no matter what. The key is how you respect and treat each other's feelings. As long as there is a common goal, a collective striving effort, and total transparency and communication among your members everything flows smoothly. We all have issues, personality quirks, responsibilities on our backs, and demons that we are fighting in life and we are only human.
It's how you handle things and face your problems head on that defines true character and builds a lasting and trusted bond with your members.
What are your plans for the future, and do you have anything that you want to spotlight that's coming up?
Well, we just released our first single called "The Empath" recently on all music platforms and streaming sites and we are going to be releasing our debut Ep very soon as well!
We are currently shooting 2 music videos and tightening up all our songs and chops for the live show experience!
We are also on all social media platforms so please look us up and give is a follow if you like what you hear!
As a new band, we appreciate every listen and like, and we will try not to disappoint anyone with lame fillers or any overly generic or predictable songwriting!
Nothing but love and thanks to you for giving us this opportunity, and we are forever grateful for it, cheers!