Discover more from Volatile Weekly
Interviews in the music industry from around the world
Interview: Subi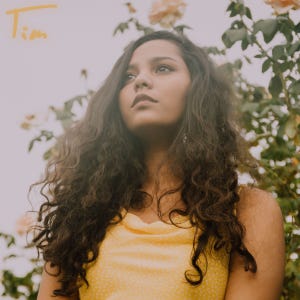 LA-based indie-folk artist Subi is in the works of a music video for her latest release "Tim" that brilliantly manipulates the imagination into a different point of view.
What got you into music, and if you had not gotten into music what would you be doing today? 
 As an only child, I'd always craft elaborate stories with amorphous characters in my head to entertain myself. This translated into song soon after I started to develop a palate for music. I started training in Carnatic Music when I was 6 and have a deeply ingrained appreciation for classical art forms. My proclivity for music has always been met with an equal one for science, and I grew up engaging in academic conversations with my father. I'm currently studying Neuroscience, so perhaps something in my avenue of study.
What do you like to do when you are not playing music and how does that influence your creativity?
I'm an avid traveler and have always believed it's an antidote to ignorance. My travels have actually inspired two songs (as yet). I'm always seeking adventures and gathering experiences, and these have influenced my songwriting. I have surrounded myself with exceptional minds that have poured into my creativity and positively influenced my art. I try and think from my friends' and family's perspectives a lot to help my songwriting but also to understand them better. We all have different conceptions and ideologies that we derive using a plethora of deductive reasoning- each so unique. My attempts to try and decipher different reasonings lead to insights that I enjoy exploring in my music.
How long has your band been around? 
 Solo artist. So I guess 1998.
Where are you based out of and how did that influence your music?
I grew up in Chennai, India. Growing up in a collectivistic community, I was always surrounded by an extensive community and support system. This made me very aware of the lives around me; I've always been curious about the human condition and the differences that distinguish us and the universality of emotion that binds us. I was influenced by this larger community and also the people closer to me. Especially my mother, who was a Tamil (the language spoken in Chennai) poet and has always been an inspiration to me, both as a person and a writer. Being classically trained and having been exposed to beautiful genres such as Qawwali contributed to my very specific taste in music.
How did you come up with the name of your band and what does it mean to you.
Well, my artist name is SUBI. My friends and family refer to me as Subi. My full name is Subiksha, which means prosperity- I always joke that my parents set my expectations at birth (and then I decided to become an artist).
Tell me about the best and worst shows you have played.
The best show so far was a house show a year ago. I was surrounded by everyone I love and I recall it being a very intimate night. I was testing most of my material out for the first time and it was something about the energy and aura in that room that day; it was truly beautiful. Worst show was probably one back home; I had forgotten the lyrics for a song, but I guess that has got to happen at least once to everybody.
Tell me about your favorite venue to play at, and do you have any places you want to play that you have not already?
I don't think I have a specific venue in mind. Every venue has the potential to be something wonderful if everything goes well.
If you could play any show with any lineup who would be on the ticket?
 Easy! Lorde, Aurora, Tom Odell, and Billie Eilish!
What is some advice that you would give to someone who is just getting into playing in a band?
 Write more. Practice more. Don't strive for absolute perfection, you cannot be creatively inspired all the time. Just write and rewrite pieces. Find what works for you. I used to write to produce good songs or nothing at all, but recently I've gotten into the habit of writing more frequently. You don't have to release every piece, but keep writing.
If you could go back in time and give yourselves advice, what would it be?
Same thing I tell myself now- You are going to be okay!
Of your songs which one means the most to you and why? 
That's a difficult one- different songs hold different and specific spots in my heart. They each mean different things to n=me and were written when I was in a particular headspace or phase in my life. Perhaps "Red Dress", it's about a relationship, in which the woman knew her partner was in love with somebody else.
Which songs are your favorite to play and which get requested the most?
 "Memory Lane" will forever be my favorite one to play. I absolutely love that one! It's about a woman losing her loved one, from the perspective of the woman placed in her own mind, watching the slow demise, fighting the inevitable. It's just such a powerful song. I think that's a crowd-pleaser too. But I think the most requested/ crowd favorite is "Peculiar", it's a love story about a peculiar girl set in a quaint town. It's a very cute song.
What is the creative process for the band, and what inspires you to write your music?
I draw inspiration from everything around me. Sometimes it's about me and I write down everything I feel in a specific situation I find myself in. Other times, it's from the perspective of a mentally created amorphous character, sometimes loosely drawn from the people in my life. I think about why they feel the way they feel, what brought them here, their past, their future and so forth. I manipulate point of view to emote myself and these characters to explore the universality of the human condition.
What kinds of messages do you like to get across in your music?
 I think at the end of the day, I want to evoke something visceral in my listeners. I want them to listen to the words and relate to it and hopefully get something out of it. I want it to be cathartic in some way. It definitely is for me, when I listen to artists I like.
Do you ever have disagreements in your band, and how do you get past them?
 I guess as a solo artist, I'm mostly just battling myself and my ideas of what a piece should be like.
What are your plans for the future, and do you have anything that you want to spotlight that is coming up?
I have a music video in the works for "Tim" and an EP that's coming out soon!
For More Information About Subi Visit: