Discover more from Volatile Weekly
Interviews in the music industry from around the world
Interview: Subxero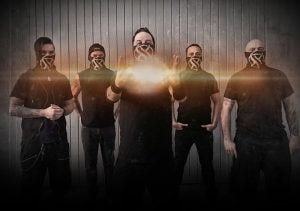 What got you into music, and if you had not gotten into music what would you be doing today?
It is just one of those things where I was just drawn to it from a young age.  Almost like it ran through my veins. Through the years it just evolved into a huge part of who I am.
What would I be doing if I hadn't gotten into music?
Porn. No, seriously, what I'm doing now. Graphic design.
What do you like to do when you're not playing music and how does that influence your creativity? 
I listen to music while I'm at work all day, and think about new drum patterns in my head that I can maybe play off. When not working, I like to go see live shows, either local bands or national acts...if home, I'm either playing around with my Roland's or guitar, or maybe doing something art/music/video related.
How long has your band been around?
 SUBXERO originally formed by Jason Xero in Pittsburgh Pa in 2016 Until He relocated back to Florida and put together a band of regional heavy hitters to form the current lineup. Subxero has released a Full length in 2017 entitled reborn, In 2018 Subxero released The Blood In, Blood Out EP. In November of 2019 Subxero released The Lighwork EP. Subxero is Jason Xero (Vocals)  Eric Schramm (Bass) Josh Lough (Drums/Vocals)  Daniel Knight (Guitar) Issam Pereira (Guitar).
Where are you based out of and how did that influence your music?
We're spread out over Central Florida. Jacksonville, Daytona, Apopka and Leesburg. Not sure location has anything to do with influencing our music. Those come from life, the music we listen to, things like that. 
How did you come up with the name of your band and what does it mean to you.
Subxero is meant to represent the underdogs in life. The outcasts, the introverts, the people that feel they don't have a place in this life and society. That's where the 0%er stems from. We're all in this life together whether we like it or not. It's up to us, as decent people, to help each other, to encourage each other, to lift each other. No one is better than anyone else, we're all Subxero. 
Tell me about the best and worst shows you have played.
Not really going to bad mouth or praise any one show specifically. You have to take the good with the bad. As long as we're getting the opportunity to play in front of people, it's always a good show.
Tell me about your favorite venue to play at, and do you have any places you want to play that you haven't already?
House of Blues and Hard Rock Live in Orlando are definitely tied for first. We want to play some of the festivals in Europe. Definitely on the bucket list. 
If you could play any show with any lineup who would be on the ticket?
That's difficult to answer seeing as how we like so many bands. Let's see, Iron Maiden, Sevendust, AX7, Breaking Benjamin. Just to name a few
What is some advice that you would give to someone who is just getting into playing in a band?
Stay true to yourself, above all else. Have a strong work ethic. Protect your music, your image, your brand. 
If you could go back in time and give yourselves advice, what would it be?
Stay true to yourself, above all else. Have a strong work ethic. Protect your music, your image, your brand. 
Of your songs which one means the most to you and why? 
Lightwork. I live this every day. I think a lot of people do. We live in a disposable society today and a lot of people feel abandoned. It's difficult to find and maintain those true relationships and friendships that we need as human beings.  
Which songs are your favorite to play and which get requested the most?
Lightwork, Monarch and Before the Fall are my favorite songs to play. Lightwork and Monarch seem to be getting the most attention right now.
What is the creative process for the band, and what inspires you to write your music?
Normally it will start with a simple guitar riff idea that develops into a full song over time, with contributions from each musician. Lyrics are then written for the song, and then maybe some tweaking and rearranging here and there, until we are satisfied. 
What kinds of messages do you like to get across in your music?
Overcoming struggles in life, and although sometimes things may be difficult, everyone has the ability and power to overcome, and conquer.
Do you ever have disagreements in your band, and how do you get past them?
Of course we do, we'll normally bring it up in our band chat or discuss at the next rehearsal...and if that doesn't work, throw down our instruments and go for the Fight Club scenario, but we don't talk about that. 
What are your plans for the future, and do you have anything that you want to spotlight that's coming up?
We'd like our music to get and and reach as many people as we can, record our next music video, and tour nationally, initially, and eventually over to Europe.