Discover more from Volatile Weekly
Interviews in the music industry from around the world
Interview: Sweet N Juicy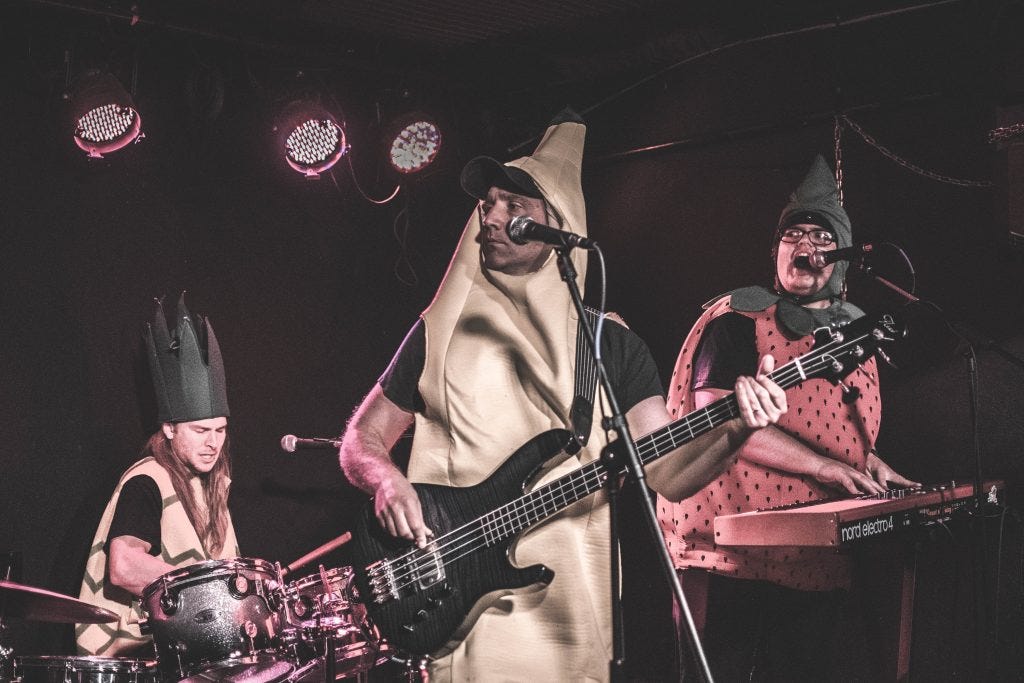 What got you into music, and if you had not gotten into music what would you be doing today? Sweet: Music was just part of my being. If I didn't get into music I probably would have wound up as pudding or bread.
N': Back when I was but a tiny pineapple my father was a musician and would always play his guitar, piano, and sing for me. My mother was a professional dancer as well, so you could say that it ran in the family! One day my mom got me a kit, and the rest is history.
Juicy: My Grandma Cherrie the Berry guilt tripped me into taking piano lessons even though I wanted to learn guitar. Over time people kept making me play piano for school events until it led to scholarships and traveling. Now I'm in Sweet N' Juicy and they still won't let me play guitar.
What do you like to do when you are not playing music and how does that influence your creativity? Sweet: I enjoy sports and movies too. All of life's experiences influence creativity. We are nothing but our DNA and experiences. N': I'm SUPER into video games. It influences my creativity by sometimes forcing me to adapt my creative plan which can help a lot in music and everyday life. Juicy: I like to adventure. ADVENTURE!!!
How long has your band been around?
Sweet: N' made us complete when he joined us in February of 2016 So like, three years.
Where are you based out of and how did that influence your music? Juicy: We're based out of Portland, Oregon. Portland is a really weird place, so all of our music has a tinge of funky-fruity vibes. We like it that way.
How did you come up with the name of your band and what does it mean to you.
N': It's our names, silly! Tell me about the best and worst shows you have played.
Juicy: We all agree that the best show we've ever played was at Barn Burn in Scio, Oregon at the end of a 3 weeklong tour down to San Diego and back. It was this really cool festival-among-friends that had a great light setup and sound situation. Some great bands played before us, and at the end of the night we played 3 heavy hours to a pile of sweating, breathing, influenced folks who only wanted to party. It was so cool it even inspired Sweet to write the song "Woof". I don't think we've had the worst show yet. We'll let you know when we do!
Tell me about your favorite venue to play at, and do you have any places you want to play that you haven't already?
N': My favorite venue to play as of now is a bar in Yachats, OR called Yachats Underground. The owners, Gina and Dave, are good friends of ours and I always feel welcomed and taken care of.
Sweet: We love festivals. Also house parties. Anywhere where the rules of society are lovingly forgotten. We'd also love to play the world class places like MSG, red rocks, Coachella, and Bonnaroo.
If you could play any show with any lineup who would be on the ticket?
Sweet N' Juicy: Bela Fleck and the Flecktones, and RHCP.
What is some advice that you would give to someone who is just getting into playing in a band?
Sweet: Be in it for the music. Learn your instrument. No one ever regretted learning to read.
N': I would advise them to make sure to listen to the other players. Make sure that you are complimenting what the others are doing, not playing over it. It's important to create with them not next to them
Juicy: Don't let your grandma tell you to learn piano. She sucks. Learn guitar.
If you could go back in time and give yourselves advice, what would it be?
Sweet: Ditch the peel.
N': I would tell myself to not be afraid of what hurt me in the past but to embrace it. I spent a lot of my pineapple years running from trauma when I should have been facing it. Juicy: Don't let your grandma push you around!
Of your songs which one means the most to you and why?
Sweet: "Golden". I found my voice in that song.
N': I would have to give this to "Proceed". I love this song because it reminds me not to take the world too seriously. It helps me remember that even when you're having a bad day and new one is right around the corner.
Which songs are your favorite to play and which get requested the most?
Juicy: We seem to really like the newer songs a lot. Our most requested song is very much "Inconceivable". People ask us to play that a few times a show sometimes. What is the creative process for the band, and what inspires you to write your music?
Sweet: New grooves help invent new songs, even if they are old grooves. Drugs and sex are always wonderful sources of inspiration.
What kinds of messages do you like to get across in your music?
Sweet N' Juicy: Party.
Do you ever have disagreements in your band, and how do you get past them? N': Fruit tend not to argue much. If we do, we wrestle in the grass, but that always ends up turning to tickle fights- and then we're laughing all over again! What are your plans for the future, and do you have anything that you want to spotlight that's coming up?
Sweet N' Juicy: We're gonna write more music, play more shows, and continue growing. 2019 was a good year for us, and so far, we already have a tour planned in February from Seattle to San Diego among other shows that look really cool. Hit us up! We love to talk about music and you.