Discover more from Volatile Weekly
Interviews in the music industry from around the world
Interview: Tarah Who?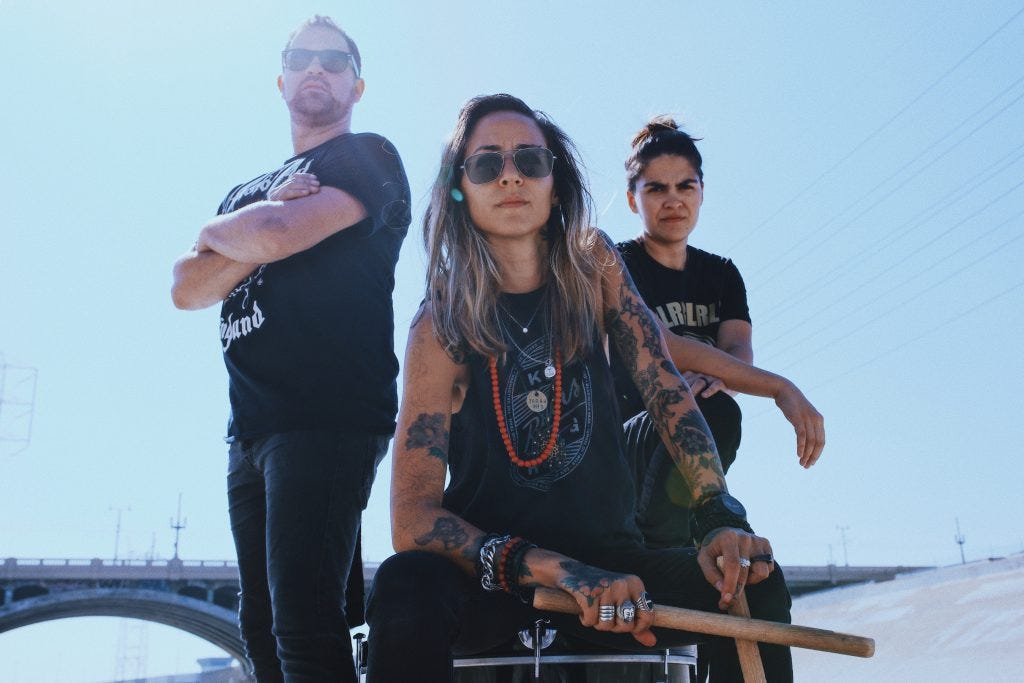 Tarah G. Carpenter (TGC): Vocals, Guitar
Joey Southern (JS): Bass, Backing Vocals
Coralie Hervé (CH): Drums, Backing Vocals
What got you into music, and if you had not gotten into music what would you be doing today?
CH : I don't really remember what got me into music but my mom started to take guitar lesson in the music school of my town, so I decided to follow her and took drum lessons, I never stop hahahaha. If I wasn't a musician, I'll be an archeologist, I really love history.
JS : My parents are big music lovers and I was exposed to a variety of music at a young age. My first arena concert was in 6th grade and I was hooked. If I didn't play music I would most likely be working with the family construction business back home in Illinois.
TGC: I started playing the drums and bass at the age of 14. A few years later I started writing my own songs. I have never thought of this as a career, to be honest I just kept doing what I love and what makes me feel good. I enjoy a lot of others things as a hobby but writing, recording and performing is what I live for. Trust me I have thought of other careers or paths, it just is not strong enough. I don't think I could do anything else. Not in this life time.
What do you like to do when your not playing music and how does that influence your creativity?
CH : When I'm not playing, I like to listen to music (always hahaha), watch some series and play video games.
JS : I enjoy traveling and exploring new places. Exposing myself to other cultures and customs is inspiring.
TGC: When I don't play I usually take care of the business aspect of Tarah Who?, managing, booking, promoting, etc... Right now I am working on a docu-series for the band and our friends about being an independent musician and a female artist in today's music industry. I love animals, tattoos, martial arts, and painting, I just don't have enough time in a day:)
How long has your band been around?
CH : I joined Tarah Who? in the summer of 2017. Tarah messaged me on Facebook when she was looking for a drummer.
JS : I have been in Tarah Who for a year now!!!
TGC: I started the band in 2006 as a singer songwriter. Over the years, I have worked with a lot of musicians and producers who have helped me shape my sound and build my confidence. I am really happy with this current line-up.
Where are you based out of and how did that influence your music?
TGC: We are based in Los Angeles. LA is great to meet a lot of people and is truly the hardest crowd. If you can make it in LA, You can make it anywhere. LA has a toughest crowd, and way too many bands!
How did you come up with the name of your band and what does it mean to you.
 TGC: It does not mean much to me really.. It was sort of an accident. We had a bunch of gigs lined-up and I had to come up with a new band name. I had sent an email with a bunch of ideas, but the subject of that email was "TARAH WHO???" and everything responded "I prefer the subject title" !! (I am really bad at picking band names) anyway.. we wnet for this just so that we could secure those gigs, but we kept on getting booked so we just kept it. I think it is too late now..!
Tell me about the best and worst shows you have played.
CH : For me, the worst show was the one in Pittsburgh, we were traveling the all day and the drummer, who I was borrowing the drums was  an  a** , so not a pleasant show.
For the best show, I'll say the one at the Satellite to finish the year 2018, it was really cool !!!
JS : The worst show I would say was El Paso on this past tour. No communication between promoters, sound engineers and staff leads to a mess of an evening. One band didn't even get to play and we got cut off at 2am sharp.
The best, the Satellite as Coralie mentioned for sure!!!
TGC: Oh man, I have a couple in mind for the worst shows but I have to stick to the current line-up! There were a couple LA shows recently that were pretty bad. Main reason why I have decided to not play LA anymore unless it was a good opportunity. Basically promoters come up to you to headline the event, we back-lined the whole event to make it easy on everyone. Not one thakn you from any other band member. They came to play their set and left right after. Very sucky behavior in my opinion.
The best show in my experience was The Maui Sugar Mill last tour. All the bands were amazing. Packed house, good money, great staff, made friends with all of the bands. Just a really really cool night and performance from everyone.
Tell me about your favorite venue to play at, and do you have any places you want to play that you haven't already?
JS : My favorite venue to play is the Satellite in Los Angeles. It has great sound and a big stage!!!
TGC: Yes the Satellite is cool for the sound and venue. Not 100% with the booking process, but they have just hired a new booker. Woot Woot!  A venue I would like to play at....honestly I don't really care.. as long as everyone is cool. The audience and the staff make it a memorable night. You can be playing a great well-known venue with a great sound and stage, if people aren't there, and the staff is unfriendly.. it will be a long night!
If you could play any show with any lineup who would be on the ticket?
CH : My lineup will be Nightwish (I'm a big fan), Ghost (love it !!), Cyhra and Beast In Black. It would be really awesome !!!
JS : Tool, Primus, Tarah Who?
TGC: Yur mum again, Bala from Spain, Tarah Who?
What is some advice that you would give to someone who is just getting into playing in a band?
CH : It might be hard time to time but work hard and find the right people to play with, you will feel the difference when everybody is on the same page.
JS : Nothing good comes easy and it will take a lot of hard work. Also know when to cut your losses and not dwell on the past.
TGC: Be you and don't try to be someone else, look like someone else or sound like someone else. They already exist(ed)..
If you could go back in time and give yourselves advice, what would it be?
CH : Work a little bit harder and take it more seriously, but I'm really happy of what I have accomplished.
JS : I would definitely practice more hahaha.
TGC: I have learned so much from all of my experiences, I would not take anything away. Every little thing I have gone though the bad and the positive, I needed to be who I am today. I need to go through events in life to know where I need to go next.
Of your songs which one means the most to you and why? 
JS : Copy cat is a great song that is a scream to anyone who is not being themselves.
TGC: They are all very personal.. they all mean a lot to me because they remind me of a moment in my life or where I was at that point in time.
Which songs are your favorite to play and which get requested the most?
CH : I like to play all the songs, they are great and once I got them, I can really have fun with it thanks to Tarah who let me express myself.
JS : The heavy fast songs like "Cough Drop" and "Numb Killer". Ache is a fan favorite.
TGC: I love to play 'Ache' , 'Numb Killer' , 'Rainy Day', 'Copycat' 'Down'.. wait.. I love to play them all ;)  These are also the most requested songs.
What is the creative process for the band, and what inspires you to write your music?
TGC: I write the music and lyrics and make demos. Once they are ready, I send the songs to Joey and Coralie, with and without their part. Once they know the songs, we meet to rehearse. First we get the structure down and the basics. Coralie has way better chops than I do on the drums so I record the ideas down but when I see her I usually say "ok you hear this here, but what I meant to do is this" then she plays the killer fills. Joey has an amazing sound on the bass too, so he gets the gist of it and then we go over the bass line again as well. When we play the song together, I usually start hearing ideas. Since we are the three of us, I can play around and re-arrange a couple things with our sounds. I really enjoy working with Coralie and Joey because they are very professional and mature. They don't try to add all of their skills in a song, they care about the intention and the message of the song. Which proves they knew where what they are worth because they don't need to prove it.
What kinds of messages do you like to get across in your music?
JS : Be yourself.
TGC: Love and kindness; We are all human , let us let each other be in our differences and preferences.
Do you ever have disagreements in your band, and how do you get past them?
CH : We don't really have disagreements, we are in the same page mostly. If there are some, we will talk about it together and try to find a solution that everybody is agree on.
JS : Yes we have managed to maintain an open communication. If something is bothering one of us we don't let it sit for long. We talk out a solution as a group and it has worked out great!
TGC: I care too much about these guys to mess up our friendship and band. If something is not working out, I let them know, but I have to say it is extremely rare. Mostly, they have to deal with me... and they are doing an amazing job at it;)