Discover more from Volatile Weekly
Interviews in the music industry from around the world
Interview: Tete Essein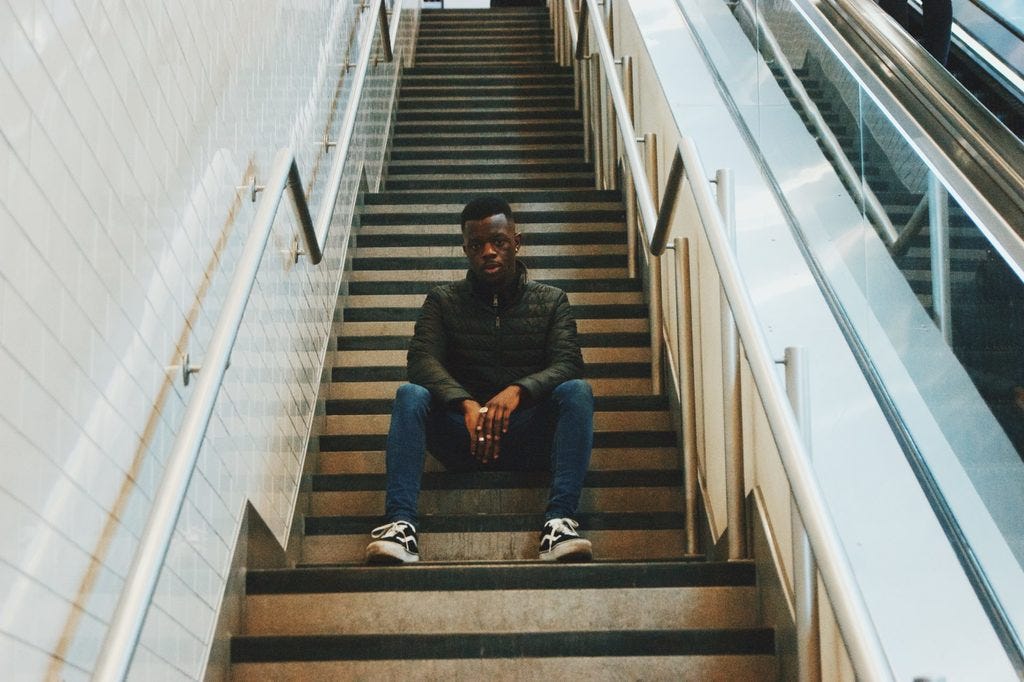 What got you into music, and if you had not gotten into music what would you be doing today?
I remember when I was younger, couldn't have been more than 8 or 9, seeing an advert for like HD TVs and they basically had Jimi Hendrix playing "Foxy Lady" in this stunning clarity. I was transfixed. Didn't even really listen to music then, but I think I was always drawn to it, the idea of making music. I really started learning an instrument so I could make songs, when I decided that was what I wanted to do; I was obsessed with the idea of being a songwriter and learning the guitar seemed the quickest way to do that. If I'd realised how bad those first songs were, believe me, I'd have stopped then. If not for music though, I'd like to be doing something freelance, maybe a photographer or something like that. 
What do you like to do when you're not playing music and how does that influence your creativity?
I like reading and I watch quite a lot of films. I'm always adding to my lists of things to consume. The more of that stuff that I got into, of different genres and varieties, really kind of extending my tastes, the more it feels like I'm learning about myself and the world around me. Reading a dystopian novel or watching science fiction, you get a glimpse of other people's worldview. Gives you a chance to compare it to yours, and influence the sounds and themes you're coming up with. I'll get hooked on a word or a lyrical theme, and be determined to layer it into a song. These things take me in new and unexpected directions, and that's only ever a good thing. 
How long have you been making music for?
When I was about 17, I played guitar and sang in a group for a little bit. That fell through but I still had these ideas I'd amassed over time; at this point I'd been writing in some way since I was about 14. Making music, now, was something I considered a part of my character so I couldn't really ignore that itch, even if I tried to for a month or two. I've gotta say, there's a couple of people who encouraged me to keep having a crack at music when I was sure I was done with it. Shoutout to them because I'd be half the plan without this. All that energy with nowhere to spend it, I'd probably have smashed a few more watermelons for fun by now.
Where are you based out of and how did that influence your music?
I grew up in Bromley, Greater London, and that's what I mostly know. I wouldn't say there's a local scene, as such, but being as close to central London that we are, you're in touching distance to this cultural hotbed. There's all kinds of diversity, in terms of sounds and backgrounds, and I feel lucky in being able to experience those different worlds. Influence comes in the way that you're surrounded by so much different music, It'd be harder for me to ignore it. As time goes by, I've been more open to trying new things and adding shades to pictures, I thought, were already beyond me. I think I'm a product of my environment in that way. 
How did you come up with your name and what does it mean to you?
Well, Tete Essien is my birthname but I did consider picking up a stage name; shortening it to just initials, or just my first name or something different entirely like an overall project name, Tame Impala style. It's not a name that's common in my ends, and whilst I was never ashamed of it, hearing it be butchered so much growing up, I wasn't quick to embrace it either. I think in some ways, me sticking to it as it is, is a way of me owning who I am a bit more, and being unapologetic about it., you know? Being in a band, you're a collective obviously, you can shirk personal responsibility sometimes. That's not as easy out on your own so it's taken me a minute to see myself as the face of something in that way, but I'm getting around to it. Maybe when I'm big and bold enough, I'll just be Tete, though. No last name, no foliage, I mean, who doesn't wanna be like Seal?
Tell me about the best and worst shows you have played.
It wasn't the worst in terms of how we sounded, not by a long stretch, but one that sticks out is the last gig I played in a group. I think we were all kind of sick of the situation; it was like the 11th hour of a long goodbye and my apathy towards it was growing. It's a shame really, that group deserved a better send-off. My favourite gig has always been the first proper one I ever did, same band. We'd managed to pack out this local pub in town with a bunch of our mates. Must've made them man bare p and we didn't even see a penny of it, but I didn't care. Seeing people that excited about something you and your mates came up with in one of your kitchens, that's a top tier feeling for me.
Tell me about your favourite venue to play at, and do you have any places you want to play that you haven't already?
Played this venue in Matthews Yard, in Croydon, a couple times that I used to love. They had this cider that we'd get a free pint of and that was always lit. Always enjoyed going up to and playing at The Spice Of Life too. The sorts of places it's easier to bribe your friends come to as well, those are what I'm about. I've always loved going out in Brixton so the ambition has to be playing the O2 Academy there. Been to gigs, been to events there and it never really disappoints. My dream is to headline a show there, move down to Phonox, this club in Brixton, a couple man strong have the sickest night out. That'll do me.
If you could play any show with any line-up who would be on the ticket?
Kano, Jungle, Arctic Monkeys and Tame Impala.
What is some advice that you would give to someone who is just getting into playing?
Amongst the promo, and plugging your stuff, keeping up a social media presence and trying to get whichever industry person, wherever, it's easy to forget why you started the whole thing in the first place. In my experience, if it stops being fun, even if all those tactics get the 'right' people in the room for you, you won't even really wanna continue with it. Losing sight of the reasons for starting are a sure-fire way to dampen your fuse. Try to remember you didn't start a band to sell t-shirts, unless of course you did, in which case, ignore all of that and save me one.
If you could go back in time and give yourself advice, what would it be?
I'd tell us to focus all of our energies on scraping enough together to record ourselves properly. That was always my ambition and I probably should have pushed for it more. Now that I'm solo, ultimately, all those decisions come down to me, and suits me nicely.
Of your songs which one means the most to you and why?
I wrote a song, a little while ago, called "Burn". Not played it live yet but I've got high hopes for how it'll sound when we finally get to. Some of my stuff can be kind of wordy so stripping it back and restricting wordflow is almost a vacation for me. 
There's something carnal and atavistic about the way it sounds. It stokes something in me, and I'm excited to unveil it. 
Which songs are your favorite to play and which get requested the most?
Playing the new things, the stuff that no one's heard before, that's what I'm always most excited to play. You never really know how a song is gonna be received, no matter how good you think it is, so that silence before any kind of a reaction is a tentative place to be, but it only makes me push for it more. We used to play a song called "Get Down" that people always loved. It was upbeat, and raucous and just a sweaty mess, I guess it was too quick for people to even argue with. Kind of shied away from it now, not sure if I'll bring it back out, but if we do I'm sure we'll do it justice.
What is the creative process and what inspires you to write your music?
All my songs start in different places, and that helps to keep it fresh. There are very few commonalities in how they're incepted. Sometimes I'll come up with a loop and play that until it sparks something else, or it might be a more traditional thing of me playing some chords I'm mesmerised by. Quite a lot, at the moment, I'll start with a rhythm section: a bassline and a drum loop, and I'll play that until I can evolve it. One thing that is always the case, though, is that the lyrics and topline come together, and I develop at the same time. Really, I just try to make the music I want to listen to, that's the basis of all my urges for it.
What kinds of messages do you like to get across in your music?
I like autonomy and independent thought, they're important to me. If you can make an informed decision or impression of something, and mean to do so in the moment, it's harder for those things to end up being mistakes. And if they are, they're yours, and there's teachable moments in there. I'm a people watcher and a bit of a smartarse and I think that comes out in my writing. A lot of the things I end up saying are my grasps to understand things, on some level. 
Do you ever get stuck making a decision, and how do you decide when you do?
I try not to overthink things, and more time, if I can, I'll make a decision there and then, instead of letting it linger over my head. Remembering to trust my convictions is part of the advice I give to myself. At the end of the day, I think, if I can justice the decision to myself, that'll satisfy me. It's only me I have to face with it. I have great belief in what I do, my decisions have gotten me here so far, so I have no reason to doubt them anymore. 
What are your plans for the future, and do you have anything that you want to spotlight that's coming up?
Write more music, release more songs, and buy myself a big old steak at the end of it. I've never been to Gauchos before but I've heard it's a decent joint. Seriously though, I just want to get to rehearse music again, so that we're prepared for when we're able to gig again, and then see where that and all the releases leave us. I try not to think too far ahead because dream fruition will only get me so far. I have another single recorded and ready for release, when the time is right, so I'm looking forward to that. Also have a couple of videos in the pipeline, so keep an eye open for that also. Is that enough shameless plugging? Should I have done more? I'll master it all in time for my big name change.