Discover more from Volatile Weekly
Interviews in the music industry from around the world
Interview: The Golden Leaves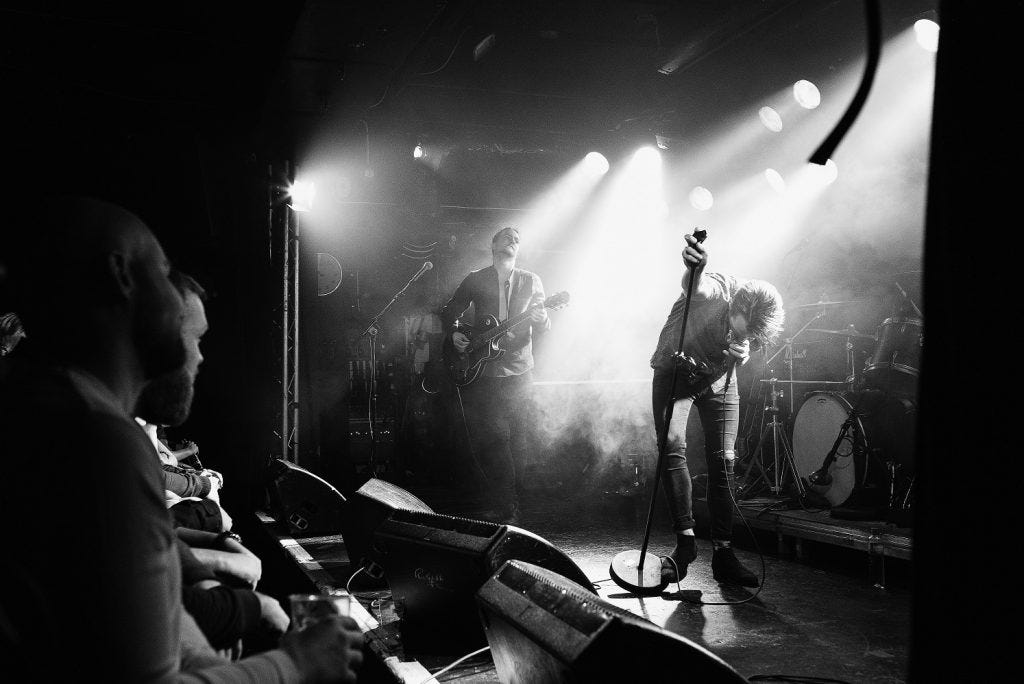 What got you into music, and if you had not gotten into music what would you be doing today? Like most other musicians we all started to impress the ladies. Except for Arthur, nobody starts playing bass to get women. He started because we told him to. If we hadn't started playing music, we would probably be cool things like astronauts and firefighters, but we are all happy about or priorities. 
What do you like to do when you're not playing music and how does that influence your creativity? We're a diverse group, so naturally, we have different methods for getting inspirations. Torleiv, for one, like to travel around the world, testing out different pepper spray tactics. He also helps people getting shitfaced at the bar he works in, Circus. This is probably why his music is angrier than the others. Javier likes long walks on the beach, flowers and working out. So his music is the sensitive and deep ones. He also dreams of being in a rap-group so he has some street-cool songs, but we don't talk about them. 
How long has your band been around? We asked Arthur about this, cause he's the historian. He said, and I quote: "Can't say for sure, but personally I think we're from the early proto-digital-age, but for all I know we can be in the middle of a second internwar period." This is why we don't let him speak in public. 
Where are you based out of and how did that influence your music? Our base is Trondheim, a big city in Norwegian standards. Here in Norway Trondheim is known for their mustaches, leather vests and loafers. I would say it didn't influence our music. 
How did you come up with the name of your band and what does it mean to you? We started out with the name Led Zeppelin, but after some googling, we discovered that the name was taken. We fell on the name The Golden Leaves because we found it easy, catchy and not too descriptive. Like, we're not married to a genre or a style with the name. Our other suggestion, Satan's Death Spawn, made it hard to someday go over to being a boyband.  
Tell me about the best and worst shows you have played. We only play good shows. The best one to date must be at Hillbilly Huckfest in the middle of nowhere in Norway. It is a bike contest with lots of really crazy people dressed up as, you guessed it, hillbillies. At our show, their people started stunting on a giant bean bag. 
Tell me about your favorite venue to play at, and do you have any places you want to play that you haven't already? Though we love to play at sweaty rock bars we also like big outdoor stages where we can move around a bit. We wouldn't say no to a gig at Royal Albert Hall either. 
If you could play any show with any lineup who would be on the ticket? White Man Dancing and Kings of The Valley cause they know how to party. Rival Sons could support us if they were interested.
What is some advice that you would give to someone who is just getting into playing in a band? Be sure to have enough time. If you have kids to raise or a needy girl/boyfriend you should probably use your time on them instead. Be sure to have fun playing. 
If you could go back in time and give yourselves advice, what would it be? Do more stupid stuff
Of your songs which one means the most to you and why? Dear Soldier coming on our album is a song David wrote to his dad. The Fall is a song dedicated to Javiers niece. The first time we played it four people stood crying. I don't know if that's a good thing or not.
Which songs are your favorite to play and which get requested the most? The song Overexposed is definitely the most fun to play, but the audience might like Lemon better. There's also a new song with some kicking energy called Invite Me coming on our album we like to play. David tweaks his voice into a growl and then the heavy riffing starts give the band goosebumps every time.
What is the creative process for the band, and what inspires you to write your music? We often have a riff or an idea and talk about it at band practice. Sometimes it results in a song, sometimes it doesn't. Everything can inspire us to write songs, but to be quick, human connections.
What kinds of messages do you like to get across in your music? Do your best in the situation you are in. For example, if you're attacked by a gorilla fight back and kick his ass. At least that's what our dear drummer Christian would do.
Do you ever have disagreements in your band, and how do you get past them? Yes, often. We fight out until Christian comes and split us apart. Then we forget about it and lick our wounds.
What are your plans for the future, and do you have anything that you want to spotlight that's coming up? We have an album coming in October. If you want to keep up with us you should definitely follow us for updates. The next step will be to plan a tour.