Discover more from Volatile Weekly
Interviews in the music industry from around the world
Interview: The Hellfreaks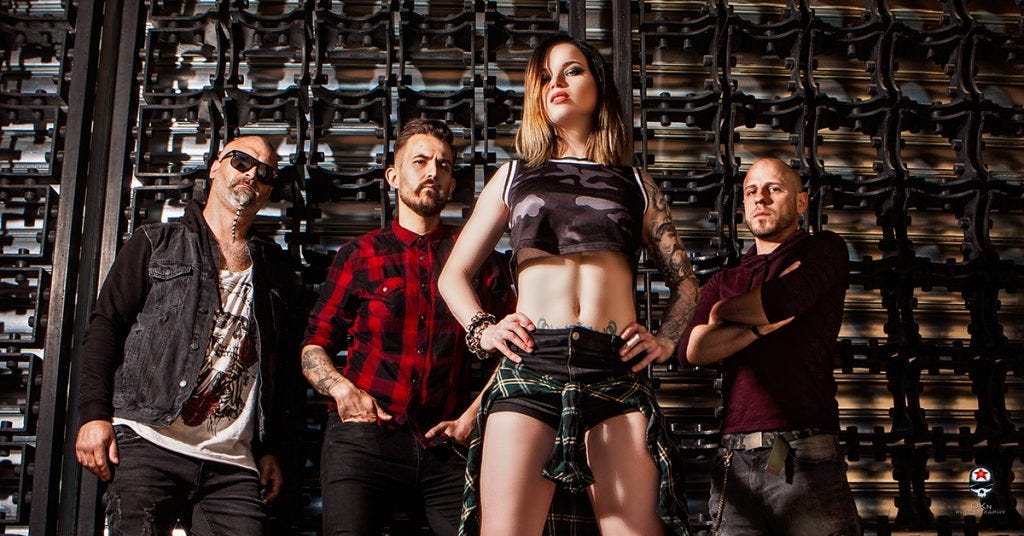 If you had not gotten into music what would you be doing today? I think I would be one of those people I see every morning on the subway who just sit there like gravity had hit them harder than the others, hopelessly tired, dead-eyed, just waiting until the day is over so they can crawl back into their bed. Someone who escapes into their dreams just to feel nothing and shut out their feelings … Quite a good description of workdays in big cities, right? 
In fact, I know this feeling because I tried life without music after my band split up for a while back in 2014. As you can probably tell, I did not like it! 
But cards on the table: I'm not a full-time musician. I have an average job as well and I travel on that subway every day to the office, the difference is I have my band too and that keeps me together. 
If I'd never known the feeling of having a band, of playing gigs or of writing music, I'd surely live another life. I studied as an environmental engineer at university, so I guess I would have walked that path instead. But I don't regret a single decision. I had to sacrifice A LOT for my band but despite that, this makes me feel like I'm living a real life. 
What do you like to do when you are not playing music and how does that influence your creativity? I'm a real crazy cat lady. I share my flat with 4 little devils and I love to hang out with them. After a hard day, I love to push my nose into them, they just smell like home to me and that's pretty much how I recharge myself.  Besides that, I love to go to the gym. I love to travel and I really love to spend time with my close friends. 
Unfortunately, all these things have a bad effect on my creativity. Creativity, in my case, comes in the form of dark clouds, of rainy nights, of heavy times. That might not sound very healthy but negative vibes open the door to my creativity. That's how I turn them into a positive.
How long has your band been around? We celebrated our 10 year anniversary this year. 
Where are you based out of and how did that influence your music? We all live in Budapest, the capital city of Hungary. We love the city but in the case of rock music, it's pretty close to "the middle of nowhere". To avoid any misunderstanding: we have tons of great rock bands - especially in the metal corner but it's a small country without specific "scene" clubs, without "beaten tracks" to walk. 
It's very hard to build something in a country with such economic difficulty and it takes a crazy amount of will power to "make it" as this is a place with little room for patience. Only extremely hard work can pay off and this can be seen as a positive: there are endless amounts of talented artists out there and with just one search on YouTube, you can find thousands of perfect voices who are doing cover after cover in their own homes. They are mind-blowing! But people who still believe in hard work - that's pretty rare I guess. 
How did you come up with the name of your band and what does it mean to you. To be honest, the band name isn't young. I was more or less a kid when I formed the band. The only thing I can clearly remember is that I came up with the idea for the name when I was working at one of my very first jobs - a rockabilly bar where I didn't even earn 2$ an hour so far from home that it was almost impossible to get back late at night. So the birthplace of the band was quite a hopeless place. So compared to then, we're very happy with how far it's come!
Tell me about the best and worst shows you have played. With over 200 shows in our bank, it's pretty hard to pick one … I guess my worst show experience was the show I thought would be the last. As I mentioned before, the band split up in 2014 for a while. Before that happened, we did a farewell tour and had our "last" show in Germany. I clearly remember that all I could think about on stage was "Holy hell... so that's it?!" 
But not even a year later, thanks to an invitation to Ink'n Iron Festival in California, me and our old drummer decided to bring the band back with a new spirit, new band members and a new mentality. 
After all these years I realized that this farewell gig was the very best thing that could have happened to me: we closed a period that needed to be closed, we let go of the weight that couldn't be held any longer. That break was needed to take a deep breath and to get to the point where I am right now. I'm surrounded by the very best people: not just unbelievably stunning musicians, but also really good human beings. I'm forever grateful to have these guys on board. I would be nothing without them. All that couldn't have happened without that one terrible gig. 
Tell me about your favorite venue to play at, and do you have any places you want to play that you haven't already? There is no best or worst but a club that feels like home, as we play there once a year, is the Wild At Heart in Berlin. It's a small, dirty, dark club but you can feel the spirit in each and every molecule over there. I love it. 
I would love to play EVERYWHERE! But if I had to choose one specific club, then I would say the Whiskey-A-Go-Go in Los Angeles.
If you could play any show with any lineup who would be on the ticket? If I could ever share the stage with The Distillers, that would be a dream. 
What is some advice that you would give to someone who is just getting into playing in a band? If this is what you want, be prepared. Good songs won't be enough. If you want to be heard, you need to go that extra mile that can easily turn into an extra 1000 miles! Work for it, don't wait for it. 
If you could go back in time and give yourselves advice, what would it be? Never underestimate a painful back.  
Of your songs which one means the most to you and why? That's like picking out your favorite kid. That's an impossible question to answer. 
But I guess every musician on earth feels the same. I always enjoy playing our newer songs more. 
Which songs are your favorite to play and which get requested the most? Just answered the first part. :-) Our most requested song is the one that has been in our setlist since day 1, the one with over 5.5 million views on youtube and the one we might never get rid of. It's our song "Boogieman". 
What is the creative process for the band, and what inspires you to write your music? This process has changed over the past 10 years a few times but for our new, upcoming album "God On The Run", we started with the instrumental parts, mainly lead by our bass player Gabi. After that, I worked on the melody for the vocals and then started to work on the lyrics.  After the demos were recorded, we made some more musical changes and only after that were the producers involved, who added their own spice. 
What kinds of messages do you like to get across in your music? We've written more than 50 songs with the band so far. If I was, to sum up the messages in just a couple of sentences here, it would make me really sad to see that I might be wasting my time on something I'm really not good at. But luckily I can't. 
Every album has its own "atmosphere" because each of them is a little "mirror piece" from the time in my life when it was written and as time goes by, my life changes. So did my lyrics. 
While writing the last album, I also had to deal with my real-life job. I work a lot in the social media field, with influencers, vloggers, etc. Of course this has it's fun side but on the other hand, messages like "you are all perfect", "everyone has a talent" and "find your inner shine" just choke me. It feels like a pool of clichés, wrapped in nice packaging that's being pushed down my throat. I would say the songs on the upcoming album are against this "smile or die" attitude. It's about "it's okay that you're not okay because it's not equal to being lost". 
Do you ever have disagreements in your band, and how do you get past them? Of course! But nothing I would share in public. :-) 
I think finding the right people to be in a band with is harder than finding the right boy/girl for a relationship. You need to fit personally AND professionally and not only with one person! So it's normal to have disagreements in a band, the key is how you handle them. That's what makes a team strong or weak. But it's important to say that I'm more than happy with our current line-up. I love my guys. 
What are your plans for the future, and do you have anything that you want to spotlight that's coming up? A lot! 
In January 2020, Hellfreaks' fourth album "God On The Run" will be released. We've been working on the new songs for over two years, fulfilling an old dream to work with foreign producers. 
Pre-production work has been with Paul Miner (New Found Glory, Atreyu, Death By Stereo), production/mixing with Evan Rodaniche (Escape The Faith, Powerman 5000, Lacey Sturm). The mastering with Tom Waltz provided us with the perfect final form for the band's songs and ideas. 
The first single "Men In Grey" is going to be released on the 23rd August, inspired by a tale about time by Michael Ende Momo. And all that is just the beginning! It's the perfect time to keep an eye on our social media pages and our youtube channel, as we're going to have more single releases in front of the album! :-)
Get in touch with us: 
https://www.facebook.com/thehellfreaks
https://www.instagram.com/thehellfreaks