Discover more from Volatile Weekly
Interviews in the music industry from around the world
Interview: The Jailbirds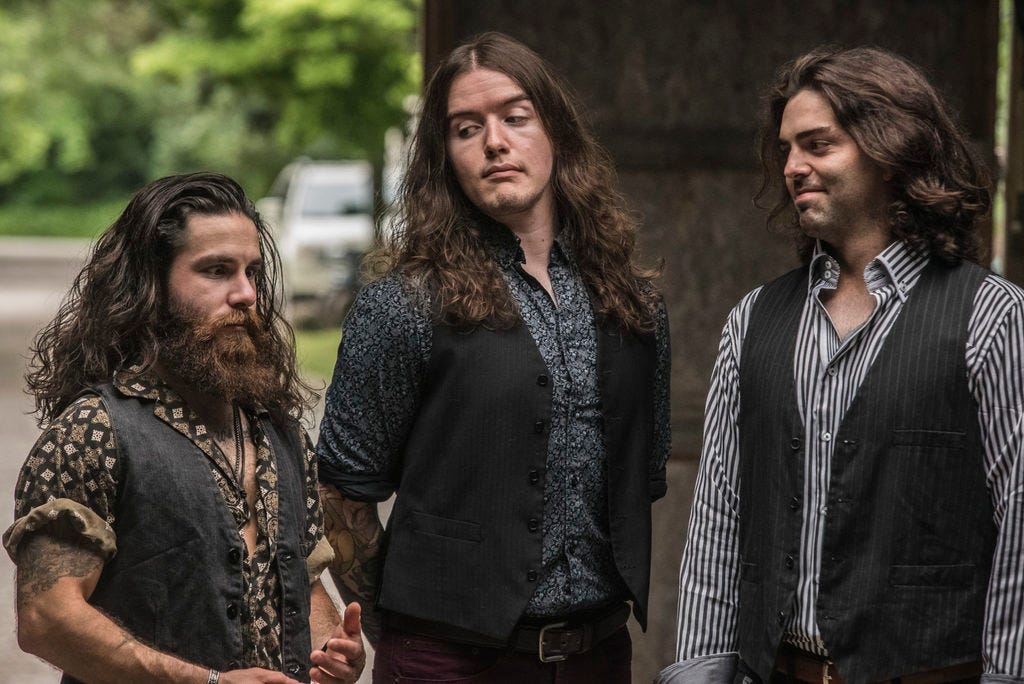 All Questions Answered by Myke:
What got you into music, and if you had not gotten into music what would you be doing today?
I remember the moment I knew that music was what I wanted to pursue. I was sitting in the back of my parents' car, on the way home from a martial arts lesson, I was about 12 or 13 at the time. ACDC's Thunderstruck came on the radio, and that was the first moment that I can remember where a piece of music really grabbed my attention. It wasn't particularly loud or anything like that, but the sound that came through those speakers struck (ha) me to my core. I knew immediately that this was what I wanted to do in life, make a sound like THAT.
I have no clue where I would be if I wasn't into music… there has been plenty of other endeavors that have presented themselves to me in my life, but nothing has ever come close to resonating with me, like music has. I almost became an electrician when I was deciding which direction to take in high school (that was my parents' idea). But ultimately, I knew that my path was to be a musician, even from such a young age. So instead of electrical engineering, I did recording engineering and music business.
What do you like to do when you're not playing music and how does that influence your creativity?
There's not a lot of stuff to be honest, I'd say that video games and cooking are probably 2 things I do the most outside of music. Video games greatly influence my creativity, nothing beats sitting on the couch, playing Zelda, with a joint. Our song, The Black River, was directly influenced by video games, I remember playing an Iphone game and there was one level called "The Black River", I thought to myself for a moment… "that would make a cool song title", and then the lyrics just started flowing.
How long has your band been around?
The Jailbirds have been together for about 5 years now. Liam and I actually had a band from High school that basically turned into TJB, from members leaving and the sound changing etc etc. One day we decided to clean the slate and just start from scratch, as the sound had changed so much our previous name didn't really work anymore. When we found Eric, we played together for a few months and then the band name came to Liam in a dream. We were all actively trying to listen to our demos from that time and see what kind of names it would inspire, The Jailbirds was our favourite so here we are! That would have been back in late 2015.
Where are you based out of and how did that influence your music?
We are based out of Mississuga, Ontario, which is near Toronto. It has influenced our music in many ways. I feel that our sound is very much a mix of a variety of rock music from different eras, some more modern and some more classic. The area of Ontario that we are from/rehearse in is pretty much a mirror image of that idea, a mix of modern (industrial areas, modern housing etc) and rural territories too.
How did you come up with the name of your band and what does it mean to you.
Liam dreamt one night, that the 3 of us were robbing a train in the 1800s. We got caught, and then thrown in jail! Once there, Liam dreamt up a sheriff walking by the cell and mentioning to the guard on duty, "those are The Jailbirds"… he immediately woke up, wrote it down in his notebook and circled it a bunch of times! We all loved it, so here we are today!
Tell me about the best and worst shows you have played.
The best show we've ever played, I think, was in Feb 2020 at The Hideout in Toronto (RIP). The crowd was extremely energetic that night, and we saw a mix of new and old faces at this show. That gig really sticks out to me because I remember that the audience really amped us up, and vice-versa. It's always a 2 way street with gigs, the audience and how they react makes a huge difference! The worst show? Haha I'm not too sure on that one… I guess I try not to remember those ones haha!
Tell me about your favorite venue to play at, and do you have any places you want to play that you haven't already?
My favourite place to play so far has been Rum Runners in London, ON. The stage, room, sound, lighting, etc is all fantastic! Always a pleasure to play on that stage. I'd love to one day play at The Phoenix in Toronto, I've seen so many of my fave bands there so that would be a real trip (Rival Sons, Big Wreck, Monster Truck, to name a few).
If you could play any show with any lineup who would be on the ticket?
Definitely Download Festival in EU, and I would want GN'R, Alter Bridge, Deep Purple, Rival Sons, Monster Truck, Mastodon, Big Wreck, Crown Lands, RAGE, Black Sabbath and Rainbow (with DIO) .
What is some advice that you would give to someone who is just getting into playing in a band?
The best advice I can give is: TAKE YOUR TIME. There is no rush. Start by finding your group/members and reaaaaaally focus on the songs. Write kick-ass songs, play together all the time, and then once you have maybe 8-10 tracks, start gigging. Start by gigging at dive-bars with no one there, because you WANT to mess up at first. You want to get good at messing up, and get good at fixing mistakes on stage. Because there will certainly come a time where you need to think outside the box while in front of a bunch of people, and you don't want that to be the first time. Also, write all the time.
If you could go back in time and give yourselves advice, what would it be?
I would say, Myke, take your time! I was always in a huge rush to record, or get on that big show or whatever it was. Just take a breath and let it happen, the music will take you on it's own path if you don't try to force it.
Of your songs which one means the most to you and why?
Of all of our songs, I'd say the one that means most to me is either "I Will Move On" or "The Jungle". Both are written about my own personal experiences, and have to do with rising up above all the hardships in my life and pressing forward and using The Jungle as a metaphor for my brain while I'm anxious/depressed. I struggle, like a lot of people, with mental health, and music is one of the main ways I deal with that.
Which songs are your favorite to play and which get requested the most?
Favorite to play, I'd say that I most enjoy playing My Secret Is Out, because we do a jam intro and then it also has a fun guitar solo in it! Most requested, is probably Black Madonna or All I Need.
What is the creative process for the band, and what inspires you to write your music?
It varies from song to song, but mainly how we write is all together in the jamroom. We usually bring in a riff or idea, and bounce it off of each other to see what happens. We really try to capture the spontaneity of hearing a riff for the first time. Then, usually I'll take what we come up with home to write the lyrics and melodies. I find I work best on those elements when I'm alone and don't have anything to distract me.
Inspiration comes from many places, like I said above it can be as simple as a video game level title that spawns an entire song. Other times, I'm inspired by unique sounds and stuff that captures my attention.
What kinds of messages do you like to get across in your music?
I guess the main message we try to put out there is that mental health is real, and it's going to be ok. Because we believe that the power to beat mental illness is inside of all of us! There is light at the end of the tunnel, and you don't have to suffer alone! Help is hard to reach out about, but the results can be amazing if you let it take you down it's path.
Do you ever have disagreements in your band, and how do you get past them?
We do disagree sometimes, but ultimately we leave it up to the popular vote amongst our team and/or if we're specifically disagreeing on a piece of music, we leave it up to how it sounds. No room for egos!
What are your plans for the future, and do you have anything that you want to spotlight that's coming up?
In the near future, we will be releasing our 2nd EP. We currently are promoting 2 singles from that record, and a 3rd single is likely to make it to airwaves as well. Stay tuned for more music videos, music and other cool content! We are always creaiting! www.thejailbirds.com