Interview: The Lost Messiahs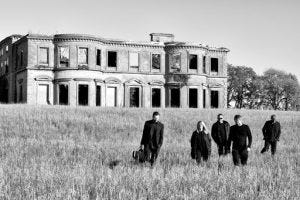 Alt-rock band, The Lost Messiahs, from Ireland is going on tour in the US soon!
What got you into music, and if you had not gotten into music what would you be doing today? I bought a collection of Bob Dylan albums at an early age and it ignited a burning desire within me to write my own music. If I hadn't gotten into music in terms of being a musician and being in a band I am sure that I would be some way involved in the creative arts. What do you like to do when you are not playing music and how does that influence your creativity? I own a recording studio called Golden Egg Studios so if I'm not playing I am recording/producing music. I also like to do sound meditation concerts using gongs/ Tibetan bowls. How long has your band been around? We have been together for around four years but with a few line-up changes. The current line-up is magical and there is a beautiful symbiotic/ telepathic relationship between us. Where are you based out of and how did that influence your music? We are based in Portlaoise, which is in the middle of Ireland with a population of around 30,000. There has always been a vibrant music scene in the town with lots of bands playing original music and plenty of venues for them to play in. How did you come up with the name of your band and what does it mean to you. I always had the name in my head. The messiahs represented our desire to express ourselves through our music and lyrics and the lost came from frustration to find the medium to facilitate this expression Tell me about the best and worst shows you have played. The best show was at Sonas Arts and Music Festival last year and the worst was playing at a venue where there were problems with the sound, the stage was small and there was a small crowd. Tell me about your favorite venue to play at, and do you have any places you want to play that you have not already? We played the Electric Picnic in Ireland which is a beautiful boutique festival but we would love to play at some festivals in America. If you could play any show with any lineup who would be on the ticket? I would love to share a stage with The National, Mercury Rev, Bob Dylan, Nick Cave, Interpol and Sonic Youth. What is some advice that you would give to someone who is just getting into playing in a band? Enjoy it firstly and set no limitation on your ambition. Join a band with people of like-minded ambition and desire. Believe fully in yourself, with a single-minded vision to achieve your potential and don't ever get distracted by other people's views. If you could go back in time and give yourselves advice, what would it be? Always trust your gut instinct and believe in yourself. Of your songs which one means the most to you and why? 'Deconstruction of the Mind 'as it encapsulates a period of reflection and enlightenment that led me on a new pathway of discovery and personal growth. Which songs are your favorite to play and which get requested the most? 'Big Mistake' as it has a very hypnotic rhythm and always goes down well but we now have a brand new song for our next album with a working title of 'place in my heart ' which we all agree is probably our best song and one which we love playing and is getting a brilliant reaction. What is the creative process for the band, and what inspires you to write your music? I find that something happens at a deep spiritual mystical level, some connection to a vibration /subconscious. When I go mining for new material, the riff/melody and the idea or concept for the song normally arrive together as a collective energy/vibration and I try to preserve that connectedness. What kinds of messages do you like to get across in your music? Although we have Messiah in our name we are not in the business of preaching or putting out a message. We prefer to write songs that resonate with our inner being and curiosity allowing people to interpret our songs with their own reference map Do you ever have disagreements in your band, and how do you get past them? I honestly can't remember any disagreement. We are pretty honest with each other, with a common love of music and once we start jamming/ playing any underlying tension dissolves quickly. What are your plans for the future, and do you have anything that you want to spotlight that is coming up? We are super excited to be doing a tour of American East Coast playing at some really prestigious venues including The Bowery Electric, Mercury Lounge, Rockwood Music Hall, The Saint, and we hope to grow our fan base and continue to write music with the same passion that we always have.