Discover more from Volatile Weekly
Interviews in the music industry from around the world
Interview: The Radio Broadcast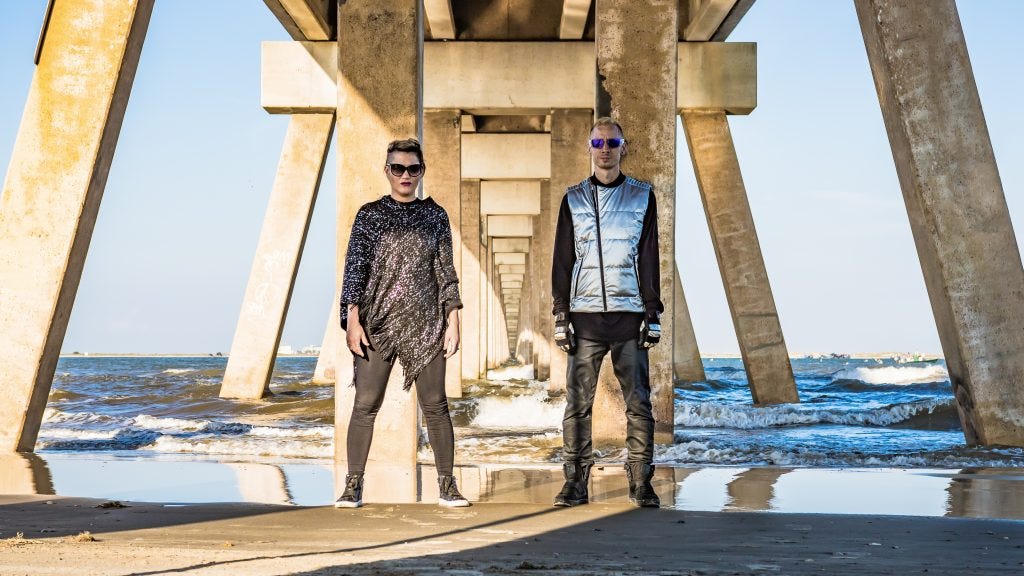 What got you into music, and if you had not gotten into music what would you be doing today?
When we were younger Kristin's parents put her in piano lessons and Michael decided to join the school band as a percussionist. If we had not gotten into music we definitely would both be involved in another art form.
What do you like to do when your not playing music and how does that influence your creativity?
We both work on video and photo editing aside from working on music. Michael also has an art studio he works on paintings, wood carvings or other projects. But We both really enjoy retro gaming. We both grew up playing NES, SNES, Sega, and N64. We have a pretty good game collection. You should come hang out play some games and play some music! Every aspect of our life plays a part in our creativity. Our daily actions and encounters are what trigger thoughts in our minds which then envokes emotion and is fuel for creativity. We love to incorporate video game sounds into our music and with there are many ways to display the same idea or emotion.
How long has your band been around? The Radio Broadcast formed in 2008 and started playing live in 2009
Where are you based out of and how did that influence your music?
We started this project in 2008 in Bowling Green Ohio and then moved to Houston Texas in 2011. We are still currently in Houston. The areas in which we have lived and are currently living in having nothing to do with the influence in our music.
How did you come up with the name of your band and what does it mean to you.
When We started The Radio Broadcast in 2008/2009 MySpace was the biggest social media site.  Our Primary objective was to come up with a band name that wasn't already on MySpace. We had several names that we came up with that were not names on MySpace and that would have worked out but nothing stuck with us like The Radio Broadcast. Imagine you are flipping through your music library and you come across The Radio Broadcast. You tune in to listen and at that point, We (The Radio Broadcast) become your radio and you are listening to our broadcast and thus The Radio Broadcast.
Tell me about the best and worst shows you have played.
We have been through a lot! In the beginning, we were kicked off stage because we had a lot of gear and lighting and took too long to set up. We were told to stop playing halfway through our set because the promoter overbooked the show. We have played shows for only the venue staff and the other bands. But we have played some really good shows with a packed venue and great people with lots of love. We have played at a haunted house in the area (one of our favorite places to play) and we have even played a show where the news came out to film us because we were unique for the area.
Tell me about your favorite venue to play at, and do you have any places you want to play that you haven't already?
We have played some venues that are the complete package as far as the look the environment the sound quality the stage set up the lighting Legit and Top of the Line but the way the venue is run and promoted is terrible. And we have played some venues that don't seem like much but the staff the best the compensation is above expectations and the venue has a large crowd of eclectic regulars. Clubs and bars are fun but we would really like to play at a festival.
If you could play any show with any lineup who would be on the ticket?
We would love to play on a lineup with INNERPARTYSYSTEM and Crystal Castles Our two favorite bands
What is some advice that you would give to someone who is just getting into playing in a band?
Stay Strong with a positive outlook and always be true to yourself. Live Your Life for You! The music industry can be discouraging at times but as long as you are doing what you are doing for you and stay positive you will be fine.
If you could go back in time and give yourselves advice, what would it be?
Its all a learning experience. There isn't any need or desire to go back in time for anything We are completely happy with the way things have played out for us.
Of your songs which one means the most to you and why?
I think it would be Ghost. Mainly because of the video. The video captures our trip to Belize and our time together with each other as well as family. It was a special trip for us. But even the song its self talks about how great it is being with each other and not wanting to be forgotten basically
Which songs are your favorite to play and which get requested the most?
Our favorite song to date that we have created is "Broken Dreams" The sound and feel of that song is something we have been striving for. You will be hearing a lot more of that style on our upcoming full-length album that will be released later in the year.
What is the creative process for the band, and what inspires you to write your music?
It all just kind happens when inspiration hits. We don't have any set musical schedule when it comes to the creative process and we don't have any certain set guidelines or formula that works. When the time is right the lyrics flow and the music grows. Kristin writes the lyrics and some times she has several things already written and they just happen to work with a track that we are currently working on or something that has been sitting. Other times she listens to the music we are currently working on or working with and words just start to flow. As far as instrumentals or the actual bulk or meat of the track they are always written independently from the lyrics. We haven't ever written a piece based on lyrics. Michael writes a vast majority of the music or instrumentals and there isn't any certain set of guidelines here to follow either. We both write what we feel when the time is right. There is a lot of inspiration and musical influence to be found in the world and for us as far music goes there are two major electronic groups that have stuck out the most and helped shape our minds to develop the sounds of The Radio Broadcast and that would be Crystal Castles and INNERPARTYSYSTEM. We love the DIY approach IPS takes when it comes to stage lighting and we love their heavy and raw electronic feel. With CC they come across sort of mysterious. We love their punk attitude in the electronic scene. We really like their lofti gritty electronic sounds. We study these bands and many others to try and better ourselves as a band. We try to align our selves with similar sounding artists but we do our best to remind our selves that other bands and musicians are just like you and I and to tune into them as a reference or inspiration and not as a guide. But as crazy as life can get it is always a good idea to take a step back and take a little time out and immerse yourself in nature and tune in to the frequencies of the planet, clear your mind, and realign yourself. Once your mind is clear and your body is well tuned it will be a lot easier for your creative ideas to flow into more comprehensive complete ideas.
What kinds of messages do you like to get across in your music?
Whether you Love it or Hate it remember the time and dedication that was put into this music that you are now listening to. We are all on our own path and what may be fuel for one may not be fuel for the next. Take a step back from your life and try to view the world from a different perspective. We do our best to produce quality material but in the end, quality is defined by you. Your thoughts and feelings towards our music is on you but please remember what we have created was from the love of our souls with positive intent to help connect like-minded individuals.
Do you ever have disagreements in your band, and how do you get past them?
We really don't have any disagreements other than what songs we want to play on a lineup and to solve that we run through a set and see what fits with a certain song line up and what doesn't.
What are your plans for the future, and do you have anything that you want to spotlight that's coming up?
Right now we are working on building our online presence. We are also working on some video and photo editing along with the new musical material. A lot of background prep work for the future but the future is unpredictable. You can plan now for what you think is to come or what you think shall happen but you never truly know what to expect until you are in the moment. But as for the future we have many thoughts as to what we would like to happen but nothing solid as of now. We do have a tour planned for the future but we do not have dates yet.