Discover more from Volatile Weekly
Interviews in the music industry from around the world
Interview: Thorn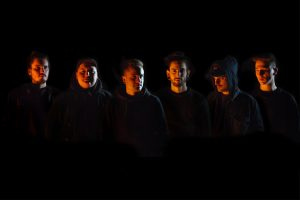 What got you into music, and if you had not gotten into music what would you be doing today?
In the beginning the music from our parents of course. Later on through friends. We all started playing in bands back when we went to school and listened to similar ones we wished to be. That was for sure motivational. The main reason behind the existence of THORN. is the friendship and community that connects us. 
We all have jobs that are our main source of income. Each one of has done some sort of apprenticeship or went to college/university.
What do you like to do when you are not playing music and how does that influence your creativity?
That depends on each member, but all in all we enjoy spending time outdoors with our friends, doing sports, playing Mario Kart and generally just having a good time. We draw inspiration from anywhere possible. Be it visible, audible or something you can feel. Anything can spark creation and influence a melody, a beat or lyrics.
How long has your band been around?
We've been around for four years, so 2016. At the end of the year we went officially public and debuted our first song.
Where are you based out of and how did that influence your music?
Solothurn and Bern, Switzerland. Two different cantons (similar to a state), but Switzerland being a small country and the cantons laying next to each other, it is not that far apart. Our friendship goes 8 years back, meeting through previous bands, playing together on the regular and becoming good friends. When those bands split up it was an obvious decision to join forces and start a new project.
There are many things our country inspire us on, like our beautiful natural areas - the environment that being - as well as social and cultural subjects. These are topics we touch upon especially in our lyrics.
How did you come up with the name of your band and what does it mean to you.
The band name was originally inspired by a song from The Devil Wears Prada way back when and reformed a bit since then. When creating our Facebook page, we had to rework it to evade copyright laws. The all caps and set point were added as part of that process , we think it gives it a modern and catchy optical vibe. It's more of a nice ring then having a deep meaning behind it really. 
Tell me about the best and worst shows you have played.
The worst show was probably when we supporter two bands from abroad on a weeknight in a remote location and only a handful of people showed up. We felt sorry for the bands and the staff. Nonetheless, we had a great time with everyone involved. One of our favorite shows is definitely when we opened for All That Remains. 
Tell me about your favorite venue to play at, and do you have any places you want to play that you haven't already?
We like playing small venues because it's up close and personal with the crowd. One of our favorite locations to play is in the band's hometown in Olten. Unfortunately the venue is closed at the moment due to state interference, which is a bummer. We hope to see it come back soon. 
We would definitely love to play festivals, that's on top of our list.
If you could play any show with any lineup who would be on the ticket?
We for sure would pick some of our favorite bands that inspired us in the first place. Northlane, Invent Animate for example. Maybe even some younger bands that we enjoy, like Thornhill who are up and coming. 
Then again we would definitely love to have some local bands/friends sharing the stage with us. No Kings No Slaves, Nubia, Save Your Last Breath -  the list goes on. We have some exceptionally great underground bands here.
What is some advice that you would give to someone who is just getting into playing in a band?
Most importantly have fun and be passionate, in the end that's what it's all about or at least why we do it. Don't forget to practice, be critical of your own music and keep on pushing.
If you could go back in time and give yourselves advice, what would it be?
We try to focus our energy, passion and hard work in the present and future rather than dwindle in the past. Maybe the younger us would just rolle their eyes at the older us, like kids/teenagers do.
Of your songs which one means the most to you and why?
Deep Blue is probably the song we are most proud of that we have released so far. It got a lot of attention and it is great seeing and hearing people enjoy the song. 
A song that has a lot of meaning to us and we hope to more is to be released soon. The lyrics have a deep meaning and the music has been refined and grown since our last EP. We can't wait to show you what we've been working on the last couple months.
Which songs are your favorite to play and which get requested the most?
Black Sun and Deep Blue for sure. Those songs are very defining ones and get the crowd going or singing.
What is the creative process for the band, and what inspires you to write your music?
Patrick (guitars) usually comes up with ideas and makes a demo he records and refines with our drummer Luca, as he's a great engineer. Then the song gets presented to the rest of the band, some changes are made and either Josh (bass) or Mischael (guitar) will write lyrics.
What kinds of messages do you like to get across in your music?
Be humble, be kind, help each other in any way possible. Fight for what is right, think of the future and not only yourself. Try to be positive and if not, strive to be.
Do you ever have disagreements in your band, and how do you get past them?
Not usually, we are very respectful of each other and take criticism seriously. If there are any disagreements, it is usually where to eat or who has to drive to the gig.
What are your plans for the future, and do you have anything that you want to spotlight that's coming up?
We are releasing our second EP "Hypnotalk" in April and maybe some other things we won't talk about yet. We also have a release show in planning, given the current situation with the Covid-19 around the world it might be difficult. A lot of shows have now been cancelled. We hope to postpone them and of course add more.