Interview: Toronto Blessings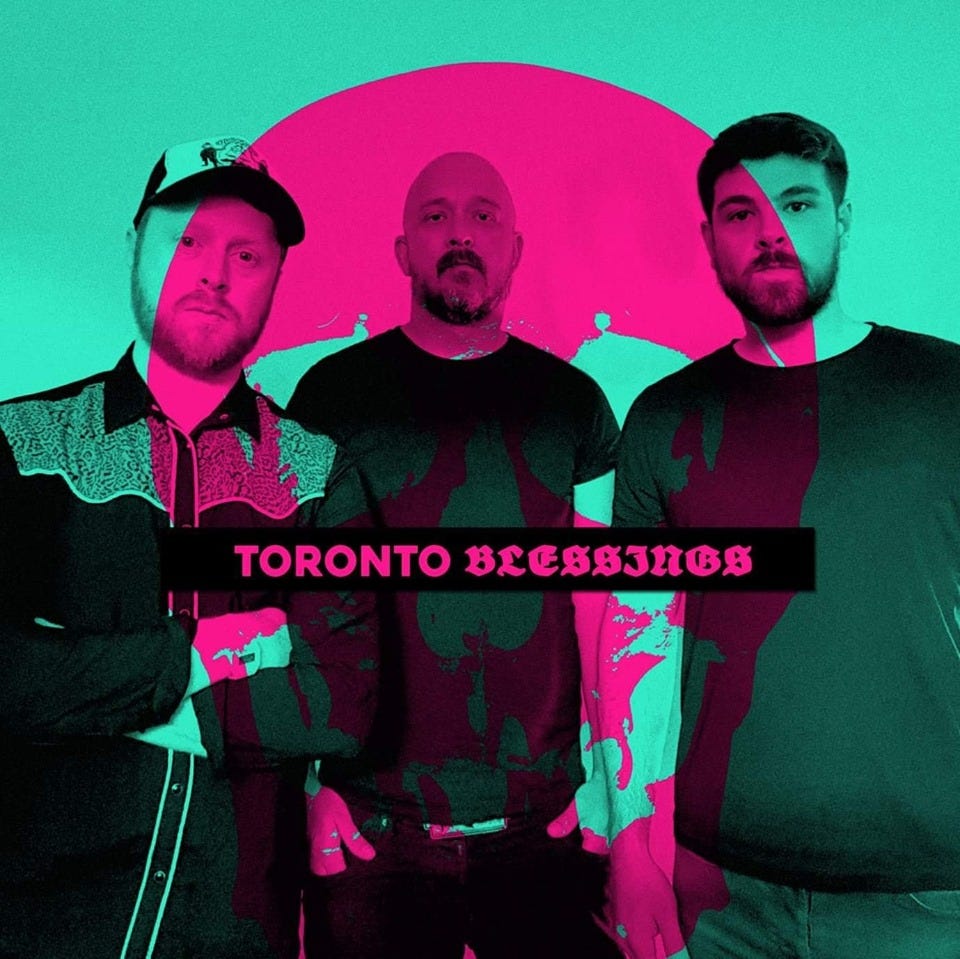 What got you into music, and if you had not gotten into music what would you be doing today?
My dad's vinyl collection when I was a little nipper. I used to put the headphones on (full volume- there is no wonder I have tinnitus) and soak everything up. The Beatles, Pink Floyd, Led Zeppelin, Queen, War of the Worlds, The Undertones, Kraftwerk, Emerson Lake, and Palmer. Loads of stuff. It kind of followed that I wanted to pick up an instrument and try to replicate the sounds I was hearing. I can't imagine what I'd be doing with myself without music, it's always been an obsession of mine. Probably building scale accurate dioramas of famous WW2 battles or something. Tree surgeon? 
What do you like to do when you're not playing music and how does that influence your creativity?
Like most musicians, I have to work a job. But that gives me space to think about things, concepts, sounds and such. I do all of the visual stuff for Toronto Blessings too so that is a big part of my creative output outside the actual music.
How long has your band been around?
About 18 months now. Although we spend the first few months writing some shit songs. Got all that out of our system then started writing better ones.
Where are you based out of and how did that influence your music?
Barnsley, South Yorkshire. I don't think our home town has any bearing on our sound. We've always tried to look beyond Barnsley. Obviously, Servers are partly from Barnsley. Our brother Lee Storrar is one of the country's best rock songwriters. Always a massive singalong chorus. But Barnsley is quite a Mod town. Lots of Oasis wannabe bands and Arctic Monkeys. Not really our scene.
How did you come up with the name of your band and what does it mean to you.
I read an article in The Guardian about Sleaford Mods where it referred to Jason as "looking like he was receiving the Toronto blessing" which was a phrase I was intrigued by. I messaged Rik and Murray and put it to them as a name. Band = named!
Tell me about the best and worst shows you have played.
Our very first Toronto Blessings show was at The Old Blue Last in London. That was a bit crazy. The best, not sure. To be honest, they've all been good. No rotten shows. We don't have bad shows, because that's our responsibility. I don't care if there are 4 people there, they're going to get the same show as if it were 400. It's a privilege to get to play your music to people, you should act accordingly.
Tell me about your favorite venue to play at, and do you have any places you want to play that you haven't already?
In a previous band, we were lucky enough to play Shepherds Bush Empire. That was an incredible venue to play, certainly my favorite ever! Locally there's The Parish in Huddersfield which is great. The Old School House in Barnsley which is a hidden gem. We want to play anywhere. Give us space to set up and we'll blast out a set!
If you could play any show with any lineup who would be on the ticket?
IDLES, Metz, Shame. Us on first so I'd get to stand and watch. 5 week Euro and UK tour. That would be the most fun.
What is some advice that you would give to someone who is just getting into playing in a band?
Don't all play the same riff. Mix it up. Compliment each other sonically and musically. The weight comes from the drums and bass, the space from the guitars and keys. There's a big landscape of sound, occupy it all.
If you could go back in time and give yourselves advice, what would it be?
Don't start a band. Learn how to make scale models of famous WW2 battles.
Of your songs which one means the most to you and why?
My personal favorite is Asleep which is the title track from our forthcoming E.P. It's a song that I get completely lost in when we play it live. The ending is apocalyptic. I love it. Lyrically it's about sleepwalking into compliance. Prying your gaze from the screen and interacting with the world.
Which songs are your favorite to play and which get requested the most?
Like the above. I accidentally answered a future question. I'm very sorry. We don't get requests, only for Oasis songs or Queen. We can actually do a pretty good Hammer To Fall.
What is the creative process for the band, and what inspires you to write your music?
We inspire each other really. One of us will bring in an idea or two to practice and then the rest of us will flesh it out. We write pretty quickly tbh, if something isn't working we'll move on to something new. The music is written by all of us, then Rik will sometimes ad lib a vocal pattern or just work on it at home. 
What kinds of messages do you like to get across in your music?
We try to get several messages over whether it be about speaking up about depression and anxiety. Also, we try and do a bit of social commentary about the mess this country and the world, in general, is in. 
Do you ever have disagreements in your band, and how do you get past them?
We don't really have many disagreements, to be honest. It makes it easier being only three of us! We all need to be on the same page for it to work. No one is really precious about their ideas, if they don't work we'll move on. 
What are your plans for the future, and do you have anything that you want to spotlight that's coming up?
We have just released a new single UvU and it's getting a great response. It's about living with anxiety and depression. We want people to be able to hear it and speak out about their problems. To make them feel like they're not alone. The song has been played on BBC6 which was a great honor. They have already played one of our first singles Give Nothing. BBC Sheffield introducing have been really supportive of us too. They gave our first single off Asleep, Hopes//Dreams lots of airtime. We really appreciate it! The EP Asleep should hopefully be out in the next months, we're just sorting out a few things first.