Discover more from Volatile Weekly
Interviews in the music industry from around the world
Interview: Ugly Clinic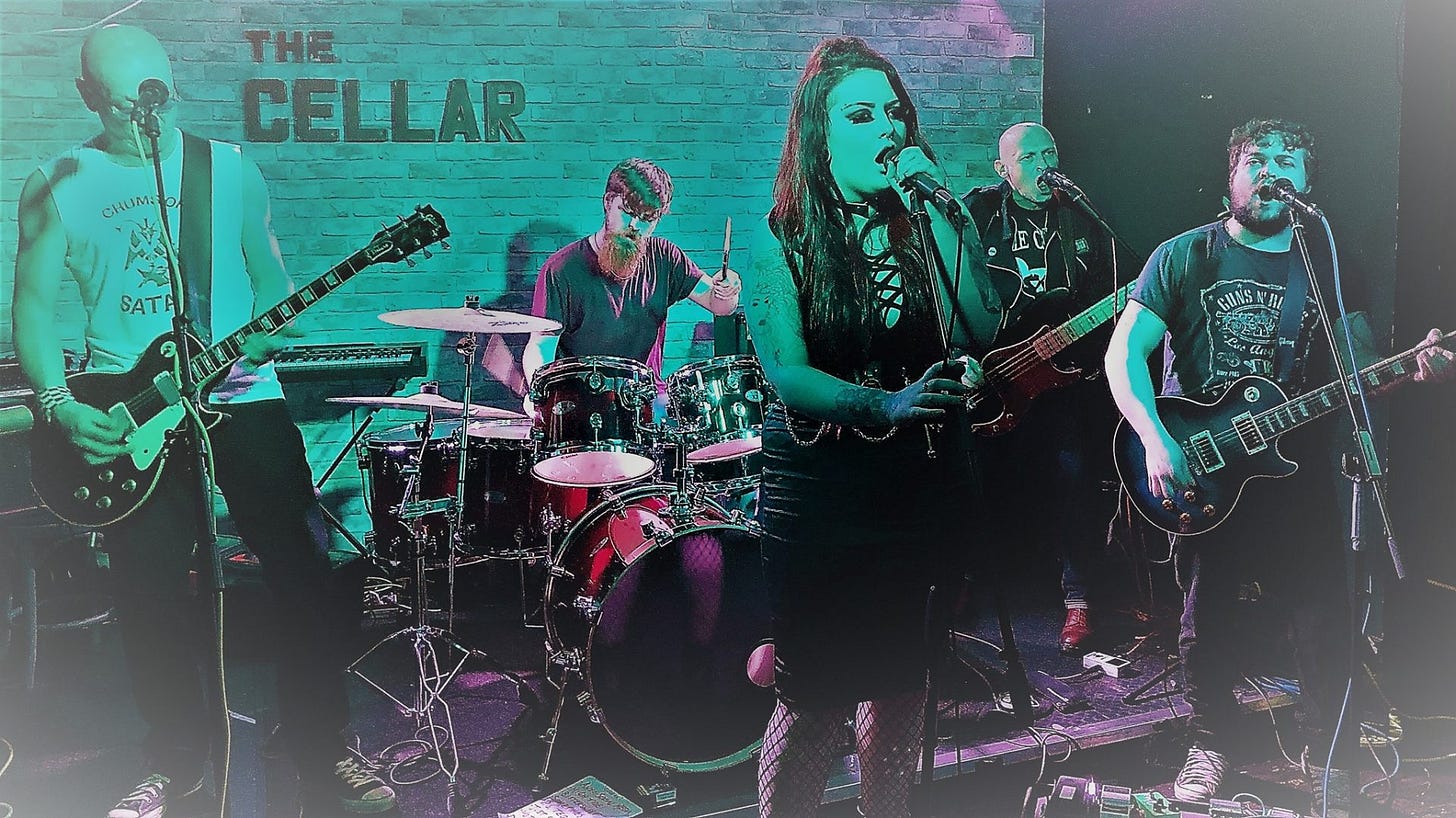 What got you into music, and if you had not gotten into music what would you be doing today?
[Chloe] I used to play sing star as a kid, and got into teaching myself how to play guitar, piano etc, I hated school, and music was a release for me. My grandad also used to play guitar to me when I was tiny!
[Richard] For as long as I can remember I've always had a passion for music. It was only when I was 11/12 when one of my friends showed me how to play a few chords on the guitar that I became obsessed with it. Once I started learning more and more on the guitar music just flowed through me and the passion for it has never let up. If I didn't have music in my life I don't know what I'd do!
[Jed] I can't quite recall what initially got me into music, but I live for the freedom that it brings. I honestly don't know what I'd be doing or where I'd be if I didn't have music. [Pete] The first time I saw The Clash on TV, wow!
[Davie] When I was 8, me and my friend used to hang out and I remember his brother had a stereo where he used to always play The Jam, early punky Jam and I was hooked! No music...no me
What do you like to do when you are not playing music and how does that influence your creativity?
[Chloe] Working as a music teacher, I play music constantly! I enjoy a beer or 2.. this influences songs! And I like to write metaphorically about life experiences.
[Richard] When I'm not playing music, like Chloe I'm also teaching. Trying to pass all I know (not much) onto the younger generation. And then if I'm not teaching, I'm doing the sound for live bands or listening to music. I meant it when I said I'm obsessed with music. I try leave myself open to listening to all kinds of music, drawing inspiration from it all. 
[Jed] When I'm not playing, I'm either thinking about music or discovering new music, then I get inspired and go back to playing again!
[Pete] Whatever the wife tells me to do.
[Davie] Other than my day job, I'm always doing something music related. 
How long has your band been around?
[Band] The band, as the lineup is now, has actually only been going for about 9 months. Davie and Pete started it over a year ago with Richard and Jed joining a few months later. It was only in June of last year that we found Chloe and Ugly Clinic was complete. 
Where are you based out of and how did that influence your music?
[Band] We are based in the Aberdeen area in the North East of Scotland. It's a nice area, but has a hard/gritty nature to it. We've all had our share of hard times living in the area and our experiences have bled into our music. 
How did you come up with the name of your band and what does it mean to you?
[Band] The band name came from a comic book actually. Pete (the old one) got the name from an old 2000AD comic book and it just fit our style. But although it was taken from a comic book the name has become more meaningful to us than we thought it would...
[Chloe] To me, ugly clinic has a different meaning. It has a Raw, rough feel to it. It stands out, I like the word ugly, everyone has a different opinion on what UGLY is. Or what IS ugly. I like that.
[Jed] It means more to me than just a name because of the guys and gal that are a part of it. 
Tell me about the best and worst shows you have played.
[Band]The Market Bar gig in Inverness was a blast. We remember when we first walked through doors, we just did not know how on earth 5 of us were going to fit in such a tiny room. But in the end, we made it work and the crowd was just brilliant. It was the first time we'd played outside of Aberdeen in front of a crowd that never really knew us and the crowd were amazing. To see them singing our songs with us, that they'd only just heard, it felt special. For the worst show, it was a local Aberdeen gig and all we could hear on stage for 90% of our set was just a very loud bassy feedback. We still gave it our all, but it did put a dampener on things. 
Tell me about your favorite venue to play at, and do you have any places you want to play that you haven't already?
[Band] Our favourite venue to play would probably be the market bar due to the great night that we had there. But more locally, it would probably be The Cellar. The two are quite similar in size, both giving that intimate feel to the gigs. Also, they both brought out the raw sound in us as both only have a PA for vocals, meaning it's a literal case of plugging in, cranking the amps till we're louder than the drums and just going for it. 
As far as places we want to play, we'd all agree that the more people we get in front of us, singing and reacting to our music the better. We just want to share what we have to as many people as possible. A tour around the UK would be amazing! 
If you could play any show with any lineup who would be on the ticket?
[Band] Oooh, we all have our own individual heroes that we'd love to be playing along with. How about we put on a day festival with the likes of Stone Sour, AC/DC, The Clash, Motorhead and Killing Joke. 
What is some advice that you would give to someone who is just getting into playing in a band?
[Band] Be in a band with people you love. Every band has disagreements but, if you love the people you're working with, things get resolved quickly. Play music YOU enjoy playing. Be sure to be playing with people that you feel comfortable being your authentic self around. 
If you could go back in time and give yourselves advice, what would it be?
[Chloe] Say no to things you don't want to do! Be yourself, don't pretend to be someone else, or be into something else just to keep other people happy. Don't change the things you love for anyone else, respectfully, do what makes you happy. Make the experience of being in a band your own.
[Jed} Don't get drunk before the gig [Davie] Go back to the 80's and tell myself not to go out with Carol from over the road....for various reasons [Richard] Things aren't as bad as you think they are, better things are around the corner. 
[Pete] Don't mix Pink Speed with Tequila. You'll regret it in the morning...But write an awesome tune about it. 
Of your songs which one means the most to you and why?
[Davie] We have a song called 'Somebody Save Me', I wrote the lyrics when I was living in a flat in Aberdeen. The flat was freezing and I had some I had some unwelcomed guests knocking on my window, I just wanted to get out of there. I've seen people sing it at gigs and it means everything! 
[Chloe] Bittersweet. One I wrote. I wrote this song from a life experience I had been through, I struggle to show my true feelings most of the time and this song put them out there at the time it was written. The songs which mean the most to me personally, haven't been released yet...so that's hush hush!
[Pete] Pink Speed and Tequila....see the advice I'd give to my self
[Jed, Richard] Just So You Know. It was the first song we released as a band and we've seen it get played in a couple different countries. It means a lot to us!
Which songs are your favorite to play and which get requested the most?
[Chloe] My favourite song that we play SO FAR is so high or more than me! I feel I can show my vocals off more with these. Just so you know is a highly requested song. Its catchy!
[Davie, Jed] Pink Speed and Tequila, fast paced and has an ace riff
[Richard, Pete] Just So You Know. Again, it was the first song we released as a band and it's a song we see the crowd react most to.
What is the creative process for the band, and what inspires you to write your music?
[Band] We all have our own individual influences. So we normally write at home on our own, then bring what we come up with to our practices where we gel our different styles together and add in our own individual spin. 
What kinds of messages do you like to get across in your music?
[Band] it's a mixture of messages. I like people to be able to relate to songs without it being plain black and white. To take a song and decide for themselves what it's about. So, the message would be dont follow a crowds opinion! I also want people to ENJOY music, just be able to let go for a while, and jump around, without having to care
Do you ever have disagreements in your band, and how do you get past them?
Of course. Having our different views and influences can sometimes clash. But all disagreements are quickly resolved. We talk it out and move one. Compromising is key. 
What are your plans for the future, and do you have anything that you want to spotlight that's coming up?
Once the world is back to normal, we want to get straight back into gigging and playing in front of as much people as we can. We are also in the midst of releasing our debut album, which will be available on all major streaming platforms. And the it'll be back into the studio to record album number 2! Loads to come from us, stay tuned!