Discover more from Volatile Weekly
Interviews in the music industry from around the world
Interview: Under The Tongue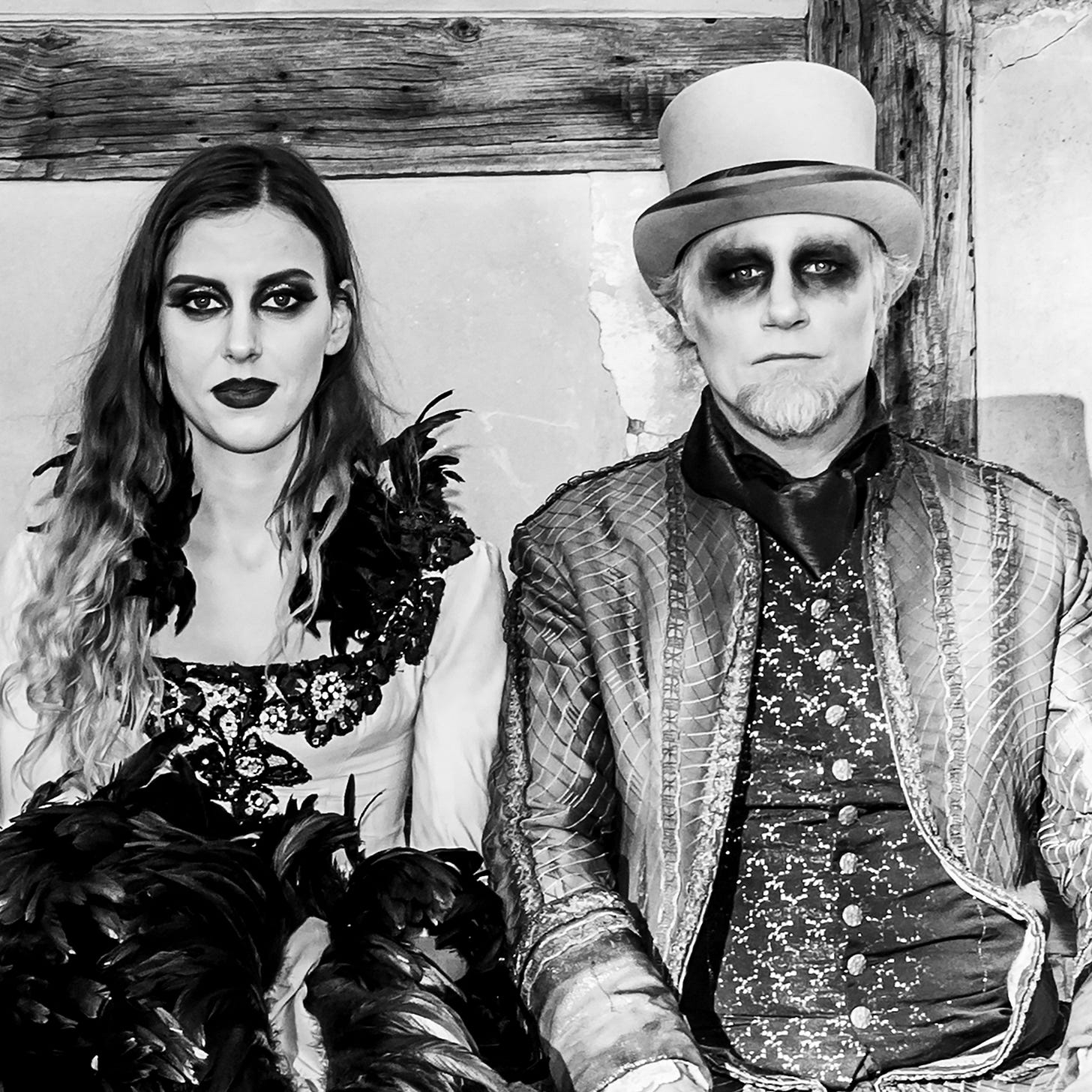 What got you into music, and if you had not gotten into music what would you be doing today?
Mark…My dad played 12 string acoustic guitar and  I remember the house parties in our lounge room with my dad playing and people dancing I guess that is where my passion for playing music found its roots. After hearing 'Sgt. Pepper's' by The Beatles for the first time, my whole world changed and I knew that is what I wanted to do from that moment on. If I hadn't gotten into music, I would be doing something creative like painting, sculpting out of wood and metal and if not that I would probably be a carpenter or a bank robber.
Julia…I would be a nature conservationist or a  bioclimatologist as that was my dream job as a kid.
What do you like to do when you're not playing music and how does that influence your creativity?
We know it's not very rockstar but keeping fit and eating as healthy as possible. 
Making videos is also what we love to do,  it is a complete other world to explore….and we love it. Also we love travelling and experiencing different cultures. Being healthy keeps us a bit sane and grounded as we find when we are  playing music it tends to keep us in our heads a lot. 
Julia…gardening, photography and being out in nature as much as possible. Travelling and also interior design are my other passions.
Mark…Travelling I would say has more of an effect subconsciously. I don't write and consciously say 'right I have experienced this or that and I will bring that into the music' I think it happens without me being fully aware of it. Sometimes on reflection I can see where some ideas came from which is kinda cool.
How long has your band been around?
UTT has been around since 2008
Where are you based out of and how did that influence your music?
We are based in Berlin. Without being fully aware of it I am sure it has influenced the songs. Being surrounded by dance music here in Berlin, plus living around the corner from Berghain  would have to have  influenced the style of songwriting over the last few years.  The music now has got a few more electro elements to it, how could it not….it's Berlin.
How did you come up with the name of your band and what does it mean to you. 
Mark…I can tell ya that one, I remember walking in our courtyard and Julia and I were chatting about different ways that people heal themselves and one of the ways was by homeopathy and that can include putting drops under the tongue….bang!!!. It feels like it wrote itself, plus I love the double meaning as you can also get wasted by putting some things under the tongue, so I have heard.
Tell me about your favorite venue to play at, and do you have any places you want to play that you haven't already?
We don't know if we have a favourite venue to be honest as they all have their individual character and vibe. Festivals are cool as the sound is normally pretty good.
We really want to play the Royal Albert Hall in London and Wuhlheide and Waldbuhne here in Berlin, that is  our goal. 
If you could play any show with any lineup who would be on the ticket?
This could be a long show, almost a festival if you will ;)
Ok, here we go you didn't say alive or dead so we will take artistic license here.
Audioslave, Prince, The Beatles, Puscifer, Cat Stevens, Black Sabbath, Elliot Smith,  The  Rolling Stones, Tom Petty, RHCP, Reignwolf and Depeche Mode.
What is some advice that you would give to someone who is just getting into playing in a band?
Play and play and play. Hone your craft and don't worry about what is hip or trendy at the time as that changes every minute. Write as much as you can and after the first hundred or so songs you will find your groove. If it happens before that then more power to ya. Believe in yourself, experiment and follow your ideas through to the end even if they lead to nowhere.  
If you could go back in time and give yourselves advice, what would it be?
Don't sweat the small stuff and it is all small stuff. Whatever you are doing is right, just enjoy it. Trust your intuition 100%
Of your songs which one means the most to you and why?
Mark…That is impossible to answer but a great question. There are too many that mean a lot to me. It depends on what time period we are talking about also. ' Sleepy Head' from our album 'Potions' was one of the first songs that Julia and I wrote together, I love that and remember writing the lyrics on a napkin while walking in the forest in north east Germany. Julias piano is beautiful in the song, that is actually how that song started.That whole album means a lot to me in so many ways. 'Things To Be' from my solo project also  because it was a time when I first came to Berlin and felt that feeling of infinite possibility….loved it. 'Meaning I Give' from our first UTT album as I love the chaos and the lyrics. I could go on here and not stop for ages, perhaps that is for another time…..to be continued.
Julia, 'One You Couldn't Keep' from the album 'Potions' it was around the time when we first met and I was playing heaps of piano. I love the experimental vibe of that song, simple yet powerful. Everybody's Scared  because it is so epic.
Which songs are your favorite to play and which get requested the most?
That changes from week to week I think. 'Troubled Mind', we  love playing live also 'Everybody's Scared'. The ballads seem to be requested a lot also, which is cool.
 What is the creative process for the band, and what inspires you to write your music?
The creative process  can vary a lot. Sometimes I will dream a melody and lyrics which has been the case a few times….strange. Sometimes I will just play around on the acoustic guitar and if a chord sequence feels good normally the lyric will write itself, that has worked heaps. Another way is by creating beats and drum sounds and then signing over them, I love that process also. Sounds and fx can definitely play a huge role in the writing process.
What kinds of messages do you like to get across in your music?
Trust yourself, you are on the right track. Love what you do, sing, dance, go nuts and enjoy this life to the fullest. You are awesome just as you are. :) Remember to not take life too seriously.
Do you ever have disagreements in your band, and how do you get past them?
As there are only 2 of us we are normally on the same page regarding what we want to do and where we want to go with the music. The trick is to step outside of yourself if something should arise and don't let the ego get in the way. Communication is key.
What are your plans for the future, and do you have anything that you want to spotlight that's coming up
The plan for the future is to release our new album song by song and make super cool videos for each song. We do all our own videos also so that gives us another creative outlet to go absolutely nuts with.  Check out the vids so far and you will see what we mean.  The plan is to continue enjoying what we do and hopefully reach as many people as possible. Getting a house is also in the plans so we can have somewhere to create and make noise without our neighbours hearing us.
We would love to spotlight our first single 'Waterfall' which will be out on the 5th of June. 
We want to thank you for your time and cool questions, we really appreciate it. Cheers UTT