Discover more from Volatile Weekly
Interviews in the music industry from around the world
Interview: Until I Wake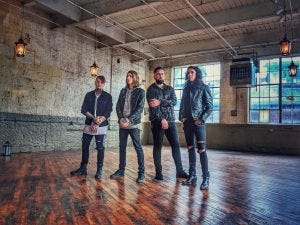 What got you into music, and if you had not gotten into music what would you be doing today?
As kids we each knew that our interest in music went beyond just being a listener. Above listening to music and loving all different genres we all found ourselves enjoying creating music and we knew one day we wanted to play music live and tour the world.
If we weren't playing music today, each of us have smaller goals or hobbies that we would probably end up turning into careers.
What do you like to do when you are not playing music and how does that influence your creativity?
When we're not playing music usually we're writing music or working on whatever our next move is with the band, whether it's lining up a shoot, scheduling recording sessions, working on our marketing. Sometimes during our downtime the band does get together to kick it and game, party, get into some sort of adventure together!
How long has your band been around?
Until I Wake was formed in the very end of 2018 by Ryan Ridley (Bassist) & Cody Johnson (Vocalist). Soon after an original member to the project, August Geitner (Guitarist) had joined after a short period of time off from music after a prior project had fell under. A bit later into 2019 the band picked up Alex Curtin on drums to solidify the ultimate lineup made up of long term friends with a lot of built in musical chemistry together. The band spent all of 2019 building and finally made its debut in 2020 releasing debut music video "Sinking Under".
Where are you based out of and how did that influence your music?
Until I Wake is based out of Buffalo, New York. Buffalo has a pretty decent sized music scene. There's tons of shows going on and a ton of local bands and musicians all over. We all had our start in music playing more of a post hardcore style in a scene where all varieties of metal were getting plenty of attention. After we all had been in a handful of local metal projects we were finally able to bring all of our talent together to form the best possible project that we could with a solid sound we all enjoyed with an explosive and energetic live show.
How did you come up with the name of your band and what does it mean to you.
We had actually gone through a handful of names before deciding Until I Wake was the one we wanted to stick with! When we started referring to the project as "Until I Wake" we weren't quite sure on if we would keep the name or change it. After so long the name began to stick and this gave it even more of a meaning and purpose. The name to us also fits very well with a lot of our lyrical content which in our early stages has been a lot about overcoming some sort of struggle or obstacle in life.
Tell me about the best and worst shows you have played.
The band has not yet played a show all together under the name "Until I Wake" however we have each played shows with one another at some point in time while in other bands together. Each of us have a ton of positive experiences together in past projects working together though!
Tell me about your favorite venue to play at, and do you have any places you want to play that you haven't already?
We're not too sure what we would consider our favorite. A couple of us have played some pretty awesome venues for festivals such as Vans Warped Tour, Mayhem Festival & Souled Out Fest. The Chance Theater in Poughkeepsie, Ny (Souled Out Fest) was definitely a sick venue. Another awesome venue was The Masquerade in Atlanta.
We don't necessarily have any specific venues in mind we want to play at but we definitely look forward to touring outside of the US someday!
If you could play any show with any lineup who would be on the ticket?
If we could play any show with any lineup we would definitely be playing a show with Bring Me The Horizon, Asking Alexandria, Linkin Park, Lamb Of God, Oh Sleeper & Falling in Reverse.... all on one bill!
What is some advice that you would give to someone who is just getting into playing in a band?
I think the most important things for someone just starting out are for them to know that it's not worth it to rush anything. Don't rush to the studio to produce a track if your music isn't ready, or if you don't have enough money together to financially afford the producer you deserve. Don't EVER compare your successes or failures to other bands. Make 100% sure that you have everything well put together behind the scenes before you bring it forward to an audience or to the public. Do plenty of research on any companies you are planning to sink money into.
If you could go back in time and give yourselves advice, what would it be?
If we could go back in time and give ourselves some advice it would have been to focus on creating the best possible band we could then to debut as strong and clean as possible. Which is essentially what we decided to do with Until I Wake and we couldn't be more stoked on how everything has been since the debut in the beginning of the year!
Of your songs which one means the most to you and why?
It's really hard to decide which means the most to us. We're still at such an early stage and writing some of the best material we have ever written in the past so it feels like every next song is better than the last. Right now we're thinking that the song that means the most to us we haven't actually released to the public yet. But soon! Everything we have written serves a purpose and each song has a strong personal meaning behind it.
Which songs are your favorite to play and which get requested the most?
One of our favorite songs to play would definitely be our debut single "Sinking Under". The song has so much energy and is so much fun to perform. Our second favorite we haven't released yet but it's definitely going to be huge and we are probably looking forward to that release more than any other song we have.
The song that gets requested the most would be "Sinking Under" because it's our only release right now. Within its four weeks of being released its reached over 90,000 views on YouTube and over 67,000 streams on Spotify!
What is the creative process for the band, and what inspires you to write your music?
Our biggest inspiration for writing music would be life itself. Any sort of struggles or obstacles in life that we have to overcome, our passions in life and the things that make us tick. These are all what inspired our writing the most.
What kinds of messages do you like to get across in your music?
Our main message so far as a band has been about overcoming any negativity in life. A lot of our music has been about overcoming addictions, struggling with self image and depression. There's plenty of battles we'll all have to fight through life but we all have the ability to overcome them.
Do you ever have disagreements in your band, and how do you get past them?
There are always going to be minor disagreements here and there among the band. However with the bands past, everyone being long term friends and having so much musical chemistry together, it's not very often we have any real issues. Since Until I Wakes debut we haven't had to deal with many issues because we've all been so busy making sure that everything continues to run as smoothly and professionally as possible to carry on a solid launch. We have so much more to come and huge things are going to be happening fast with Until I Wake, we don't have any time for negativity, disagreements, or anything that can potentially hold us back.
What are your plans for the future, and do you have anything that you want to spotlight that's coming up?
Until I Wake will be releasing our second music video around mid March. We have plenty of music to release regularly all of 2020 and we will definitely be making moves building our team and eventually be on the road touring the US in 2021 and hopefully outside of the US as well!