Discover more from Volatile Weekly
Interviews in the music industry from around the world
Interview: VAYA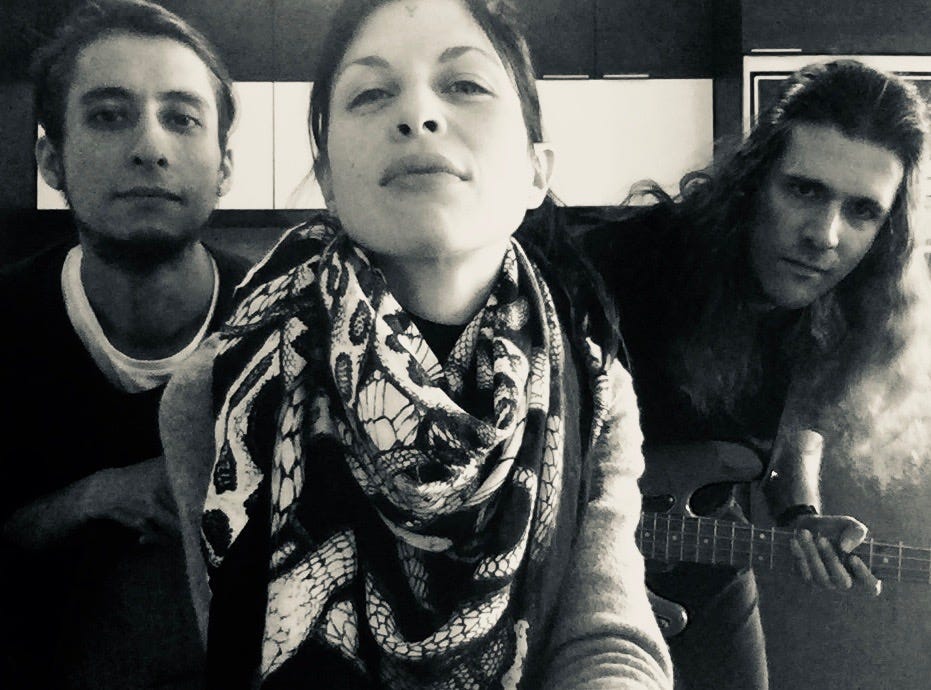 What got you into music, and if you had not gotten into music what would you be doing today?
VAYA: Hello Volatile Weekly. So Music choose me:) And I would do what I am doing actually; writing, painting healing and taking care of my family and friends.
Phil: When I was a child, my mom played a lot of piano and my dad played the guitar. Then I started learning the guitar with my dad and later, I took lessons and that's where I wanted to start playing seriously!
What do you like to do when your not playing music and how does that influence your creativity?
VAYA: Observing the crowd. Receiving the soul of Earth. Caressing the Nature. All of it are into my songs.
Phil: I like to go out with friends to some bars, to go to concerts, to the movie, to go on vacations or staying at home and relax.
How long has your band been around?
Phil: For 2 years now.
Where are you based out of and how did that influence your music?
Phil: I'm based in Switzerland.
VAYA: I am based in Toronto. Toronto called me last year, and Canada was in my heart from my childhood trough the voices of the native Indian. And now the second album I began last year in September in Toronto is almost finished :) So the spirit of it will be clearly on the album; its blood is crawling in it;) Do you know that Toronto means «  the meeting point » from the Native one?
How did you come up with the name of your band and what does it mean to you.
VAYA: So I was in process of the actual double album. I remembered looking for writing down a song on the front of my piano, in Switzerland. And I closed my eyes and heard big drums of them; the native Indian, loud and strong. Then the voices. Finally I opened my eyes and wrote down the story of the white wolf called VAYA. She was first called VAHIA and became the big Legend of VAYA. And as the song said «  I became his spirit tiara and I promise to be his princess forever ». So here is my name :)
Tell me about the best and worst shows you have played.
Phil: The best show was at a bar called "The Dukes" coz the crowd was so amazing and the worst show was in Oshawa, coz we were really bad received, nobody cared nor listened to us and we even had to pay our food!
Tell me about your favorite venue to play at, and do you have any places you want to play that you haven't already?
hil: My favourite is at "The Dukes" coz it's really a great place with nice people! I don't know maybe somewhere in Miami in Ocean Drive, there are great bars where we can play!
VAYA: everywhere in the world:)
If you could play any show with any lineup who would be on the ticket?
VAYA: Jack White
Phil: I'd say "Extreme" Joe Satrani or Steve Vai!
What is some advice that you would give to someone who is just getting into playing in a band?
VAYA: stay authentic , don't let the others influence your own goal: just believe in yourself and the rest will follow.
Phil: Be cool and nice with the others, work the songs, listen to the others when you're playing altogether and have fun!
If you could go back in time and give yourselves advice, what would it be?
VAYA: the same as I just said before;)
Phil: Work hard and believe in yourself!
Of your songs which one means the most to you and why?
VAYA: All of them . Each one has its own story and own personality as we are as humans.
Phil: I don't know maybe "Elephantus" coz it's very punchy, very powerful and we all sing the chorus altogether!
Which songs are your favorite to play and which get requested the most?
Phil: My favourites are, "Vaya" "You" "Elephantus" "Phoenix" the 3 firsts are all very punchy and the 4th is softer and very lovely!
What is the creative process for the band, and what inspires you to write your music?
Phil: Usually Vaya writes the songs and the lyrics, then we play together and look what we can add, change or improve!
VAYA: Yes. I am the «  receiver » :))) And let the others dance with me around the fire.
What kinds of messages do you like to get across in your music?
Phil: Have a good time and enjoy our music!
VAYA: just feel it
Do you ever have disagreements in your band, and how do you get past them?
Phil: Fortunately not but we try to be nice, respect each others and if there's a problem we try to solve it!
What are your plans for the future, and do you have anything that you want to spotlight that's coming up?
Phil: We're gonna take part of a contest in Toronto and work and play on new songs.
VAYA: Yes and I am actually in Fukuoka Japan . We have done with Yumi Sonoda a long video of one song of the next album. So this little movie or long video clip will normally be online this autumn. Stay tuned :)))) on www.vaya-official.com