Discover more from Volatile Weekly
Interviews in the music industry from around the world
Interview: Verity White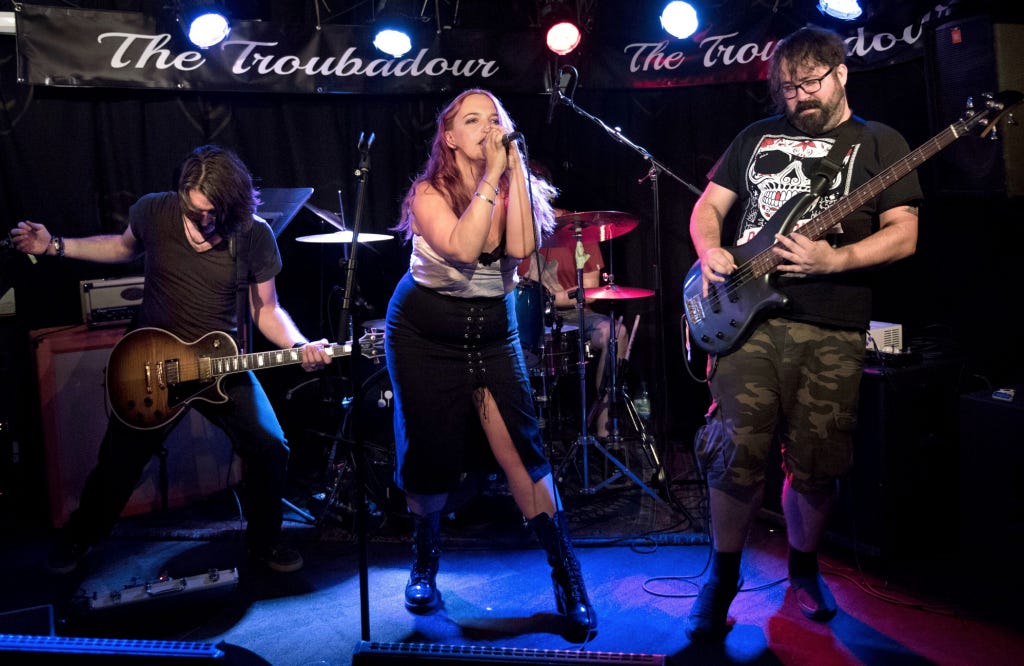 What got you into music, and if you had not gotten into music what would you be doing today? I grew up around music, my parents were both in a covers band and so rehearsals and sing-alongs were just part of my childhood. I don't this there was ever any question that I wanted to be a singer 'when I grew up'! If I hadn't of gone into this though I expect I would be working as a vet, as I love animals.
What do you like to do when you are not playing music and how does that influence your creativity? I read a lot of books and listen to a lot of other music, I also love cooking (and eating!) and basically all things creative - I think creativity always influences each there, and for me as they're so closely linked to my emotions I think there's always a thread of each of them running through everything I do.
How long has your band been around? We've been releasing music since 2016, but the band formed early 217 when we started getting his and realized that Alex and I couldn't do a gig playing everything ourselves! 
Where are you based out of and how did that influence your music? Cheltenham, UK, and it doesn't really! It's just a small town in the Cotswolds, very pretty and all but nothing really influential about it. We're more influenced by 90s music, and emotions!
Tell me about the best show you have played. The best shows are always our tours, its where we have the best crowd and they all know the music, so far the highlight of these was the Reclaim Set Fire album launch in March. It was awesome! We're just about to take that album on tour so hoping for more of that energy! 
What is some advice that you would give to someone who is just getting into playing in a band? Be yourself. Authenticity is where it is at. No-one wants to book a band full of ego. 
If you could go back in time and give yourselves advice, what would it be? More f the above really, I've always struggled with branding - until I realize that I kinda was the brand, ad the way that I change personally influences what we do creatively. Oh and also - you are good enough.
Of your songs which one means the most to you and why? I have a song on the current album called Feel This, its a song I wrote for my dad, and its quite different from our usual rockier stuff. He's never been good at emotions which means the easiest way for me to tell him I love him and I want him to be proud is in my music. I think he likes it, he keeps splaying it to people!
Which songs are your favorite to play and which get requested the most? I love playing Exhale live as it's such a vocal tour de force which I really enjoy! People don't tend to shout out requests as most of our gigs they know they'll get to see what they're after!
What is the creative process for the band, and what inspires you to write your music?
The writing is all done by me and my husband, Alex. He comes up with structures and riffs and I write the lyrics and melodies. Everything I'm inspired by is experience and emotion, which I think helps people connect to the truth behind the music. 
What kinds of messages do you like to get across in your music?
I like to talk honestly about my struggles with mental health, so people know they're not alone, and also about the shite that goes along with being female in our society - the pressure was under to be perfect - that sucks and fuels a lot fo angry music. 
Do you ever have disagreements in your band, and how do you get past them? Usually only if we're tired and hungry after a gig and something went wrong like bad sound or someone missed a part - it's arguments really just sometimes distance or a little snipe. Nothing a good meal and sleep can't fix!
What are your plans for the future, and do you have anything that you want to spotlight that's coming up? We're gearing up for the festival season and have or tour coming up too, so lots going on… and we have something special coming to YouTube later in the year too which I'm hoping people will enjoy!