Interview: Versify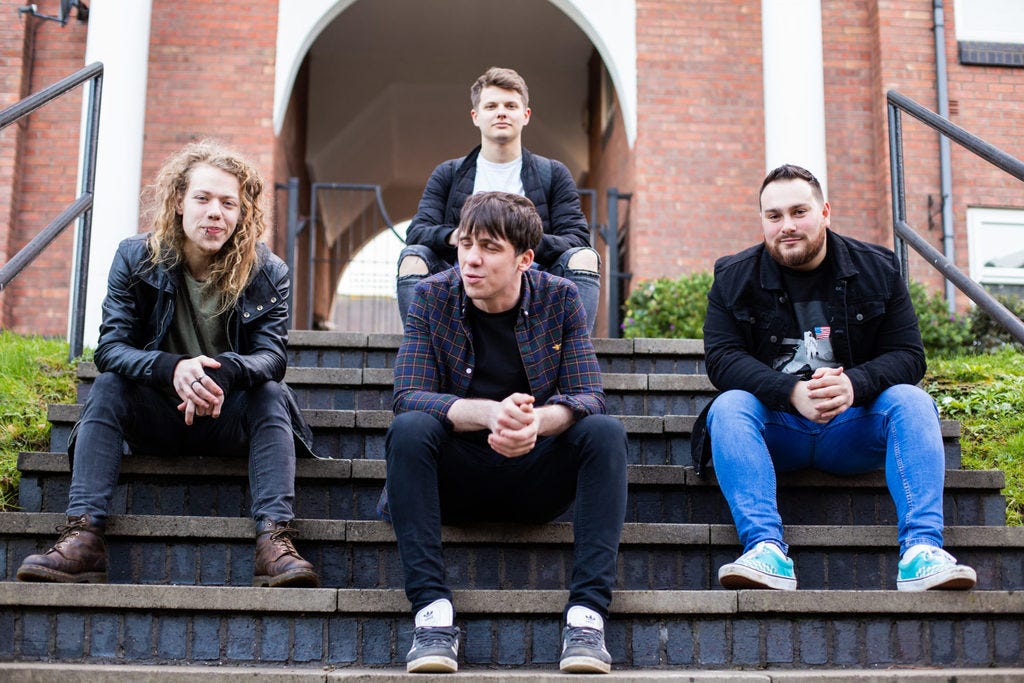 Band Members:
Michael Bush: Vocals/Guitar
Sean Spiteri: Lead Guitar/Backing Vocals
Aaron Busby: Bass
Francis James: Drums
What got you into music, and if you had not gotten into music what would you be doing today?
AB: I got into music around the age of 14, after hearing 'Heart Shaped Box' by Nirvana for the first time. I could also say my dad got me into music since he's quite a fan as well. If I wasn't pursuing music? I used to work at a local pub back in the Midlands, so I reckon I'd still be there.
SS: Led Zeppelin. Thats what got me into music. Hearing the solo on "Communication Breakdown blew me away, I wanted to be able to do what Jimmy Page does.
If I wasn't working in music, I think I would have done something in film or photography, that's always fascinated me.
FJ: My dad introduced me to famous bands such as Rush, Led Zeppelin, Dream Theatre and Thin Lizzy, from then on I developed a keen interest in music. Had I not gotten into music I would have tried pursuing a career in sports journalism.
MB: When I was younger (so much younger than today), it was all music and football. I'm not very good at football and slightly better at music, so it was an easy choice. If I wasn't doing music, I'd probably be a "conversational prostitute", so I could find another way of selling my words for money.
What do you like to do when you're not playing music and how does that influence your creativity?
MB: If I'm not playing music, I'm usually listening to music, and that makes me want to play music and so the circle continues.
AB: When I'm not playing music I liked reading a lot of stuff, like factual information. The Stuff I know about random, pointless things would you blow your mind.
SS: When I'm not playing music I like to watch films, preferably in the cinema. It's the ultimate escapism for me. I can't say that it really has an impact on my creativity in music though.
FJ: I enjoy watching sport, mainly football and basketball. I also enjoy going for walk and photography.
How long has your band been around?
AB: Versify has been around for about a year now; we formed in June 2019. Michael, Francis and I have been working together on and off for a couple of years though.
Where are you based out of and how did that influence your music?
AB: We're currently based of Cardiff currently. I think while diversity of the music scene has influenced us, there are a lot of sub genres, so I think we like the fact that we want to play rock music.
How did you come up with the name of your band and what does it mean to you?
MB: We had been booked to play a gig before we even had a name, so a few weeks before the date, my partner and I were combing through online dictionaries and thesaurus'. "Versify" was thrown out there, which means to "turn into or express in verse", which I thought would be perfect for us (or any bands), cos that's all I'm trying to do - express myself through songs.
Tell me about the best and worst shows you have played.
SS: Often our best and worst shows have been in the same venue, it all depends on the audience and the atmosphere.
FJ: My favourite shows have been two sets at Tramshed as part of Versify and also a session gig at Club Ifor Bach where I performed with the band headlining the show. My least favourite  gig was in the middle of nowhere with a bad that I did not see eye to eye with.
AB: We played a gig on Valentine's Day (2020) at The Moon, Cardiff, with Hunter From Fremonte, The 409 Club and Laura Power. That was cool, cause we didn't really invite anyone and it was packed.
MB: The worst gig we played ended up in a riot. Absolute carnage. Great night.
Tell me about your favorite venue to play at, and do you have any places you want to play that you haven't already?
MB: The Tramshed in Cardiff is great. I know I should probably say something ambitious like Glastonbury or Wembley, but I'd really love to play King Tut's Wah Wah Hut in Glasgow.
FJ: Probably Clwb Ifor Bach and Tramshed as they are my hometown venues. I have also enjoyed playing the exchange in Bristol. I'd eventually like to tour North and South America during my Career.
SS: I can't sat that I have a favourite venue to play at, it doesn't matter where I am as long as we have an audience and loud amps. There's always somewhere I want to play, like The Globe in Cardiff or any venue abroad. I'll play anywhere and hopefully everywhere.
AB: We've played The Moon a lot, so there's a soft spot there. Playing Club Ifor Bach would be cool, seen a lot of stuff there.
If you could play any show with any lineup who would be on the ticket?
AB: If we're taking big acts, it would be cool to play with Neil Young. If it was a smaller event, definitely Clwb Fuzz and The 409 Club, cause we get on really well with them.
FJ: I would have Dream Theatre and Animals as leaders on my gig ticket.
SS: Hmmm that's a hard one because my taste in music changes all the time. I'll go for Ocean Colour Scene and John Mayer, though they'd never play on the same lineup.
MB: Neil Young, without a doubt. Or John Lennon's ghost.
What is some advice that you would give to someone who is just getting into playing in a band?
MB: Write some songs -  they'll probably be shit. Write some more.
SS: I'd tell them not be afraid of making mistakes, just go for it.
FJ: Be patient, practice hard and believe in your music.
AB: If you're starting a band, best thing you can do is get yourself out there as soon as possible. Rehearsal is cool, just don't do it forever, cause it can be hard to get out of that headspace. Just get some songs you like and do some gigs, cause that will put both the songs and the band to the test. And remember, this is all just a bit of fun.
If you could go back in time and give yourselves advice, what would it be?
MB: Write more songs.
AB: I'd probably have a go at myself more than anything. Just would say "listen to more music and don't get too serious at the start. Take the music seriously, but not yourself too much.
SS: I'd probably show myself "Vienna" by Billy Joel, as iv'e always wanted things to happen faster than is possible. I find that song gives me piece of mind, when it's time; its time, and if it's never time; then that's okay.
FJ: Probably to be more patient and relax more. I can be too tense for my own good sometimes.
Of your songs which one means the most to you and why? 
FJ: "Fun For Fire" purely because of the hard work we put in during the recording process. I'm very happy with the way it all turned out.
SS: "Fun For Fire" means the most to me. It's the first song and currently only song that we've recorded. It's a great memory, going to London and recording with the boys. We did the track in one day! The Animal Farm (studio) were brilliant.
AB: I'd say our track "If Only, John" means the most to me. I think the story is about a travelling man who's lost and doesn't know what to do. CUE THE WATERWORKS. 
MB: I don't love any one song more than the other. I put a lot of effort into most of them. I love them all the same.
Which songs are your favorite to play and which get requested the most?
AB: Our newest track "If I Told You" is probably my favourite to play at the moment. We've only played it a handful of times live, but the response has been great.
SS: My favourite song to play live is, "Is this the reason?", it's not recorded yet but it's just so much fun to play.
FJ: Probably "Rain On Me", as most of our followers dig the chorus.
MB: My favourite to play live is a song called "Daydreams". It started off as a 3 minute pop song, but since Sean joined it's turned into bit a 7-10 minute (depending on how we feel) jam.
What is the creative process for the band, and what inspires you to write your music?
AB: Musically, a lot of the work is done by Michael. He lays the groundwork, while Francis and I work on the rhythm aspect (at this point we probably don't even have to talk about what to play, we just know how each other works). Sean and Michael work together on melodies and vocal arrangements, so it's a pretty even distribution of ideas.
FJ: Michael writes the melodies and lyrics for the songs. I help with the structure/arrangement along with the rest of the band.
SS: So far the music has primarily come from Michael. He'll bring what is a finished song to the band, and we all add our parts to make it sonically full. We have passed more ideas around during rehearsals, jam stuff out, which is a lot of fun.
What kinds of messages do you like to get across in your music?
MB: We're all fucked.
SS: I don't have any impact on the lyrics, but I try to tell guitar players to be loud by being loud - turn it up to eleven.
AB: I think while a lot of the themes are about loneliness, isolation insecurity etc, it's not fully apparent unless you read into the lyrics. I think there's a positive side to a lot of the music that we write, or at least the sense that stuff gets better and that works well. It's not all doom and gloom, and I think that's what we put across.
Do you ever have disagreements in your band, and how do you get past them?
AB: Occasionally we'll have disagreements, but they're more like discussions of different ideas. I think cause we've worked together for so long and that there is that camaraderie there, we just know how each other works. Hasn't come to blows yet, which is good. Sometimes you'll see bands that thrive off of the bitter turmoil I guess, and they either do really well or they burn out. I think we have a good balance of being friends as well as bandmates.
FJ: Not really, we all get along well and have the same goals and expectations for the band, whenever there is a problem it gets sorted quick.
SS: I don't think we really disagree on a lot, we are all pretty easy going. We are all very chill and diplomatic too so I can't ever see any of us getting into an argument.
MB: Aaron doesn't like my guitar pedals, he's always complaining about them. The only way to calm him down is to wave a Tesco meal deal in front of his eyes. He loves himself a plain cheese sandwich.
What are your plans for the future, and do you have anything that you want to spotlight that's coming up?
AB: So far, we're starting to think about our future as a band. We've had a good reception to our last singe, "Fun For Fire", so we're starting to consider what our next single could be. Really, we just want to get back to gigging when everything in the world is little safer. We enjoy being able to take our time with stuff, and we're not bound to deadlines to anything, so I guess we'll see what happens.
FJ: Once it's safe to do so we are looking to get back into the rehearsal room. We have plans to record and release a second single, then get back to gigging (again, when it's safe to do so).