Discover more from Volatile Weekly
Interviews in the music industry from around the world
Interview: Vital Noise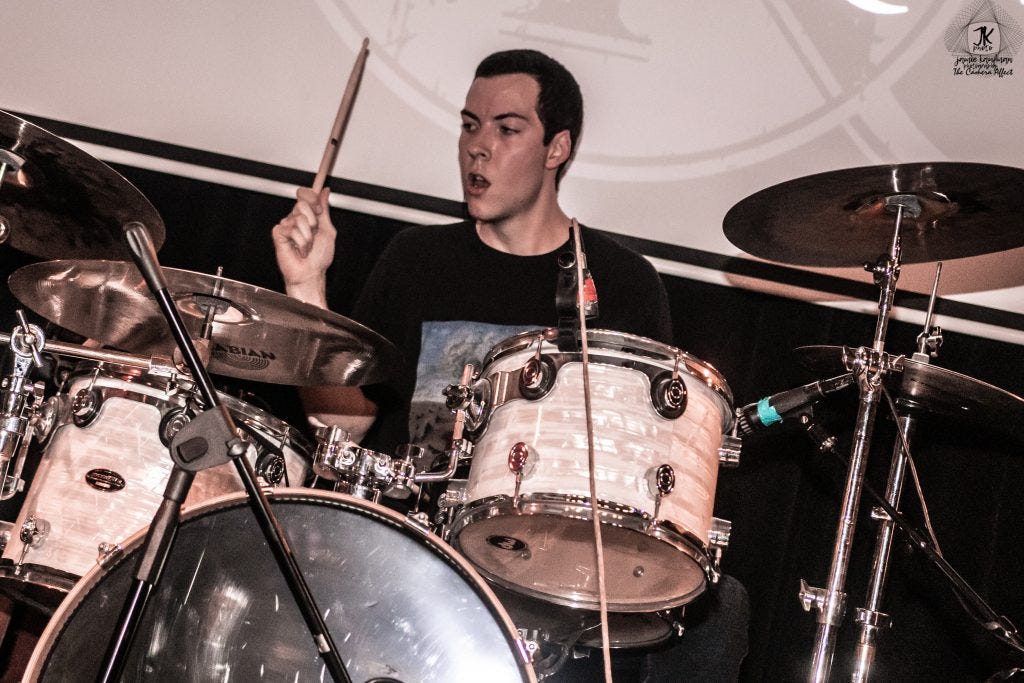 What got you into music, and if you had not gotten into music what would you be doing today? 
Our parents got us into music at a very young age. If we were not doing music we would all probably still be doing something creative. 
What do you like to do when you're not playing music and how does that influence your creativity? 
We like to hang out with friends, workout, and watch sports. 
How long has your band been around? 
We have been around since 2013. 
Where are you based out of and how did that influence your music? 
We are based out of Los Angeles, California. It influenced our music a ton as we grew up going to places like the Whisky A Go and other places on the Sunset Strip, which was practically the birthplace of the type of music we play. 
How did you come up with the name of your band and what does it mean to you. 
We honestly came up with our band name when we were all very young because we thought that it sounded cool, and we have basically just stuck with it ever since. 
Tell me about the best and worst shows you have played. 
The best show we ever played was in 2017 when we played an event called NAMM JAM. It was basically an afterparty type event for that year's NAMM show in Anaheim, CA. We got to open up for Buckcherry, a band who we have looked up to for a very long time and also got to play with Like A Storm, and Dollskin, two bands we also really dig. In addition, we were treated really well by the whole crew and had a huge green room, which was really dope. The crowd reception was also amazing, which made the show even better. 
The worst show we ever played was for what was supposed to be a very large event for a city in Los Angeles County (not going to say which one), we were booked to play a 2-hour set and were told that we would be playing anywhere from 800 to 1200 people. However, a few days before the gig, we found out that they would not be providing a sound guy, so we had to scramble to find our own sound guy and come out of pocket with our own money. In addition, the event was in the middle of the afternoon in August and it happened to be over 100 degrees that day, and there was absolutely no covering on the stage, so we had to play for two hours in the direct sunlight. The worst part of it was that literally only 5 people showed up when we were promised 800 to 1200. So at the end of it all, we lost money, had to play in the glaring sun and burning heat for 2 hours played to only 5 people. 
Tell me about your favorite venue to play at, and do you have any places you want to play that you haven't already? 
Our favorite place to play at that we have played thus far would probably be the Roxy Theatre in West Hollywood, CA because it is so nostalgic. There are many places we would love to play but our ultimate dream/ goal would be to play arenas like Madison Square Garden in New York City and the Forum in Los Angeles. 
If you could play any show with any lineup who would be on the ticket? 
Metallica, Slipknot, Bring Me the Horizon, and us. 
What is some advice that you would give to someone who is just getting into playing in a band? 
Just have fun. Make sure that you are in a band with people who you enjoy being around and that you have similar goals and interests, and be respectful to one another. 
If you could go back in time and give yourselves advice, what would it be? 
Trust the process and don't let anything sway you from your goals. 
Of your songs which one means the most to you and why? 
Our song "Vices", means the most to us because it is about addiction and every one of us has dealt with having family members/ close friends that have been addicts, so it hits pretty close to home every time we play it. 
Which songs are your favorite to play and which get requested the most? 
Our favorite songs to play live are "The Ones" and "Famous". Those are the ones that probably get requested the most as well. 
What is the creative process for the band, and what inspires you to write your music? 
Usually, somebody comes in with an idea (a riff, a lyric, etc.) and then we all collaboratively work together to create a full song off of the particular idea. Everyday life inspires us to write our music, whether one of us happens to be going through something or we just feel like writing about a certain topic, we always have something to write about. 
What kinds of messages do you like to get across in your music? 
We don't necessarily try to portray any particular messages in our songs, but just want our audience to enjoy listening to our music and try to write songs that will stick in people's heads. 
Do you ever have disagreements in your band, and how do you get past them? 
We occasionally do. Unfortunately it has resulted in a few lineup changes, however, throughout the years we have learned that just communicating and talking over whatever issue may come up is the best way to get over a disagreement. 
What are your plans for the future, and do you have anything that you want to spotlight that's coming up? 
We are currently writing new music and planning on playing many upcoming shows in the future, so be on the lookout for that!