Discover more from Volatile Weekly
Interviews in the music industry from around the world
Interview: Wasting Time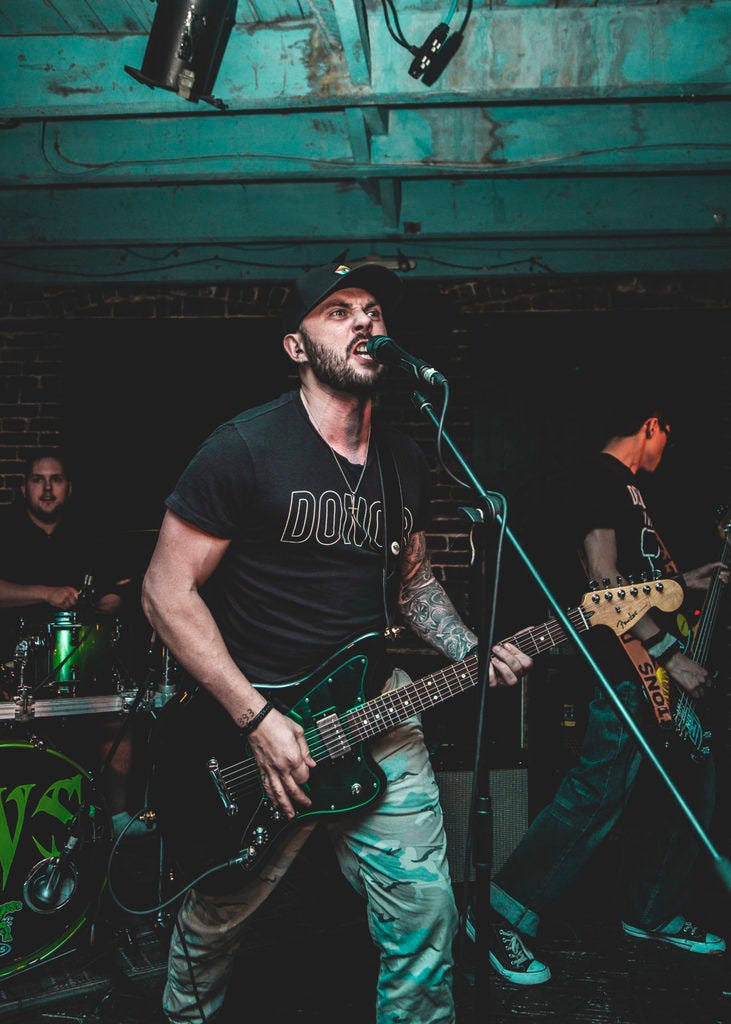 What got you into music, and if you had not gotten into music what would you be doing today?
Vlad heard his brother's old cassettes of a Russian singer, Viktor Tsoi and then Vlad recording himself singing the songs when I was 6, much to the dismay of his dad. A friend later exposed him to Green Day and Offspring in grade 6. Shortly thereafter, his mom then got him his first guitar after. Guitar lessons were taken at first, but quickly abandoned upon learning what he needed in playing in power chords. He'd probably be pursuing a management position at a gym or become a professional finger painting if he had not gotten into music.
Mike got into music when he first heard The Beatles at age 4. He always wanted to play music, and attempted to fake it with toy guitars, but would finally own a real bass at age 18 to join his friend's band. He'd probably be an accountant if he wasn't playing music.  
What do you like to do when you're not playing music and how does that influence your creativity?
Vlad likes to to watch movies from his youth (Bloodsport, Commando, Mighty Ducks, Aladdin), read books like The Devil in The White City and Stephen King's On Writing: A Memoir of The Craft. He tends to study how his favourite authors write and how they're able to tell a story, which inspires him to try different approaches for his own writing. 
How long has your band been around?
The band was formed in the early 2000s by Vlad with other members in the lineup until the band broke up in 2009. Vlad reformed the band in 2017 with a handful of new songs and a new lineup: Mike on bass, Mark on guitar and Mikey on drums. 
Where are you based out of and how did that influence your music?
We're from Toronto, Canada and its influence on our music comes from its all-around diversity. We experienced a lot of different trends (musically too) here over the year; some good, some bad. We still typically stick to pop-punk for our music though regardless since we feel that is our sweet spot.  
How did you come up with the name of your band and what does it mean to you.
Vlad's Family Studies teacher in elementary school told him to stop wasting everyone else's time by his disruptive behavior in class, and that he wouldn't have much of a future if he didn't cut it out. Vlad never forgot those words and found them to be amusing enough to use for a band name. 
Tell me about the best and worst shows you have played.
Best show was either with opening for Smoking Popes (a band we love) last year in Toronto or when we played Crush Luther's reunion because it was packed with a lot of good energy in the crowd. For our worst show, we played an acoustic show out of town last year that was poorly promoted and a crowd consisting of only the other bands and a guy who kept shoving his fist in his mouth.
Tell me about your favorite venue to play at, and do you have any places you want to play that you haven't already?
Our favourite venues are Lee's Palace and Bovine Sex Club in Toronto. We'd love to play California, Chicago, Japan, and Europe one day. We're game for nearly any place with people that don't stick their first in their mouths!  
If you could play any show with any lineup who would be on the ticket?
Green Day, Alkaline Trio, NOFX, No Use For A Name and The Bealtes. We'd be the openers of course!
What is some advice that you would give to someone who is just getting into playing in a band?
Find like-minded people to play with, and make sure you're having fun (excuse the cliché). Make sure that you're playing with friends who want to achieve the same band goals that you do. 
If you could go back in time and give yourselves advice, what would it be?
When things are not working, don't force them. Like-minded find each other. Don't waste your time with anyone who makes you feel like you're compromising your goals.
Of your songs which one means the most to you and why? 
Friends With No Benefits because it had a different energy and reaction from those who had heard it. Based on those reactions, it felt like a turning point for Vlad creatively and let to an eye-opening realization of what would make him happy, leading to him getting a band together after years of not having one. 
Hang Out At The Beach for Mike because upon hearing it, he decided to jam with Vlad despite already being 3 other bands at the time.
Which songs are your favorite to play and which get requested the most?
Our favourites to play vary, but right now: it's Loves Her So, Only You, Sick Inside, Lost Along The Way and SBF. We still have a batch of newer songs that we haven't performed yet too, so those will probably make the list soon. So far Four Seasons, Concrete Walls, and Friends With No Benefits are our most requested.
What is the creative process for the band, and what inspires you to write your music?
Vlad writes the main lyrics, melody and structure of the songs initially. He'll then send out demos to the rest of the band and then the final song arrangements get hashed out collectively during band practice. 
What kinds of messages do you like to get across in your music?
No particular messages. The lyrics are written mostly from personal experiences, and we just hope that they're relatable enough for others. We enjoy hearing differing interpretations of the songs from different people. 
Do you ever have disagreements in your band, and how do you get past them?
No, because it's Vlad's world and everyone's living in it! Just kidding. Yeah, all bands do. We work them out by a majority vote if an idea isn't unanimous and so far it hasn't resulted in any psychotic breakdowns…yet.  
What are your plans for the future, and do you have anything that you want to spotlight that's coming up?
We've got a new album coming out in the fall, which will be our second. We've got our next single out July 24th on all streaming sites entitled, "My Limited French" with a video for it to follow shortly. Hopefully the world will go back to normal sooner than later so we can visit and play all of the locations that we haven't yet. Until then though, we'll be finishing up the album!  
Thanks for the interview! 
https://www.facebook.com/wastingtimemusicofficial/
https://www.instagram.com/wastingtimemusic/
https://twitter.com/wastingtimeto