Discover more from Volatile Weekly
Interviews in the music industry from around the world
Interview: Wham Bam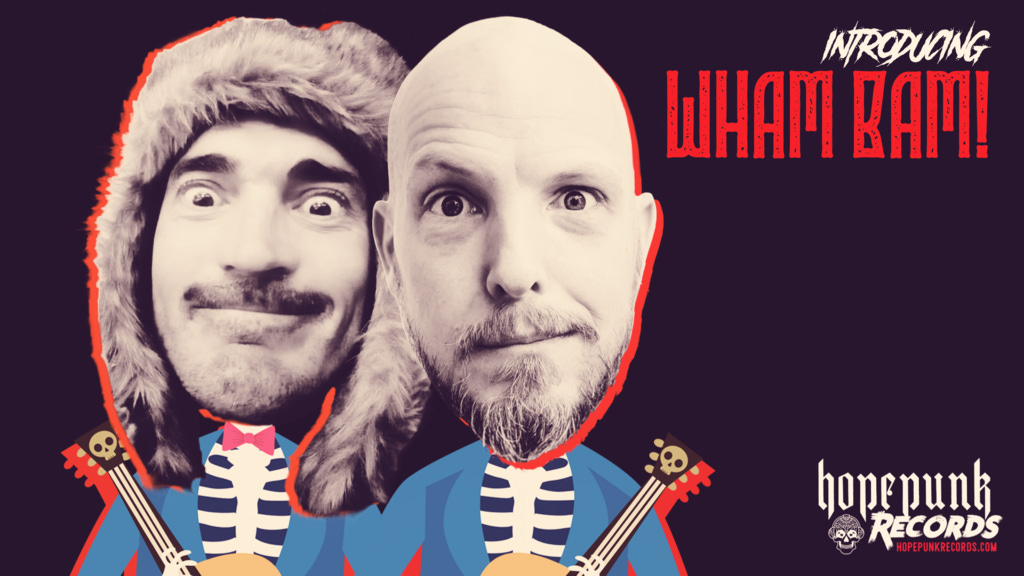 What got you into music, and if you had not gotten into music what would you be doing today?
We both started playing guitar at a young age, probably because we wanted to be as cool as our rock idols. We both still work normal day jobs, but its music that is the real life purpose.
What do you like to do when your not playing music and how does that influence your creativity?
Watch other bands' shows, listen to music and walks in nature - this all act as creative triggers.
How long has your band been around?
We've been collaborating since 1996, but Wham Bam! in its current form is about 6 months old, having initially formed as a side project from another band we were both involved with.
Where are you based out of and how did that influence your music?
Our setup is quite unique – we live in different parts of the world and collaborate remotely. Wham Bam! is a duo consisting of Gideon Kretschmer (vocals, all the instruments) and Nico Tourelle (vocals) - Nico lives on a farm in the quiet Karoo in South Africa, and Gideon Kretschmer lives in the bustling city of Frankfurt, Germany. We also collaborate with fellow creative partner Ramon Rabie for lyrics (an author and wordsmith extraordinaire living in Thailand)
How did you come up with the name of your band and what does it mean to you.
It just came naturally really, spur of the moment light bulb moment- Wham Bam! is meant to represent what our music is all about - focusing on keeping it simple, punchy and catchy, with the main melody/hook at the centre of their songs. It means no-frills fun and groove that infect your earholes and leaves you wanting more.
Tell me about the best and worst shows you have played.
As WHAM BAM! we have not yet performed live, due to our remote collaboration set - up but also due to Covid 19 the last few months, but we're definitely planning some European & South African shows in the near future. From all our previous bands and projects we've played countless shows and tours all over, and Nico also spent a number of years in Taiwan as vocalist for a big pop/rock band there, so we've seen all the good and bad, small and big shows, and to be honest a bad show is still better than doing anything else. 
Tell me about your favorite venue to play at, and do you have any places you want to play that you haven't already?
Any nice intimate club show is always a winner. We've also got our eye on some festival slots next year - a dream would be Rock im Park/am Ring or Download festival.
If you could play any show with any lineup who would be on the ticket?
Dead or alive? Dead - would be cool to open for the Beatles
Alive - well sharing a stage with Alice in Chains would be epic
What is some advice that you would give to someone who is just getting into playing in a band?
Do it for the passion and love of music only, and if you care about your art, put in the hard work. good things come to those who work hard, not those who wait
If you could go back in time and give yourselves advice, what would it be?
Go 200% when you're young and there are less risk and consequence.
Of your songs which one means the most to you and why? 
We'll we've just released our first single "On your Own" so it would be this one, its a real fun party jam. but we're working on a damn cool 2nd song - "Fool's Gold" - we think this one might be even more epic
What is the creative process for the band, and what inspires you to write your music?
An idea will get shared over whatsapp, and some rapid rounds of back and forth collab and ideas- bouncing will lead to a solid idea that we will then start tracking. Songwriting is split between Nico and Gideon, both being guitarists and vocalists, our years of writing together has created a natural rhythm of sharing and shaping. Our dual vocal approach is also our special sauce so we create songs that works with this sauce. Depending on the song, we also love collaborating with our creative partner Ramon Rabie on lyrics.
What kinds of messages do you like to get across in your music?
Our music says - Don't take life and yourself to serious, have some fun. Our lyrics go deeper but it also supports this overall theme of optimism and hope
Do you ever have disagreements in your band, and how do you get past them?
Yeah sure, the creative process is always a tricky and personal journey to navigate, but with mutual trust and respect built over years of creating together and forming friendship its an easy challenge that normally leads to better songs.
What are your plans for the future, and do you have anything that you want to spotlight that's coming up?
We've just released our debut single "On Your Own" – a catchy rock & roll/grungy track, released with a fun lyric video – check out https://hopepunkrecords.com/wham-bam for all the info and links
Song links - https://songwhip.com/whambam/on-your-own
Lyric Video - https://youtu.be/e0bNS7VLuZs
Store - https://hopepunkrecords.com/buy
We're in studio putting the final touches on our second single "Fool's Gold" - a catchy pop/rock anthem with massive crowd-pleasing potential - this will lead up to the release of their debut EP later in 2020.
Plans are also in the pipeline for South African and European dates in the next year. A UK/EUR festival slot would be a our first "dream" achievement.